The 2015 Montinore Estate Willamette Valley Pinot Gris offers dynamic aromatics, pure fruit flavors, and supreme balance that reflect the organic, biodynamic methods employed at this exemplary estate. Captivating citrus and stone fruit aromas waft from the glass the moment Montinore's Pinot Gris is poured. These crystalline aromas become infused with tropical fruit notes on the palate and become enveloped by crisp acidity, all of which lend lift and dynamism to the wine's long, lingering, and refreshing finish. Montinore's outstanding 2015 Estate Pinot Gris adds credence to Pinot Gris' claim to fame as Oregon's most successful white grape variety. It also underscores the high quality of winemaking at Montinore as well as the tangible benefits of biodynamic farming and the many attributes of the excellent 2015 vintage in Oregon's Willamette Valley. Drink this balanced, beautiful Pinot Gris now and over the next several years. For optimal enjoyment we suggest a moderate chill (of about 40° F) and a fine, thin glass that will hold and accentuate this wine's haunting bouquet.
Montinore's pure, racy 2015 Estate Willamette Valley Pinot Gris brings its own welcome and is sure to elicit a smile among members, with or without food. We enjoyed immensely Montinore's Pinot Gris as an aperitif and would have continued to do so, if we hadn't also paired it with everything from salads to chicken. Fish and shellfish may for many be the choice accompaniments to Montinore's outstanding 2015 Pinot Gris. Sushi, sashimi, fish tacos, fresh spring rolls, trout or flounder, and even Shrimp Scampi provide tasty accompaniments to this wine. Broiled scallops and sautéed or lightly fried oysters offer more tasty pairings with Montinore's Pinot Gris, but then almost anything that once swam in the sea will provide a fine complement to this wine. Chicken Saltimbocca makes a good companion, too, as the purity in Montinore's Pinot Gris illuminates the savory flavors in the dish.
Rudy Marchesi, like so many pioneers before him, packed up his belongings in the East and headed west to Oregon and the wonder of Willamette Valley. In 1982, Rudy established Montinore Estate, which he has grown to a 210-acre Demeter Certified Biodynamic® and Stellar Certified Organic wine estate. Guided by a passion that was instilled early on by his Italian grandparents, Rudy sought out Willamette Valley as a place that enabled creativity and, with careful coaxing, could grow grapes capable of delivering wine showcasing the truest expression of the land where it was grown – a place where one could, within the estate, grow the grapes, make the wine and send it out into the world.
Montinore lies at the northern end of the Willamette Valley appellation and sits astride the east-facing slope of the foothills of Oregon's Coastal Range, the perfect location for Montinore's eclectic portfolio of premium European grape varieties. Montinore's vineyards are planted on ideal sites for the seven grape varieties they grow: Pinot Noir, Pinot Gris, Gewürztraminer, Riesling, Müller-Thurgau, Teroldego and Lagrein. No insecticides, no herbicides, no cultured yeasts, no cultured bacteria, and no synthetic fertilizers are employed at Montinore. For Rudy Marchesi, making wine with biodynamic grapes requires a light touch, which means a natural touch that demands using only native yeasts in the fermenters and natural secondary fermentations in the barrels. It's hard work, but the results speak for themselves. Montinore Estate wines sparkle with purity and laser-like precision. We encourage you to taste and enjoy the natural wines that Rudy Marchesi and his daughter Kristin, who is now leading the second generation forward at the estate, are fashioning.
Pinot Gris, a favorite grape of winemakers around the world, is a "white" grape variety that oddly enough is related to Pinot Noir. Like Pinot Noir, its origins are Burgundy and northern France. Pinot Gris (gris means gray in French) derives its name from the unique smoky, grayish/blue color of its grapes. Pinot Gris has been identified since the Middle Ages and known by its present name for centuries. However, Pinot Gris has assumed several aliases over the years, including Pinot Grigio, Grauburgunder, and Ruländer. Moreover this chameleon-like grape has traveled far and wide.
No longer grown in its native Burgundy region, Pinot Gris has found a home in nearby Alsace where it continues to be cultivated extensively. Alsace Pinot Gris is highly revered for producing rich, aromatic wines of great character. However, Pinot Gris can be made in a myriad of styles, depending upon the soil, climate, and personal choices of the winemaker. Testimony to Pinot Gris's reputation as a chameleon are the ethereal, mineral driven Pinot Grigio wines of northern Italy, which bear little or no resemblance to their Alsatian cousins or the growing array of flavorful Pinot Gris offerings from New Zealand and America's Pacific Northwest. In the hands of skilled winemakers, Oregon and Washington State produce a burgeoning number of dry, highly aromatic wines of great flavor and true distinction from Pinot Gris.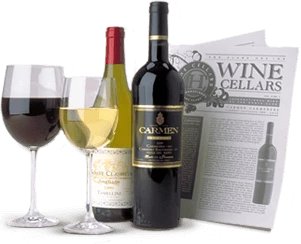 Enjoy Limited Production Estate
Bottled Wines
Discover limited production estate bottled wines such as Vergenoegd's internationally
acclaimed 2005 Cabernet Sauvignon, imported exclusively for our members.
DISCOVER OUR FOUR CLUBS