With each successive vintage, Montaña continues its meteoric rise and nowhere is this more evident than in Montaña's elegant, sophisticated, and downright delicious 2018 Rioja Crianza, a wine that emanates from a traditional blend of 97% Tempranillo and 3% Graciano from the estate's old vines, many of which date to the immediate post-phylloxera period. As a true Crianza, the 2018 Montaña Rioja Crianza has been aged for a full 12 months in small oak barrels. It offers expressive aromas of cherries and summer blackberries, graced with subtle infusions of sandalwood and forest floor. In the mouth, the 2018 Montaña Rioja Crianza delights the palate with a smooth texture and plenty of polished fruit and spice, gently tinged with a hint of alder. Fresh, balanced, and seductively charming, this young Rioja Crianza sets the bar for Rioja Crianza. No heavy oak tones or unripe tannins, just Rioja Crianza at its best. The 2018 Montaña Rioja Crianza drinks beautifully now but will continue to evolve in bottle for several more years. We enjoyed this wine from the moment it was poured, but like all fine Riojas, it responds graciously to aeration. For optimal enjoyment we suggest affording Montaña's 2018 Rioja Crianza 15-30 minutes of aeration before serving at cool room temperature (58°-62° F). Anticipated maturity: 2021-2026. Enjoy!
While Rioja and Tempranillo aficionados may want to enjoy Montaña's delicious 2018 Crianza on its own, the 2018 Montaña Rioja Crianza will equally reward those who bring it to table. Roast herb-encrusted chicken served with roasted potatoes and broccolini provides a simple, tasty companion. Red or orange peppers, stuffed with orzo, spicy sausage, and Spanish cheeses makes another fine complement. Lamb burgers provide a tasty pairing too, as does a succulent grilled lamb and vegetable kabob served with Spanish rice. Pork cutlets, tender game hens, and a perfectly cooked filet mignon in the company of garlic mashed potatoes or a twice-baked potato with Manchego cheese and grilled vegetables also make for a memorable feast in the company of Montaña's food-friendly 2018 Rioja Crianza. If simply delicious is all you have in mind, nothing beats a fine charcuterie board with an assortment of cured meats, Jamón Ibérico, cheeses, and accoutrements. Salud!
Goat, sheep, and cow's milk cheeses offer simple, yet tasty accompaniments to Montaña's delicious Rioja Crianza. Spanish cheeses such as Mahón, Manchego and Torta del Casar make especially fine companions to this wine as they do to almost any red Rioja wine. The savory notes in the wine and cheese complement each other with aplomb. To enjoy the finest in wine and cheese, join us at www.cheesemonthclub.com. Salud!
The Montaña family traces its winemaking heritage to the late 19th century and the origins of modern Rioja. In 1920, the family patriarch, Roman Montaña, consolidated the family's viticultural enterprises to create one of Rioja's grandest old brands. The Montaña family estate is comprised of 270 acres of premier vineyards in the Rioja Alta and Alavesa, the prime districts in Rioja for producing world-class wines. The Montaña vineyards boast a high percentage of old vines, with many dating to the immediate post-phylloxera era as well as a significant planting of the rare Graciano varietal. The commercial reintroduction of the Montaña family name on the Rioja wine scene from the Montañas' historic vineyards is a joint venture with Classical Wines of Spain, and it represents the renaissance in quality viticulture that is sweeping Rioja.
"A land of history, light and color, vines and wheat, and above all, people for whom friendship is the greatest possible treasure," is how Rioja's Minister of Tourism described Rioja. Rioja is, indeed, a special land, etched by history and endowed by a special wine which shares the region's name. Rioja wine is as warm, friendly, and distinctive as the people who inhabit this unique land halfway between Spain's capital and the towering Pyrenees Mountains. Rioja is also the most approachable and recognized name in great Spanish wine and the home of Spain's best red wine bargains.
Vineyards have always influenced the history and character of the people in the Rioja. Long before France became a bastion of fine wine, the Romans had settled in Iberia and pushed inland from the Mediterranean to the headwaters of the Ebro River and its tiny tributary, Rio Oja, from which Rioja derives its name. In Rioja, the Romans found ideal conditions for the cultivation of exceptional Spanish grape varietals, like the Tempranillo, Mazuelo, Graciano, and Garnacha (Grenache) grape varieties that today constitute red Rioja. Given its long history for continuously producing fine red wines, Rioja not surprisingly received Spain's first Denominaciones de Origen (D.O.) in 1933.
It is Rioja's unique blend of red grapes, coupled with an often lavish hiatus in small, American or French oak barrels, which produces a warm, truly dry, yet richly fruity red wine of great finesse and perfume that can appear nearly immortal in great vintages. Although a few names in Rioja carry hefty price tags, the vast majority of red Rioja comes from 132,000 acres and three distinct zones (Rioja Alavesa, Rioja Alta, and Rioja Baja). These wines sell for far less than wines of comparable quality from elsewhere, making red Rioja one of the planet's greatest red wine bargains.
Red Rioja comes in four basic styles: Joven, Crianza, Reserva, and Gran Reserva. The amount of oak barrel aging, coupled with time in the bottle before release, determines the designation. These styles begin with Joven, which receives little or no time in oak barrels, and culminates with Gran Reserva, which languishes in barrels for two or more years and cannot be sold before its fifth birthday. Today, the utmost quality and value in Rioja are among the Crianza and Reserva designations.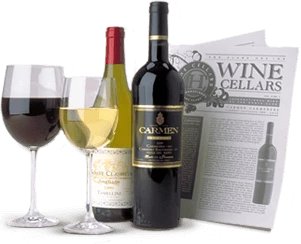 Enjoy Limited Production Estate
Bottled Wines
Discover limited production estate bottled wines such as Vergenoegd's internationally
acclaimed 2005 Cabernet Sauvignon, imported exclusively for our members.
DISCOVER OUR FOUR CLUBS