The 2016 Montaña Rioja Crianza, which has garnered 91 points from Wine Enthusiast, emanates from an outstanding vintage and the estate's old vines, many of which date to the immediate post-phylloxera period. A blend of 97% Tempranillo and 3% Graciano, Montaña's 2016 Rioja Crianza tastes more like a young Rioja Reserva than a Crianza because of its 12 month hiatus in seasoned French oak barrels (the minimum time in barrel for Rioja to qualify as Reserva). More importantly, the 2016 Montaña Rioja exudes the warmth and velvety characteristics of the finest wines of Rioja Alta. Ripe raspberry and cassis aromas infused with hints of exotic spices, new leather, and vanilla grace the nose. In the mouth, the wine's beautiful aromas expand on the palate in a velvety mélange of berry fruit, chocolate and spice, while warm ripe tannins add vibrancy and lift through to the wine's long finish. Mouth-filling yet fresh, Montaña's classic 2016 Rioja Crianza drinks beautifully now, though it possesses the balance and stuffing to evolve gracefully in bottle for at least several more years. For optimal enjoyment we suggest affording Montaña's 2016 Rioja Crianza 30 minutes or more of aeration before serving at cool room temperature (58°-62° F). Enjoy!
While Rioja and Tempranillo aficionados will appreciate an unadorned glass of Montaña's delicious 2016 Crianza, the finest red Riojas truly shine at table in the company of richly satisfying meals. Roasted chicken breast stuffed with peppers, caramelized onions, and goat cheese served next to a kabob of grilled potatoes provides a combination of succulent flavors to complement the 2016 Montaña Crianza. Other substantive accompaniments include lamb, pork, and tender game hens. A truly great aged Rib Eye or New York Strip Steak provides another good bet, especially when coated with olive oil and herbs before being seared on a hot grill. Add garlic mashed potatoes or a twice-baked potato and some grilled vegetables for a memorable feast. More adventurous eaters may want to consider Mediterranean tapas and North African specialties, including spicy couscous, as accompaniments to the 2016 Montaña Crianza. Salud!
Goat, sheep and cow's milk cheeses offer simple, yet tasty accompaniments to Montaña's stylish 2016 Rioja Crianza. Spanish cheeses such as Mahón, Manchego and Torta del Casar make especially fine companions to this wine, as they do to almost any red Rioja wine. The savory notes in the wine and cheese complement each other with aplomb. To enjoy the finest in wine and cheese, join us at www.cheesemonthclub.com. Salud!
The Montaña family traces its winemaking heritage to the late 19th century and the origins of modern Rioja. In 1920, the family patriarch, Roman Montaña, consolidated the family's viticultural enterprises to create one of Rioja's grandest old brands. The Montaña family estate is comprised of 270 acres of premier vineyards in the Rioja Alta and Alavesa, the prime districts in Rioja for producing world class wines. The Montaña vineyards boast a high percentage of old vines, with many dating to the immediate post-phylloxera era, as well as a significant planting of the rare Graciano varietal. The commercial reintroduction of the Montaña family name on the Rioja wine scene from the Montaña's historic vineyards is a joint venture with Classical Wines of Spain, and it represents the renaissance in quality viticulture that is sweeping Rioja.
Rioja's Minister of Tourism describes Rioja as "a land of history, light and color, vines and wheat, and above all, people for whom friendship is the greatest possible treasure." Rioja is indeed a special land, etched by history and endowed by a special wine which shares the region's name. Spanish Rioja wine is as warm, friendly, and distinctive as the people who inhabit this unique land halfway between Spain's capital and the towering Pyrenees Mountains. Rioja is also the most approachable and recognized name in great Spanish wine and the home of Spain's best red wine bargains.
Vineyards have always influenced the history and character of the people in the Rioja. Long before France became a bastion of fine wine, the Romans had settled in Iberia and pushed inland from the Mediterranean to the headwaters of the Ebro River and its tiny tributary, Rio Oja, from which Rioja derives its name. In Rioja, the Romans found ideal conditions for the cultivation of exceptional Spanish grape varietals, like the Tempranillo, Mazuelo, Graciano, and Garnacha (Grenache) grape varieties that today constitute red Rioja. Given its long history for continuously producing fine red wines, Rioja not surprisingly received Spain's first Denominaciones de Origen (D.O.) in 1933.
It is Rioja's unique blend of red grapes, coupled with an often lavish hiatus in small American or French oak barrels, which produces a warm, truly dry, yet richly fruity red wine of great finesse and perfume that can appear nearly immortal in great vintages. Although a few names in Rioja carry hefty price tags, the vast majority of red Rioja comes from 132,000 acres and three distinct zones (Rioja Alavesa, Rioja Alta, and Rioja Baja). These wines sell for far less than wines of comparable quality from elsewhere, making red Rioja one of the planet's greatest red wine bargains.
Red Rioja comes in four basic styles: Joven, Crianza, Reserva, and Gran Reserva. The amount of oak barrel aging, coupled with time in the bottle before release, determines the designation. These styles begin with Joven, which receives little or no time in oak barrels, and culminates with Gran Reserva, which rests in barrels for two or more years and cannot be sold before its fifth birthday. The best quality and value in Rioja are among the Crianza and Reserva designations.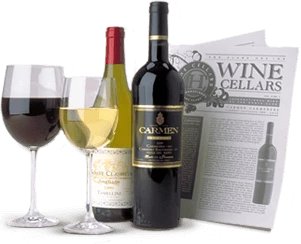 Enjoy Limited Production Estate
Bottled Wines
Discover limited production estate bottled wines such as Vergenoegd's internationally
acclaimed 2005 Cabernet Sauvignon, imported exclusively for our members.
DISCOVER OUR FOUR CLUBS