Mont-Marçal fashions exceptional vintage Cava that ranks among the best and most consistent sparkling wines in the world. Unlike most sparkling wine producers (which includes the finest purveyors of Champagne as well as Cava), Mont-Marçal vintage dates all of its Reserva Brut so that the consumer knows the age and freshness of the wine. The 2012 Mont-Marçal Brut Reserva is the latest release from this family owned property and is an absolute delight. It promises elegance and a light airy appeal from the moment it is poured, as its tiny pinpoint bubbles stream exuberantly to the top of the glass. Celebratory and always versatile, the 2012 Mont-Marçal Brut Reserva resonates with supreme elegance, flavor and texture. It offers ethereal scents of spring flowers and golden pears infused with a touch of fennel and a gentle minerality. In the mouth, light, clean, and clearly delineated fruit flavors glide easily across the tongue, while delicate creamy bubbles with a finely beaded texture carry the wine's charming flavors through to a satisfying and mouth-refreshing finish. In a world in which authenticity is hard to come by, the 2012 Mont-Marçal Brut Reserva makes a delightfully strong case for Cava – Spain's esteemed sparkling wine. Enjoy the delicious 2012 Brut Reserva from Mont-Marçal well chilled (38°-40° F).
One of the most memorable meals I have ever eaten in Spain was at Mont-Marçal. And, the tasting panel members who accompanied me that day would agree that not only was the food incredible (the very best calamari, octopus, and other seafood delights any of us had ever eaten), the Mont-Marçal Brut Reserva was the perfect foil to our seafood spread. In addition to calamari, octopus, shrimp, sea bass and other Mediterranean specialties, the 2012 Mont-Marçal Brut Reserva provides an exceptional complement to all kinds of tapas, hors d'oeuvres, poultry and lightly smoked meats and cheeses. Salmon mousse, sautéed scallops, stuffed mushrooms, sautéed oysters, prosciutto, Jamon Iberico, and even foie gras, offer especially rewarding accompaniments to Mont-Marçal's Brut Reserva, too. Steamed crab legs and herb-roasted chicken or turkey served with a savory stuffing offer other worthy accompaniments to Mont-Marçal's elegant Cava. A plate of fresh fruit and soft, ripe, creamy cheeses will also complement the fresh, highly delineated flavors of Mont-Marçal's Cava. Like most Brut sparkling wines, Mont-Marçal's Brut Reserva is at its very best early in the evening, either as an aperitif or with a first or main course of a meal. The dry, delicate flavors of Cava are best enjoyed before dessert, before our palates become fatigued. Enjoy!
Editor's Note: Cava is a wine that is under pressure. It should always be well chilled before opening. Always exercise caution when opening a bottle of sparkling wine. Point the bottle away from people and objects. Use a clean towel or cloth to firmly grip the bottle. Gently remove the wire stopper while firmly holding the cork in place. Then with thumb and forefinger, remove the cork slowly from the bottle. Do not let the cork fly. Enjoy!
Nestled into the Mediterranean coastal range, about an hour's drive south from Barcelona, is the Penedès wine region, where for over a century Spain's great wine culture has fostered talent in the art of crafting Cava, Spain's most artisanal and labor intensive sparkling wine. Following a successful career in musical recording, Manuel Sancho brought a fresh eye and classical vision towards elaborating a new benchmark in style for Cava from the heartland of Cataluña's Cava production.
In 1975, Manuel Sancho purchased a neglected 18th century convent, originally a 15th century farmhouse set atop a prominent knoll overlooking the hamlet of Sant Marçal. Conversion of the property into a state-of-the-art winemaking facility has preserved the historic significance of the 15th century farmhouse, while medieval underground passageways in the chalk have been carefully preserved for additional bottle storage. From the hilltop's vantage with 360º of exposure, the "Mont" provides a range of microclimates with ideal chalky soils for the maturation of Chardonnay as well as the estate's indigenous Cava grapes: Macabeo, Xarel-lo, and Parellada. As a "grower producer," intrinsic vineyard quality and careful handling of the grapes, paramount to quality winemaking, results in a naturally rich base wine with fresh, clean flavors in little need of dosage.
Mont-Marçal Brut Reserva Cava is a vintage wine that benefits from approximately 24 months aging in bottle prior to disgorgement and departure from the winery cellar. Disgorgement on order for localized shipments ensures the wine will be enjoyed at its optimal freshness while the extended maturation on the lees imbues delicate biscuit notes and terroir focused pedigree, all wrapped in ever more finely textured bubbles. At Mont-Marçal quality is paramount.
On the world's wide menu of fine wine the first course is most aptly set with bubbles, Cava bubbles. Commemorative, celebratory, spontaneous and infinitely versatile with or without food, to share a bottle of fine Cava is timeless. The exuberant character of fine sparkling wine epitomizes both class and charm, so let's set aside the antiquated conceptions that a regional affiliation automatically equates to quality, or the prejudiced value that price equals prestige. Yes, there is more to fine bubbly than Champagne. It's Cava. In today's advanced and competitive market, what matters is identifying producers who are attuned to what is actually in the bottle. Mont-Marçal Vinícola has proven reliability as a key producer of the world's most accessible, consistent, and satisfying sparkling wines – Cava.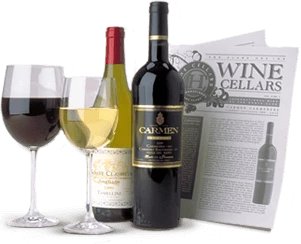 Enjoy Limited Production Estate
Bottled Wines
Discover limited production estate bottled wines such as Vergenoegd's internationally
acclaimed 2005 Cabernet Sauvignon, imported exclusively for our members.
DISCOVER OUR FOUR CLUBS