The 2007 Miller Wine Works Sage Canyon Vineyard Syrah is a big, powerful wine that commands authority and makes one take notice. There is no wimpy wine being made at Miller Wine Works. Deep in color, pronounced in bouquet, and chock full of flavor, we guarantee this wine won't go unnoticed. In this Syrah, deep down blackberry and currant flavors well up through a patina of aromatic oak that imparts a cachet of sandalwood to the wine's bouquet and flavor profile. Rich, ripe, and in your face, this wine starts and ends with a bold statement. Its finish is long and polished, and its flavors linger in the mouth long after the wine has been swallowed. The 2007 Sage Canyon Syrah may not be for everyone, but it will surely please wine drinkers who look for depth and power in their wine. One taste of this wine and you'll know why it garnered Platinum at the Consumer Wine Awards. Enjoy!
Given the extroverted, even flamboyant nature of Gary Miller's 2007 Sage Canyon Vineyard Syrah, we suggest food pairings of similar stature. Surely, there would be no shame in serving this full-bodied Syrah with almost any meat or poultry dish. However, wine and food are at their best when each complements the other. Consequently, we put our vote in for serving the 2007 Sage Vineyard Syrah with one of Gary Miller's own recipes, Rack of Lamb with Figs, Taboulleh, and Black Currant Gastrique, which appears below. Gary recommends this dish with his Syrah, and as he is both chef and winemaker, who are we to argue? One could also make a case for pairing his Syrah with a Rib-eye Steak, crisp home cut potato fries brushed with olive oil and fresh rosemary, and roasted root vegetables. Cassoulet, served with Eggplant Ratatouille makes another fine accompaniment.
Napa Valley reigns as America's premier wine destination, and for a number of good reasons. The very name Napa conjures images of fine wine, so much so that the word Napa has become synonymous with the production of fine wine. Today, Napa Valley monikers such as Mondavi, Phelps, and Screaming Eagle are as familiar to wine drinkers around the world as the legendary Bordeaux châteaux of Lafite, Latour, and Margaux. But what so many of us tend to forget is that the growing number of excellent wines currently coming out of Napa Valley are being fashioned by small boutique wine producers who have come to be known by the French term garagiste, which so eloquently refers to the producers' workplaces: literally garages, sheds, and tiny mom and pop wineries. Leave it to the French; only they could make a garage sound elegant and romantic. Gary Miller of Miller Wine Works is one celebrated garagiste.
Until recently, Gary Miller was best known for his cooking. As a graduate of the Culinary Institute of America in Hyde Park, New York and as a renowned chef who has worked in many of the nation's finest restaurants, Gary has crafted quite a few award winning meals. With his 2007 Miller Wine Works Sage Canyon Vineyard Syrah (this month's feature), Gary has fashioned yet another award winning wine and bolstered his reputation as one of California's consummate garagistes. The 2007 Miller Wine Works Sage Canyon Vineyard Syrah scored 96 points and earned the Platinum Medal at the Consumer Wine Awards in Lodi, California. It also garnered a Silver Medal at the San Diego International Wine Competition. And these are just a few of the awards that have been bestowed on Gary for his prowess with the wine press. He has received accolades for other wines, including the 2007 Miller Wine Works Jordan's Journey, a Consumer Wine Awards Gold Medal recipient.
As a chef and winemaker Gary Miller brings a unique perspective to winemaking. Below are some of Gary's thoughts on wine and food:
My philosophy is wine is a liquid food, and this wine is an expression of all the paths my life has taken; from being raised in a rural, Western New York family to becoming a Northern California vintner. Northern California is an amazing place, but not just for its history, natural beauty, and perfect conditions for winegrowing. The people are truly amazing, placing a premium on food, family, friends, and farming. As a chef, I fully understood the necessity of integration and balance when the fruits of the land intermingle with the fruits of one's labor. As a winemaker, it is my intent to make wines of the style that made me fall in love with wine - balanced, nuanced wines that speak clearly of their locations, and have affinity for carefully raised and prepared food.
Sage Canyon Vineyard is a 60 acre vineyard in Napa Valley that produces premium wine grapes from a steep mountain ranch that soars to 1,700 feet above the Napa Valley floor. Extensive early morning fog in summertime makes this mountain vineyard an ideal wine grape growing area by providing much needed moisture and relief from Napa's scorching summer temperatures. Cabernet Sauvignon, Zinfandel, Syrah, and Petite Sirah are all grown in this special vineyard whose complex soil types include Berressa dibble, and both Los Gatos and Millsholm loam. Gary Miller fondly states that "the conditions here (referring to the Sage Canyon Vineyard) encourage Syrah to sing." We agree, and believe you will, too.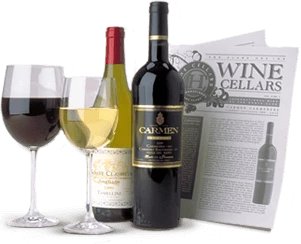 Enjoy Limited Production Estate
Bottled Wines
Discover limited production estate bottled wines such as Vergenoegd's internationally
acclaimed 2005 Cabernet Sauvignon, imported exclusively for our members.
DISCOVER OUR FOUR CLUBS