Milbrandt's delicious 2009 Pinot Gris ought to be the poster child for Pinot Gris – one of the world's greatest white grapes and certainly one of most successful grape varietals now grown in the Pacific Northwest. It also makes us wonder why some purveyors of this flavorful grape fashion fantastic wines while others turn out dull, insipid offerings. Happily, the 2009 Milbrandt Pinot Gris is anything but dull. In fact, it's everything good Pinot Gris should be. It is bright, crisp, and energizing. It also features a knockout nose and a portfolio of flavors that blossom with each sip. Apple, nectarine, pear, and white fig flavors come front and center, and are followed quickly by a dry, fresh minerality that adds both character and structure to this wine – all of which we found to be thoroughly captivating. In short, Milbrandt's Pinot Gris may be the most irresistible white wine we have tasted in a long time. It tastes ohhh so good and it's as quaffable as any wine can be. Truth be known, the tasting panel begged for more and bickered over the last few drops. Serve this delightful Pinot Gris moderately chilled (40º-45º F), and often.
Seafood, sushi, and Asian stir fries are popular foods to serve with Milbrandt's exuberant 2009 Pinot Gris, as many upscale Portland and Seattle restaurants will eagerly attest. These foods also make our list of leading candidates to pair with top notch Pinot Gris. Shellfish, especially clams, crab, oysters, mussels and shrimp prepared in a myriad of ways, constitute some of our favorite starters with this Pinot Gris. Salmon Mousse; a delicate pâté made with pork or veal and served with crusty French bread; and melted Brie or Chèvre provide savory accompaniments and faithful companionship to this wine, too. However, one need not prepare anything fancy to accompany Milbrandt's friendly, gulpable Pinot Gris. Although completely food friendly, its presence alone is enough to make us want to call a few friends and have a party, so what are you waiting for? Just make sure to have an extra bottle or two on hand. Enjoy!
Brothers Butch and Jerry Milbrandt are the brawn and brains behind Milbrandt Vineyards. They began their viticultural venture in 1997 with plantings on the remote windswept bluffs of eastern Washington that sit high above the Columbia River. Their family had been farming in eastern Washington since the 1950's and at first glance the sagebrush and tumbleweed plateau above the Columbia River might not seem like typical wine country, but the brothers rightly believed the region's moderate temperatures, low rainfall, and sandy soils were ideal for grapes. With the help of renowned viticulturist James McFerran, Milbrandt Vineyards quickly established a reputation for producing superior grapes, which were snatched up by the growing number of Washington wineries and fashioned into award winning wines. After eight years of selling grapes to many of Washington's preeminent wineries, Butch and Jerry hired veteran winemaker Gordon Hill to help them make their own award winning wines. Today, Milbrandt Vineyards enjoys outstanding critical acclaim and a growing number of loyal followers who appreciate the balance, precision, and natural tasting flavors inherent in each of the estate's wines. With more than 13 distinct vineyard sites and 1,800 acres under cultivation, Milbrandt Vineyards crafts a wide array of wines that include Chardonnay, Cabernet Sauvignon, Merlot, Pinot Gris, Riesling, and several Rhône varietals.
Pinot Gris, a favorite grape of winemakers around the world, is a "white" grape variety that oddly enough is related to Pinot Noir. Like Pinot Noir, its origins are Burgundy and northern France. Pinot Gris (gris means gray in French) derives its name from the unique smoky, grayish/blue color of its grapes. Pinot Gris has been identified since the Middle Ages and known by its present name for centuries. However, Pinot Gris has assumed several aliases over the years, including Pinot Grigio, Grauburgunder, and Ruländer. Moreover this chameleon-like grape has traveled far and wide. No longer grown in its native Burgundy region, Pinot Gris has found a home in nearby Alsace where it continues to be cultivated extensively. Alsace Pinot Gris is highly revered for producing rich, aromatic wines of great character. However, Pinot Gris can be made in a myriad of styles, depending upon the soil, climate, and personal choices of the winemaker. Testimony to Pinot Gris's reputation as a chameleon are the ethereal, mineral driven Pinot Grigio wines of northern Italy, which bear little or no resemblance to their Alsatian cousins or the growing array of flavorful Pinot Gris offerings from New Zealand and America's Pacific Northwest. In the hands of skilled winemakers, Oregon and Washington produce a burgeoning number of dry, highly aromatic wines of great flavor and true distinction.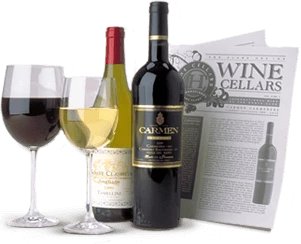 Enjoy Limited Production Estate
Bottled Wines
Discover limited production estate bottled wines such as Vergenoegd's internationally
acclaimed 2005 Cabernet Sauvignon, imported exclusively for our members.
DISCOVER OUR FOUR CLUBS