Once again, Mayu has fashioned a beautiful, crisp white wine in its 2016 Mayu Valle de Elqui Huanta Vineyard Pedro Ximénez. Grown in one of the highest vineyards on earth at an altitude of 6,320 feet, the 2016 Mayu Valle de Elqui Huanta Vineyard Pedro Ximénez offers an appealing array of floral and fruit aromas, flavors vibrant with fresh acidity, zesty minerality, and a long appealing finish. In the mouth, lively citrus and orchard fruit flavors grace the palate and help slake the thirst. Unlike many of its Spanish and Australian cousins, Mayu's Valle de Elqui Pedro Ximénez possesses crisp acidity and laser-like precision to accompany its ripe, forward fruit. Light on its feet yet long on the finish, Mayu and winemaker Giorgio Flessati have crafted another distinctive, character-filled wine in the 2016 Mayu Pedro Ximénez from the lofty Huanta Vineyard. For optimal enjoyment we suggest moderate chilling (40° F) of the 2016 Mayu Valle de Elqui Huanta Vineyard Pedro Ximénez. Enjoy!
The 2016 Mayu Valle de Elqui Huanta Vineyard Pedro Ximénez is not your ordinary, cookie-cutter white wine, and for that we are thankful. For many, Mayu's Pedro Ximénez conjures past experiences of an exceptional Albariño, Verdejo or Sauvignon Blanc, but there is something quite unique about this wine, which renders it enjoyable and intriguing as well as a natural accompaniment to seafood, charcuterie and tapas. A seafood salad of shrimp, calamari, baby octopus, carrots, and celery in oregano vinaigrette provides an exceptional companion to Mayu's Valle de Elqui Pedro Ximénez. Green hummus made with chickpeas, arugula, green pepper, and green onion and served with fresh vegetables and Naan chips offers another wonderful accompaniment to this wine. Thinly sliced pepperoni, prosciutto, and salami also make tasty accompaniments to Mayu's Pedro Ximénez. Pan seared scallops, roasted oysters, mussels in an herb-infused broth, and grilled fish all make splendid choices as well. Many will also enjoy this wine on its own as an aperitif. Taste and see for yourself. Buen Provecho!
The Olivier family are pioneers in Chile's Elqui Valley and the founders of Viña Mayu. "Mayu," meaning river of stars, draws its name from the Inca word for the Milky Way. The Oliviers first ventured into fine winemaking in the Elqui Valley with Viña Falernia in 1998 after decades of producing pisco (Chile's national spirit made from white wine and akin to grappa) with plantings of Carmenère and Syrah. Subsequently, they established Viña Mayu as an independent family winery in 2005. In just a little more than a decade, Viña Mayu has achieved extraordinary success with Carmenère, Syrah, Sauvignon Blanc and Pedro Ximénez, an exceptional Spanish grape variety that thrives in warm, arid climates.
As a young boy, Mauro Olivier worked for his family's table grape business and later in the family's production of pisco, helping the Oliviers become one of the three leading Chilean producers of pisco. A visit to Elqui Valley by Mauro's oenologist cousin Giorgio Flessati at harvest time for the pisco grapes set the stage for Viña Mayu.
Giorgio Flessati of Trento, Italy comes from a long line of viticulturists, so it came as no surprise that he chose to continue the family tradition by completing his studies in oenology at San Michele all'Adige, Italy's celebrated wine academy near Trento. Giorgio serves as winemaker at Mayu, and he is also the General Manager and Chief Winemaker for Lagaria in Italy with projects in both northern Italy and Sicily.
Elqui Valley lies 325 miles north of Santiago and is Chile's northernmost wine region. Elqui Valley borders the Atacama Desert, reputed to be the driest spot on earth. The valley's lack of water vapor and a dearth of ambient light are ideal for star gazing as well as the cultivation of warm weather grapes, which thrive on the valley's brilliant luminosity and pure water from irrigation projects that flow from Andean snow melt. Elqui Valley's unique orientation and great variance in terroir provide a spectrum of environmental elements that account for an enormous diversity in the valley's viticulture.
Elqui Valley possesses three distinct microclimates, Coastal, Mid-Valley, and High Mountain Range, which allow for the successful cultivation of a wide range of white and red grape varieties. In addition to coastal breezes, temperature extremes, differences in solar radiation, rainfall index, and soils, altitude plays a key role in the quality and variety of wine produced in the valley and allows wineries such as Mayu with viticultural and oenological expertise to craft wines of character and originality. With some of the cleanest air on earth and a high UV radiation index from the desert sun, Mayu produces grapes of incomparable color, flavor and polyphenol content.
Pedro Ximénez (also known by various aliases, including PX and Pedro Jiménez) is a Spanish grape variety most associated with the extraordinary dessert wines of Spain's Denominación de Origen Montilla-Moriles, and it is highly regarded as a key player in many of Spain's finest Sherries. Indigenous to Andalusia in southern Spain, Pedro Ximénez thrives in warm, dry climates. Although cultivated most extensively in Spain, Pedro Ximénez has made its way to Chile where it produces dry aromatic wines of exceptional character, and to Australia where it yields fine botrytised dessert wines.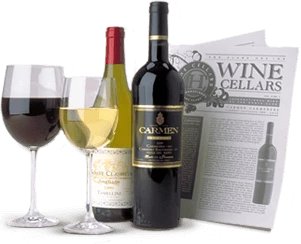 Enjoy Limited Production Estate
Bottled Wines
Discover limited production estate bottled wines such as Vergenoegd's internationally
acclaimed 2005 Cabernet Sauvignon, imported exclusively for our members.
DISCOVER OUR FOUR CLUBS