The 2006 Maven Pinot Noir is a stunning example of just how far the Marlborough appellation has come in thirty years. The product of a single, handpicked vineyard from the prized Rapaura area of Marlborough, the 2006 Maven Pinot Noir is a tour de force in winemaking. Mike Just's latest success is a sleek, textured Pinot that can outshine many a fine Premier Cru from Burgundy. This wine is positively loaded with scent and savor. Moreover, it possesses supreme finesse and all the deep down fruit flavor that New World Pinot can muster. Regally clothed in a ruby robe, the 2006 Maven Marlborough Pinot Noir offers up plenty to relish in the form of wild cherry, cola, and savory forest floor flavors. Long, lovely, and lingering on the palate, one could hardly ask for more in a wine. And what makes the 2006 Maven Marlborough Pinot Noir even more impressive is the fact that it is still so very young; this outstanding effort has several more years before it reaches its apogee. And given New Zealand's commitment to the Stelvin cap, this Pinot is fresh and ready to drink the moment it reaches the glass. Nonetheless, those who are patient enough to allow the 2006 Maven Pinot Noir a chance to breathe for twenty or thirty minutes will be amply rewarded. We suggest serving this Pinot Noir cool (at no more than 66° F). Anticipated maturity: 2007-2012.
Wine as tasty, textured, and complex as the 2006 Maven Marlborough Pinot Noir needs very little in the way of accompaniment. However, one of the glories of premium Pinot Noir is its complex set of aromatics and intense flavors, which lend themselves ever so hedonistically to the splendors of the table. And what New Zealand does so adeptly is pair its fresh, natural ingredients with its ever increasing array of fine wines. Consequently, the Maven Marlborough Pinot Noir provides a natural accompaniment to both fish and meat. Salmon, tuna, chicken, ham, pork, and tender New Zealand lamb all provide the Maven Pinot Noir with superb partners in culinary delight. Two of our favorite pairings with this wine are grilled tuna, marinated in garlic, ginger, and lime juice; and braised pork tenderloins, with apples and cream. Both accentuate the savory aspects of this exciting Pinot Noir. Enjoy!
Editor's Note: The 2006 Maven Marlborough Pinot Noir is a very limited production wine from a single Marlborough vineyard. Nevertheless, it sports eight different label images, each with a different picture from New Zealand photographer John Crawford. Each label image represents a slice of Marlborough. All of the wine under the 8 labels is the same – only the labels are unique. Maven, like nearly all New Zealand producers, now employs the Stelvin cap to insure ultimate freshness and consistency. Maven was conceived in 2005. It is the latest venture from Mike Just, the iconic Marlborough winemaker who is responsible for many of New Zealand's finest Pinot Noir and Sauvignon Blanc wines. After many years of fashioning fine wine for well-known Marlborough producers, Mike has ventured out on his own. Maven is Mike Just's own brand, and he has spared no expense in bringing his skill to fore. In short, Mike knows how to transfer his love of wine and viticulture into each and every bottle that bears his name. Mike Just: Not Just Another Winemaker Mike Just is not just another winemaker: he is one of New Zealand's premier producers of Sauvignon Blanc and Pinot Noir and a national icon. Descending from royalty (tracing back to England's King Edward III) Mike is also a Pinot Noir maven and a very astute collector of medieval artifacts. Although born a New Zealander, Mike learned his craft in Germany where he spent several years working in various wineries. In Germany, Mike picked up the skill as well as the feel for producing premium wines in a cool climate. With centuries of experimentation and tradition, Germany afforded Mike the perfect perspective and experience to carry back to Marlborough, the center of cool climate viticulture in New Zealand. However, we believe that it is more than training and experience that make Mike Just such an accomplished winemaker. It is, also, his philosophy and firm promise to customers to deliver "serious wines that are fun to share." Mike fulfills his pledge through a combination of hard work, intuition, and daring. Consequently, all of Maven's wines are handpicked from the finest clones and possess a tasty, natural feel that reflects the terroir of Marlborough and the consummate skill of Mike Just. Marlborough: A Noble Land Marlborough is situated on the northern tip of New Zealand's mystical South Island, where it enjoys a unique dry maritime climate. High mountains isolate this enchanted land from the cold alpine interior of the rest of the South Island, while the spectacular Marlborough Sound to the north provides a conduit to the sea as well as the planet's most majestic view of New Zealand's North Island as it soars skyward across the swells of Wellington Straits – a sight that ranks as one of the world's most stunning vistas. Moreover, Marlborough is about as close to viticultural paradise as one can find, especially for Chardonnay, Sauvignon Blanc, and Pinot Noir. Marlborough's long, sunny, but not excessively hot growing season provides nearly ideal conditions for grape growing. The average summer daytime temperature hovers between 24° C and 28° C (72° - 80° F) depending upon one's altitude and proximity to the sea. The air is crystal clear and the light luminous; with nary an overcast day let alone much rain during the long growing season. Cool nights keep acid levels high in the grapes, even as sugar levels rise abruptly. Such conditions lend themselves to an extended growing season, which provide slow even ripening and extended hang time for the grapes. The result is ripe healthy fruit, with fresh vibrant flavors and a crisp herbaceous zing. In addition to its superb summer climate, Marlborough also boasts excellent soil for grapes. Most of Marlborough consists of silty, free draining alluvial loams over gravelly sub-soils. In addition, river stones lie scattered throughout Marlborough, remnants of the many rivers that once coursed through the pretty valleys of Marlborough. These river stones store heat from the warm sunny days and radiate that heat back into the vineyards at night, thereby providing a unique microclimate and terroir that has been likened to Châteauneuf-du-Pape. Moreover, most Marlborough growers are committed to sustainable agricultural practices in order to preserve the region's noble terroir.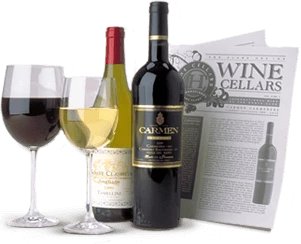 Enjoy Limited Production Estate
Bottled Wines
Discover limited production estate bottled wines such as Vergenoegd's internationally
acclaimed 2005 Cabernet Sauvignon, imported exclusively for our members.
DISCOVER OUR FOUR CLUBS