Mauritson has garnered a cult following for its Zinfandels, and for good reason. They are simply delicious. In the case of the 2015 Mauritson Dry Creek Valley Zinfandel, which has garnered 93 points from Wine Spectator, it is not only delicious and easy to drink; it offers a degree of complexity and sophistication rarely seen in Zinfandel. A superb blend of 95% Zinfandel and 5% Petite Sirah, Mauritson's 2015 Dry Creek Zinfandel positively sings from the glass, offering a beguiling bouquet of blackberry, black cherry, and exotic spices. Redolent but not overpowering, this medium to full-bodied, sleekly structured Zinfandel offers up an enviable array of flavors to match its seductive bouquet: blackberry and blueberry fruit infused with vanilla, baking spices, and bramble unfold seamlessly in the mouth. One can hardly resist this boldly flavored and handsomely made Zinfandel, with its innate charm and explosive finish. For optimal enjoyment we suggest serving Mauritson's 2015 Dry Creek Valley Zinfandel at cool room temperature (60°-62° F) after 15-20 minutes of aeration. Enjoy!
Mauritson's 2015 Dry Creek Valley Zinfandel is a true American classic. It is also the ideal companion to serve with great American fare. Zinfandel is, after all, America's own wine. One of the aspects we like most about Mauritson's Dry Creek Zinfandel is how well it accompanies what Americans like to eat. Whether it is at an elegant dinner party or an informal holiday meal with roast turkey filled with old-fashioned cornbread stuffing, a simple burger off the grill, a perfectly cooked steak, or, better still, a host of classic Mediterranean delights straight out of the brick oven, all offer excellent companionship to the 2015 Mauritson Dry Creek Zinfandel. Southern Italian specialties such as Eggplant or Zucchini Parmigiana, lasagna, and manicotti also pair well with this wine, and why not? Zinfandel had been a favorite of California's Italian immigrant population for more than a century and Zinfandel's ancestor, Primitivo, a staple in southern Italy for centuries. In addition, Zinfandel complements a variety of Tex/Mex and authentic Mexican dishes better than any other red wine, so why not try Mauritson's highly touted Zinfandel with sizzling fajitas? Roast loin of pork with onion and sage dressing and baby back ribs slow cooked in plenty of thick spicy barbeque sauce provide more choice pairings with this Zinfandel. Besides, as versatile as Mauritson's 2015 Dry Creek Valley Zinfandel is, it will enhance almost any dish. So sit down, pour a glass, and relax!
The Mauritsons are hardly newcomers to farming or to Sonoma County, as they have been growing grapes in Sonoma's Dry Creek Valley since 1868. The Mauritsons' great-great-great grandfather, S.P. Hallengren, was an early Dry Creek pioneer, a tradition the family carries on to this day.
By the early 1960s the Mauritson homestead comprised nearly 4,000 acres, though not all of it was planted to vineyards. Much of it was used for grazing and the grapes were sold to the finest purveyors of Zinfandel. By the mid-1960s the Army Corps of Engineers had acquired all but 700 acres of the Mauritson Ranch in order to build Lake Sonoma, but that did not stop the Mauritsons from planting Zinfandel and expanding their grape growing in Dry Creek Valley. However, it was not until Clay Mauritson returned from college in the mid-1990s that the Mauritsons began making their own wine from their estate vineyards. In 1998 Clay released his family's first wine, Mauritson Dry Creek Zinfandel. This inaugural release set the stage for the Mauritson's meteoric rise. Clay's wife Carrie joined him in the family enterprise shortly thereafter, and over the next 20 years Mauritson Zinfandels have become some of the most sought after Zinfandels in the country.
In addition to the highly touted and award winning Mauritson Dry Creek Valley Zinfandel (this month's feature), Mauritson also fashions several outstanding single vineyard Zinfandels, a superb Sonoma County Cabernet Sauvignon, Dry Creek Valley Sauvignon Blanc, Alexander Valley Chardonnay, and a small quantity of delightful rosé wine.
Although its DNA points to Eastern Europe's Primitivo grape as its ancestor and its New World appearance still remains under investigation, Zinfandel has been dubbed "America's own grape variety." In California, Zinfandel produces a wine quite different from its Croatian and Italian forbearers, and nowhere is that more apparent and welcome than in Sonoma County – the spiritual home of Zinfandel. In Dry Creek Valley and along the banks of Sonoma County's Russian River, Zinfandel relishes the cooling Pacific breezes that funnel up the appellations' canyons and valleys as its fruit basks in the long, dry summer afternoons, which not surprisingly bring the grape to the pinnacle of perfection. Zinfandel's deep, rich colors, intense berry, bramble, and herb flavors, high alcohol, and lush tannins result in wines that fill the mouth and satisfy all of the senses. One of Zinfandel's keys to success is its extraordinary lifespan, which enables it to produce quality fruit well into old age. In fact, the oldest Zinfandel vineyards (many in California are in excess of 100 years of age) are the most prized. Zinfandel can be quite versatile, too (think White Zinfandel as well as many of California's most celebrated and intense red wines). As an immigrant to our shores, Zinfandel embodies the American experience. It is a grape that has transformed itself over the last century and a half and honed its own unique identity. In the eyes of many, Zinfandel has become a bigger, better, more complex grape since its arrival in America with a can-do attitude and a unique identity all its own.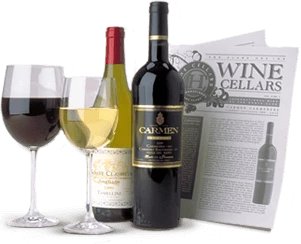 Enjoy Limited Production Estate
Bottled Wines
Discover limited production estate bottled wines such as Vergenoegd's internationally
acclaimed 2005 Cabernet Sauvignon, imported exclusively for our members.
DISCOVER OUR FOUR CLUBS