California definitely meets Spain in Matchbook's estate 2015 Tinto Rey Dunnigan Hills Tempranillo. Not only does this smooth potion hail from primarily Tempranillo grapes (80% Tempranillo, 9% Petit Verdot, 8% Tannat, 3% Graciano) from Zamora, California, it resembles the splendid red wines of Zamora, Spain, a prized viticultural area astride the mighty Duero River that enjoys worldwide repute for exceptional Tempranillo-based wines. Aged in oak barrels for 29 months in the fashion of the finest wines of Rioja and Ribera del Duero, the 2015 Matchbook Tinto Rey Dunnigan Hills Tempranillo sports a deep garnet color and a beguiling nose of red and black fruits infused with smooth vanilla tones. In the mouth, the wine's fruit and spice tones are pure elegance, providing silky smooth flavors that continue to unfold from the moment the wine is poured until the last satiny drop gleefully slides down the eager throat. Harmonious and multilayered, the 2015 Matchbook Tinto Rey Tempranillo lives up to its noble name Tinto Rey, meaning Red King. It's a wine fit for a king and is easily appreciated by the court and all of the king's subjects with minimal aeration. Serve at 58°-62° F. Enjoy!
Throughout Castilla y Leon and much of Spain, beef and lamb provide the preferred protein to accompany the country's fine Tempranillo-based wines, and so it is with Matchbook's 2015 Tinto Rey Dunnigan Hills Tempranillo. Grilled lamb chops marinated in olive oil, garlic, and rosemary and served with garlic mashed potatoes and root vegetables makes a splendid partner. Equally gratifying is a well-trimmed beef tenderloin topped with a delectable portabella mushroom sauce that is served with creamy mashed potatoes, pearl onions, and roasted Brussel sprouts. Smoky paella prepared with chicken, chorizo, and almost anything else that strikes one's fancy also makes a splendid companion to the 2015 Tinto Rey Tempranillo. Aged Manchego or Mahón cheese provides a simple, but tasty accompaniment, too, though none of our tasting panel members objected to a second glass with nary a morsel. In other words, the 2015 Matchbook Tinto Rey Tempranillo is a real crowd pleaser, requiring only a large clean glass to work its magic. Buen Provecho!
The 2015 Matchbook Tinto Rey Dunnigan Hills Tempranillo makes an ideal accompaniment to cheese. Tinto Rey's delightful fruit and spice tones complement a variety of cheeses, especially those made from cow and sheep's milk. A glass of the 2015 Tinto Rey Tempranillo with English Farmhouse Cheshire, a slice of authentic Spanish Mahón, or a few morsels of Danish Havarti, will make any true cheese aficionado dance with delight. For more information on delicious gourmet cheeses, contact us at www.cheesemonthclub.com.
Matchbook's Tinto Rey is where Spain meets California and more. Purposely located off the beaten path in the Dunnigan Hills of Yolo County, California in the tiny town of Zamora, the folks at Matchbook fashion highly acclaimed wines, including the estate's exemplary 2015 Tinto Rey Dunnigan Hills Tempranillo (this month's feature). Owned and run by John and Jane Giguiere, the original founders of the R.H. Phillips winery and other award winning ventures, Matchbook produces several New World red and rosé wines based on Spanish varietals under the Tinto Rey label in addition to their estate Tempranillo, which ranks among the finest in California.
The Giguiere family have long been farmers and grape growers in the Dunnigan Hills. John's ancestors immigrated to California's Dunnigan Hills from Quebec, Canada in the 1850s in search for land to grow their crops, and they have been there ever since. Today, the fifth generation of the Giguiere family tends the estate's 1,200 acres of vineyard and makes a dazzling array of award winning wines in addition to traditional Spanish varietals.
An indigenous Spanish variety, Tempranillo is the third most widely planted wine grape variety on the planet with the vast majority of acreage spread throughout the Spanish Meseta that cuts through northern and central Spain. More importantly, Tempranillo forms the heart and soul of the greatest Spanish wines, including the finest wines of Rioja and Ribera del Duero, which lie at the very heart of the grape variety's spiritual home.
Like many of the Old World's indigenous grape varietals, Tempranillo goes by many names, including Tinta Fina, Tinto del País, and Tinto del Toro in Spain and Aragonez and Tinta Roriz in neighboring Portugal where it is also highly prized. In its native land, Tempranillo can easily stand on its own, yet it is just as often blended with other premium varietals, especially in Rioja where it frequently partners with Garnacha, Graciano, and Mazuelo.
Although the vast majority of Tempranillo emanates from Spain, the grape has begun to gain favor in several New World locales with increased plantings in Argentina, Australia, California, and other wine regions where long, dry summer weather prevails.
Tempranillo produces medium to full-bodied wines that run the gamut from delightfully juicy and flavorful everyday wines to deeply profound potions that are capable of long ageing in both barrel and bottle. Tempranillo's flavor profile is varied, too, with a multitude of fruit and earth tones playing counterpoint to one another: savory notes of cherry, woodland berries, cedar, leather, meat and unsmoked tobacco often appear in the finished product. Tempranillo's propensity for long ageing in wooden barrels also adds spicy vanilla tones, which serve to tame the wine's natural tannins and account for Tempranillo's often remarkably smooth finish.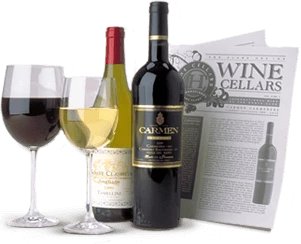 Enjoy Limited Production Estate
Bottled Wines
Discover limited production estate bottled wines such as Vergenoegd's internationally
acclaimed 2005 Cabernet Sauvignon, imported exclusively for our members.
DISCOVER OUR FOUR CLUBS