Delicate, fresh, and immediately satisfying, the 2012 Lungarotti Torre di Giano makes a compelling case for keeping multiple bottles of this elegant, pleasing white wine on ice. Sporting a bright, sun kissed robe that immediately catches the eye and a fragrant bouquet that captivates the nose with delicate scents of white peach, almond, and pear, we found this wine hard to resist. And once sipped and savored the temptation to continue drinking this pure, thoroughly refreshing white wine can easily overwhelm one's good judgment. The 2012 Torre di Giano is neither big nor bold, or very complex. It contains no buttery flavors or spicy vanilla tones from an extended stay in oak barrels. However, what you do get in this beautiful offering from Lungarotti is a unique blend of Vermentino (40%), Trebbiano (30%), and Grechetto (30%) that tastes as natural, fresh, and charming as a cool summer breeze. We suggest enjoying the 2012 Torre di Giano moderately chilled (40°-45° F) and often as you can.
The 2012 Lungarotti Torre di Giano serves as an excellent aperitif and the perfect segue from the work day to leisure time. What more could one want when first coming home from work? How about another glass of the Torre di Giano and a plate of homemade Pasta Primavera? A slowly cooked cheese, chicken or mushroom risotto provides another winning accompaniment to Lungarotti's beguiling white wine. Spaghetti with white clam sauce or almost any delicate white fish complements this wine as well. A lobster roll or even a simple Oyster Po Boy tastes even better in the presence of a cool draught of Lungarotti's 2012 Torre di Giano. Charcuterie and soft cheeses make splendid accompaniments, too, with baked Brie with toasted almonds as a tried and true crowd pleaser. Buon Appétito!
Since its inception in the early 1960s, Lungarotti has served as Umbria's model wine estate. Begun by Giorgio Lungarotti, who is now widely acknowledged to be the father of modern viticulture in Umbria, the present Lungarotti estate comprises 250 prime hectares (618 acres) in the area of Torgiano. The Lungarotti vineyards are situated at varying altitudes on the slopes of the hills above the Tiber River. As early as the 1960s, Giorgio Lungarotti experimented with zone planting and continued this all important work throughout the 1990s. The soil of the area is a unique combination of ancient sediment from a vast lake that once covered the region and tufa rock, a form of limestone renowned for producing fine wine.
Today, the Lungarotti estate rests in the capable hands of Giorgio Lungarotti's daughter Chiara and her sister Teresa Severini. Chiara is an agronomist in her own right, having earned a degree in agriculture from the University of Perugia and pursued further studies in enology in Bordeaux. Their mother, Maria Grazia Marchetti Lungarotti, studied art in Rome and has become a well-known advocate of the rich cultural history of Torgiano and nearby Perugia. Maria Grazia has also been instrumental in the establishment of two world class museums in Umbria, the Wine Museum and the Museum of Olives and Oil, both of which pay testimony to the more than 5,000 year history of the cultivation and production of wine and olive oil in Umbria.
The Lungarotti estate produces a myriad of fine red and white wines, but the winery's two most important offerings remain Rubesco, a juicy red wine from Sangiovese and Canaiolo, and Torre di Giano, a distinctive dry white wine of elegance and breed from Vermentino, Trebbiano and Grechetto grapes.
Umbria lays at the Green Heart of Italy, landlocked between Tuscany to the west and the Marche to the east. It is a pastoral land of rolling hills and verdant landscapes, enlivened by rows of undulating vines and waving sunflowers, broken only here and there by small groves of olive trees that shimmer in the breeze. Umbria is home to famous hill towns such as Assisi, Orvieto, and Perugia. Yet, Umbria has largely shunned the limelight, and in terms of wine Umbria continues to live in the shadow of Tuscany, its more renowned neighbor.
From the perspectives of sheer volume of production and the international recognition of the region's wines Umbria continues to lag behind Tuscany and the vast majority of other Italian wine regions as well. For most of the 20th century, Umbria's only internationally acclaimed wine sprang from the hills around Orvieto, but thanks to Giorgio Lungarotti, Umbria has become a source of world class wine. Giorgio Lungarotti himself is considered to be the father of quality wine in Umbria. In 1962, Lungarotti began a mission to fashion world class wine in Umbria and revive the cultural and agricultural fortunes of Torgiano, that for too long had languished with neither direction, nor a dream. Lungarotti provided both. Through his vision and hard work, he created the Lungarotti estate, Umbria's most important wine estate, and gained DOC status for Torgiano in 1968 and DOCG status in 1990. He also worked to establish recognition for nearby Montefalco which was granted DOC status in 1979.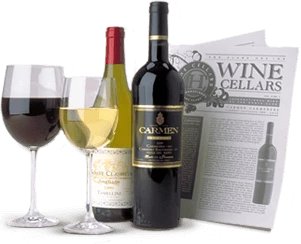 Enjoy Limited Production Estate
Bottled Wines
Discover limited production estate bottled wines such as Vergenoegd's internationally
acclaimed 2005 Cabernet Sauvignon, imported exclusively for our members.
DISCOVER OUR FOUR CLUBS