Thanks to ideal weather in 2015 and Amancio Fernández's deft hand, the 2015 Losada Altos de Losada Bierzo Mencia ranks as another great success from this superb property. The 2015 Altos de Losada offers a deep purple robe and an alluring set of aromatics. Savory notes of blueberry, black cherry, purple plum, and Asian spices caress the nose and grace the palate. Bold but balanced, Amancio Fernández's 2015 Mencia offers lush flavors, profound depth of flavor, and true elegance from the first sip until the last. The wine's pure, concentrated fruit flavors that seem to sink into the marrow of the wine, subtle minerality, and intriguing spice tones are all carried gracefully by the wine's fine grained tannins, which provide balance and ample structure to carry the 2015 Losada Altos de Losada Mencia into the next decade and beyond. In fact, we have found Losada's Mencias to be deceptively drinkable early on, yet capable of improving in bottle for a decade or more. The recipient of many well-deserved 90+ ratings, including 93 points from James Suckling and 92 points from Wine Enthusiast, the 2015 Losada Altos de Losada deserves a special place at table as well as in the cellar. For optimal enjoyment, we suggest decanting the 2015 Altos de Losada 30-60 minutes before serving at cool room temperature (60° F).
Although the vast majority of Mencia wines are consumed at table, where they truly shine, Amancio Fernández's noble 2015 Losada Altos de Losada Mencia makes a case for considering less may be more. Given a bit of aeration, many will want to consume this complex, refined red wine with the barest of accompaniments. However, like the greatest Pinot Noirs and red Burgundies, well-prepared dishes in the company of the 2015 Altos de Losada will not only enhance the pleasure of both the wine and the food, it may just make the evening. In Spain, traditional pairings with Bierzo's Mencias almost always involve lamb or pork. Indeed, Pork and Green Chilies simmered with beans and herbs makes a lip smacking accompaniment. Spicy lamb kebobs or garlic and herb rubbed lamb shanks, which are grilled to perfection over a charcoal fire, offer additional inducements to open a bottle of the 2015 Altos de Losada. Veal Osso Buco gets our nod, too, with Losada's flagship red, but duck, chicken, and game birds also make ideal companions to Losada's Altos de Losada. And if less is truly more, Spain's wonderful sheep's milk cheeses, Manchego and Mahon in particular, will work more than enough magic in the company of this beautiful Losada Mencia. Buen Provecho!
Losada Vinos de Finca opened its doors in 2004 and remains the handiwork of the renowned Amancio Fernández. For more than a decade, Amancio has fashioned many of Bierzo's greatest Mencia wines. Losada Vinos de Finca was founded in the heart of Bierzo, the home of Mencia, by Amancio and his partners to craft the finest Mencia in all Bierzo, a goal many believe he has already attained. Ancient Mencia vines, some of which are 100 years of age, surround the estate's ultra-modern winery. Moreover, all of Losada Vinos de Finca's vines are cultivated organically, which strictly limits yields and assures the utmost elegance, balance and purity in Losada's wines.
Unquestionably, Losada Vinos de Finca's wines receive meticulous care. They undergo malolactic fermentation in French oak using natural yeasts and are barrel aged to perfection. Losada fashions four distinct Bierzo Mencia wines, each from vines of varying ages and vineyard parcels. Altos de Losada (this month's feature) hails from a number of tiny mountain parcels of very old vines and is Losada's flagship offering. Vinos de Finca also crafts three other Mencia wines: La Bienquerida, Losada, and El Pájaro Royo, the latter a light, juicy Mencia for everyday consumption. If you have never tasted a Mencia from Amancio Fernández, it is time you did.
Mencia is a red Spanish grape varietal found primarily in the Bierzo, Ribeira Sacra and Valdeorras appellations of northern Spain. Although the Mencia varietal was once considered by enologists to be the direct ancestor and precursor of Cabernet Franc, recent DNA testing has shown that this is not the case. Mencia is likely related to Portugal's Jaen de Dão (Jaen for short) grape variety, but the evidence remains inconclusive. What we do know for certain is that Mencia vines have been cultivated for centuries in Bierzo.
Bierzo is a remote area of Galicia, Spain's cool, windswept province astride the Atlantic. Certainly, it is the very isolation of the Bierzo that has allowed Mencia to survive and even thrive. Moreover, Bierzo's hillside vines remain quite old, which lend themselves to the production of high quality wines. Consequently, the wonderfully fruity, spicy, and wholly intriguing Mencia varietal has recently been discovered, or rather re-discovered, by legions of modern wine drinkers, so much so that Mencia wines now rank among the finest and most sought after of Spanish wines. Consumers are no doubt intrigued by Mencia's viticultural attributes, which are accentuated by organic farming, low vineyard yields, and the modern winemaking techniques practiced by Losada Vinos de Finca and several other like minded wineries.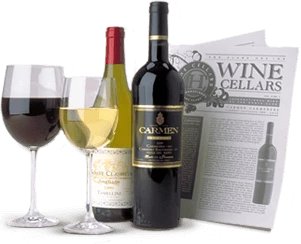 Enjoy Limited Production Estate
Bottled Wines
Discover limited production estate bottled wines such as Vergenoegd's internationally
acclaimed 2005 Cabernet Sauvignon, imported exclusively for our members.
DISCOVER OUR FOUR CLUBS