Chief Winemaker and Managing Partner Russell Hearn has fashioned another outstanding effort in Lieb Cellars' 2013 Reserve Pinot Blanc, an effort every bit as exciting as the winery's award winning 2012 Reserve Pinot Blanc, the wine that first turned us on to Lieb Cellars. Having honed his winemaking ability in pioneering wineries around the world, including stints in Australia, California, France, New Zealand, and throughout America's East Coast, Hearn's 2013 Reserve Pinot Blanc offers a vibrant, pure and refreshing rendition of Pinot Blanc that is simply hard to resist. Savory scents and flavors reminiscent of spring flowers and dried honey, green apple, and pear with hints of lemongrass and lime zest tantalize the nose and palate, before the wine slips ever so gracefully down the thirsty throat. Crisp and refreshing as the sea breeze that wafts from the nearby sound, it is easy to see why the winery's Reserve Pinot Blanc is Russell Hearn's and Lieb Cellars' Signature wine. Enjoy this tasty versatile Pinot Blanc moderately chilled as often as you can.
Considering the maritime influences inherent in the 2013 Lieb Cellars Reserve Pinot Blanc and the wonderful fruits of the sea that emanate just a short distance from the winery door, our first inclination is to serve the 2013 Lieb Cellars Reserve Pinot Blanc with just about anything that once swam in the sea. Scallops, grilled or sautéed with shallots, butter, white wine, and fresh herbs, and a bottle of the 2013 Lieb Cellars make for one memorable meal. But why not double the pleasure? A bowl of steamed mussels dipped in a heady broth or light red pepper vinaigrette provides a wonderful prelude to the scallops and a fine way to begin an evening with Russell Hearn's zesty Reserve Pinot Blanc. Fresh caught flounder or fluke from the island's nearby waters offer more tasty pairings, especially when stuffed with crabmeat or spinach sautéed with garlic and melted cheese. Fish tacos with this wine get an affirmative nod as well, yet the 2013 Lieb Cellars Reserve Pinot Blanc will more than do justice to the bounty of the land in addition to the sea. Slow roasted pork tacos with a mango salsa win our stamp of approval, too. And for the record, the 2013 Lieb Cellars Reserve Pinot Blanc is a splendid aperitif, requiring nothing but a clean glass and a means to open a bottle.
As one leaves the din of Manhattan and crosses a traffic-clogged bridge or emerges from the bowel of one of the seeping malodorous tunnels that connects New York's Manhattan Island to Long Island and its notorious expressway, the cacophony of the world's financial capital hardly abates, making any pastoral image of the North Fork of Long Island appear like a distant mirage. It will be another 50 miles or more before the factories, noise and suburban sprawl begin to fade completely away and one catches the first glimpse of green pine forests, followed by neatly tended sod farms. Further east, the expressway will melt into a two lane road dotted with colonial farm houses and the gleaming blue of Long Island Sound, glimpsed through rows of vineyards. The meticulously tended vines are laden with fruit, the air is fresh with a light sea breeze and the sun is warm and bright. Now you know you have arrived on the North Fork of Long Island, the warmest and sunniest spot in all New York State.
Having grown up on Long Island and passed many a happy day on the island's North Fork, it has long been my hope that one day we would feature Long Island wines. The long awaited day has come with the introduction of Lieb Cellars Reserve Pinot Blanc.
Lieb Cellars is an 85-acre sustainably farmed vineyard located on the North Fork of Long Island, some 80 miles east and light years away from New York City. Lieb was founded in 1992 and released their first line of Reserve wines in 1999 under the direction of Australian-born winemaker Russell Hearn, with the winery's Pinot Blanc and the Blanc de Blancs sparkling wine quickly gaining national recognition. The next year, Lieb opened their first tasting room on the North Fork of Long Island in Mattituck, NY. As the winery gained notoriety for its well-crafted wines, Lieb Cellars began to expand production, and, in 2004, introduced a second line of wine, the Bridge Lane series: lighter, fruitier everyday wines at more affordable price points than the winery's Reserve series.
In 2012, Lieb Cellars opened a second tasting room on the rustic, rural Oregon Road in Cutchogue, NY, and merged with Premium Wine Group, the custom crush facility where Lieb produces their wine. An East Hampton tasting room opened in 2014, establishing Lieb as the first and only North Fork vineyard with a tasting and retail space in the Hamptons.
But Lieb Cellars wines have traveled much further afield and garnered more than local attention. Today, Lieb Cellars wines are distributed in New York City, Boston, Philadelphia, Newport, Chicago and Shanghai, China. Lieb Cellars also produces two private labels for celebrity-chef Tom Colicchio's Craft restaurants and the Topping Rose House. Moreover, Lieb Cellars consistently produces exceptional Pinot Blanc, Chardonnay, Sauvignon Blanc, Merlot, Cabernet Franc, and a host of other wines including a sparkling wine for discerning palates.
Lieb Cellars belongs to the Long Island Sustainable Winegrowing Association, whose members pledge to farm according to sustainable agricultural practices that call for the following: avoidance of herbicides, use of organic fertilizers, preservation of topsoil, replenishment of nutrients on a disciplined schedule, conservation of wildlife habitat, hand-tending and harvesting of the vines, and keeping fruit yields intentionally low. Such practices come through loud and clear in Russell Hearn's pure vibrant wines.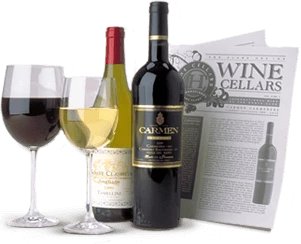 Enjoy Limited Production Estate
Bottled Wines
Discover limited production estate bottled wines such as Vergenoegd's internationally
acclaimed 2005 Cabernet Sauvignon, imported exclusively for our members.
DISCOVER OUR FOUR CLUBS