The 2012 vintage smiled upon Châteauneuf-du-Pape and the southern Rhône Valley, and Jerome Quiot has taken advantage of nature's bounty in fashioning a smooth, stylish 2012 Les Combes D'Arnevel Châteauneuf-du-Pape. Sporting a beautiful ruby robe that lends eye appeal to the wine's gustatory pleasures makes this Châteauneuf-du-Pape delightfully easy to drink. Savory scents of black cherry, spring flowers, and Provençal herbs dominate the wine's enchanting bouquet, while hints of garrigue and wild herbs blend with the wine's kirsch-like flavors in the mouth. Medium-bodied and impeccably balanced, the 2012 Les Combes D'Arnevel Châteauneuf-du-Pape harkens back to a more traditional style of Châteauneuf-du-Pape before jammy, overripe fruit was considered an attribute in fine Châteauneuf-du-Pape rather than a flaw. Elegant, pretty and fun to drink from the moment it is poured, the 2012 Les Combes D'Arnevel requires only a few minutes in a glass or decanter to shine. Enjoy this classic Châteauneuf-du-Pape at cool room temperature (58°-62° F), from now through 2019.
Châteauneuf-du-Pape complements a wide variety of foods, from wild game prepared with elaborate sauces to simple unadorned pizzas. Classic Provençal specialties will provide exceptional accompaniments to the 2012 Les Combes D'Arnevel Châteauneuf-du-Pape. Regional favorites such as gigot d'agneau (roast leg of lamb) and savory lamb stews are perennial favorites that promise both a memorable meal and an equally satisfying evening when paired with the stylish 2012 Les Combes D'Arnevel Châteauneuf-du-Pape. Lamb, prepared in nearly any form, provides a splendid opportunity to highlight the distinctive, savory flavors of Châteauneuf-du-Pape. Fine cuts of beef, venison, wild boar, and vegetarian specialties such as ratatouille made with eggplant, squash and Herbes de Provence make wonderful accompaniments to Châteauneuf-du-Pape, too. Roast turkey, duck or chicken served with a sausage and bread stuffing, creamed pearl onions, and whipped potatoes makes a strong case for itself as well. Furthermore, the 2012 Les Combes D'Arnevel, like Jerome Quiot's other splendid Châteauneuf-du-Papes, has the ability to elevate simple, well-prepared foods to the status of haute cuisine. One of Châteauneuf-du-Pape's greatest virtues is its propensity for accompanying many types of foods, so no need to fret over what to serve. Bon Appétit!
Combes D'Arnevel is a place name, known as a "lieu-dit," given to a special Provençal parcel of vines in the western part of Châteauneuf-du-Pape. It takes its name from a "combe" or depression in the land and "Arnevel" from the Provençal name for a stand of thorn bushes that act as a shelter. Until the purchase by the Quiot family in 1864, Combes D'Arnevel served as communal woodland with only a tiny vineyard. For many years the Quiot family used the area for hunting, and even today there remains a small hunting lodge on the property. The lodge is shaded by an ancient tree that still stands in the middle of the now enlarged vineyard, which is in turn encircled by hundreds of acres of woodland. The estate's vineyard plots are situated on stony terraces where they are exposed to the Mistral, the fierce wind that scours Châteauneuf-du-Pape, chasing away rot and pests from the appellation's very old vines.
Jerome Quiot, proprietor of Les Combes D'Arnevel as well as Domaine du Vieux Lazaret and Domaine Duclaux, two other prestigious Châteauneuf-du-Pape properties, is one of the movers and shakers in what many critics and sommeliers claim to be the finest appellation in France. Quiot himself has played an integral role in the administration of the appellation system in France, a process that not so ironically was born in Châteauneuf-du-Pape in the 1920s.
Châteauneuf-du-Pape is the Rhône Valley's most important appellation. Located in Provence, astride the swift moving Rhône River, this sun-drenched locale is blessed with a dry Mediterranean climate that is nearly ideal for the cultivation of vines and the production of wine. Châteauneuf-du-Pape possesses some of the oldest vines in France; the average age of the vines in Châteauneuf-du-Pape is in excess of 40 years, by far the oldest of any major appellation in France. And, many of those vines are 80-100 years of age. In addition, the entire production of this great wine is hand harvested. Moreover, we have not yet mentioned the region's fabulous terroir – large flat stones known as galets roulés that are mingled with plenty of decomposed gravel. The remnants of Alpine glaciers that once covered southern France, Châteauneuf-du-Pape's glacial till provides excellent drainage and imparts subtle nuances of flavor to the appellation's outstanding wines, which can be both red and white and contain up to thirteen legal grape varieties, including Grenache, Syrah, Mourvèdre, Cinsault, Muscardin, Counoise, Clairette, Bourboulenc, Picpoul, Roussanne, Terret Noir, Picardan, and Vaccarese. A case can be made that there are actually fourteen legal grape varieties in Châteauneuf-du-Pape, as Grenache is both a red and a white grape.
Châteauneuf-du-Pape, meaning the Pope's new castle, derives its name from the sprawling edifice that the Roman popes built as a summer palace during the Babylonian Captivity. Forced to flee the political tumult of Rome from 1305-1378, Pope Clement V, a Frenchman, and his successor John XXII left indelible marks on the history of wine by planting vines around their "new château" and producing some of the medieval world's most noteworthy wines. Later, during the 1920s, Châteauneuf-du-Pape would once again play a significant role in the history of wine by voluntarily adopting a set of controls and guidelines put forth by Baron Le Roy of Château Fortia. This action became the model for the entire French system of Appellation Control and nearly all other subsequent attempts around the world to guarantee the authenticity of wine and improve the wine of individual geographic locales.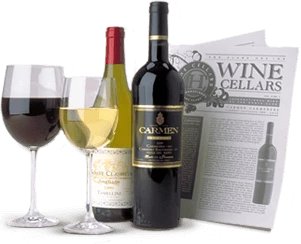 Enjoy Limited Production Estate
Bottled Wines
Discover limited production estate bottled wines such as Vergenoegd's internationally
acclaimed 2005 Cabernet Sauvignon, imported exclusively for our members.
DISCOVER OUR FOUR CLUBS