Left Coast's 2019 The Orchard Willamette Valley Estate Pinot Gris is classic Oregon Pinot Gris. It offers a lively aroma, pure fruit flavors, and balanced acidity, all of which make it a true crowd pleaser. Brightly robed, this Pinot Gris begins its seduction with an enticing cornucopia of aromas: quince, kiwi, Meyer lemon, and other assorted orchard fruits. On the palate, the 2019 The Orchard Pinot Gris shows its mojo, delivering lively lemongrass, white peach, and quince flavors infused with a soft, subtle minerality for broad palate appeal. Add a polished, crisp finish with subtle hints of fresh ginger, kiwi, and lime and the 2019 Left Coast The Orchard Pinot Gris is hard to beat. We suggest affording this wine a moderate chill (40º-45º F), though some may prefer it at a slightly more ambient temperature.
A wonderfully vibrant, crisp Pinot Gris to sit around and sip, and guzzle, too, the 2019 Left Coast The Orchard Pinot Gris needs absolutely nothing to shine, except a clean glass. With bright refreshing flavors and the perfect balance between fruit and acidity, this Pinot Gris carries its welcome with it. It provides the ideal companion to seafood and chicken as well as a myriad of Chinese, Thai, and spicy Indian dishes. Scandinavian Salmon; Thai Chicken with Basil; Penang Pork served with curried green beans; and Basmati Rice Salad with slivered almonds, fresh greens, and seasonal fruits, provide just a few exciting accompaniments to Left Coast's charming Pinot Gris. A carefully chosen cheese platter with almonds, walnuts, and dried fruits pairs well, too. So, whether you are entertaining a crowd or planning an intimate evening with one special guest, the 2019 Left Coast The Orchard Pinot Gris aims to please. Enjoy!
Why Left Coast Cellars isn't on every wine lover's radar screen remains a mystery because the folks at Left Coast Cellars, a meticulously tended 300 acre Oregon estate, do everything right. Located astride the 45th Parallel in the heart of the Willamette Valley, Left Coast devotes 100 acres of their pristine estate to the cultivation of the vine and the production of compelling crowd pleasing wines that are at once subtle, complex, and very much fun to drink.
Given the winery's prime location and the market's penchant for balanced, flavorful Pinot Noir, it is indeed Pinot Noir that leads the charge at Left Coast Cellars as it does throughout Willamette Valley. In fact, this Salmon Safe Certified Sustainable estate fashions three superb Pinot Noirs: Cali's Cuvée, Latitude 45, and Suzanne's Reserve. However, Left Coast Cellars is hardly a one wine domain. With plantings in different soil compositions and at varying altitudes, this remarkable winery also turns out an outstanding estate Pinot Gris called The Orchard (this month's feature) as well as Chardonnay, Pinot Blanc, and Syrah.
The remainder of the property at Left Coast Cellars supports fruit orchards, meadows, lakes, streams, and one of the last remaining stands of original old growth White Oaks in Willamette Valley. The estate's park-like setting also attracts migrating birds and displays a surprising amount of biodiversity, including several acres of truffles, hazelnut trees, hollies, and roses. Left Coast Cellars also tends a grove of olive trees and cultivates an organic vegetable garden from which it stocks the winery's Tasting Room Café. With such a wealth of exceptional wines and delicious organic produce, Left Coast possesses all the gustatory delights. So, is anyone up for a fieldtrip?
Pinot Gris, a favorite grape of winemakers around the world, is a "white" grape variety that oddly enough is related to Pinot Noir. And, like Pinot Noir, its origins are Burgundy and northern France. Pinot Gris (gris means gray in French) derives its name from the unique smoky, grayish/blue color of its grapes. Pinot Gris has been identified since the Middle Ages and known by its present name for centuries. However, Pinot Gris has assumed several aliases over the years, including Pinot Grigio, Grauburgunder, and Ruländer. Moreover, this chameleon-like grape has traveled far and wide, taking on different personas nearly everywhere it travels.
With the exception of a few ancient plots, Pinot Gris is no longer grown in its native Burgundy region, but Pinot Gris has found a home in nearby Alsace where it continues to be cultivated extensively. Alsace Pinot Gris is highly revered for producing rich, aromatic wines of great character. However, Pinot Gris can be made in a myriad of styles, depending upon the soil, climate, and personal choices of the winemaker. Testimony to Pinot Gris's reputation as a chameleon are the light, ethereal, mineral-driven Pinot Grigio wines of northern Italy, which bear little or no resemblance to their Alsatian cousins or the growing array of flavorful Pinot Gris offerings from New Zealand and America's Pacific Northwest. In the hands of skilled winemakers, New Zealand, Oregon and Washington State fashion a burgeoning number of dry, highly aromatic wines of great flavor and true distinction.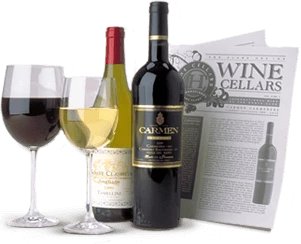 Enjoy Limited Production Estate
Bottled Wines
Discover limited production estate bottled wines such as Vergenoegd's internationally
acclaimed 2005 Cabernet Sauvignon, imported exclusively for our members.
DISCOVER OUR FOUR CLUBS