The 2002 Lanzerac Classic from Stellenbosch embodies all the qualities one seeks in a world class red wine. Serve the regal Lanzerac Classic and listen as your guests sing its praises. A deep royal purple tinged with ruby flashes speak to the noble nature of this stunning South African blend of Merlot, Cabernet Sauvignon, Cabernet Franc, and Malbec. A robust, fruity aroma mingles with clear mineral and earth fragrances. A faint big game scent raises the olfactory a notch, adding to the wine's complexity as it conjures panoramic images of a savannah safari. As the Lanzerac moves into the mouth, it completely takes over and treats us to a full flavor experience. Sweet, bursting fruit explodes on the palate, yet a lovely, substantial tannic structure emerges gracefully and reveals a complex flavor profile. The fruit and tannin speak to each other as they mingle, trade influence, and find harmony. Although New World wildness is detectable in the wine's flavors, the Lanzerac is tempered by Old World class and sophistication. Moreover, the Lanzerac Classic reveals the wine maker's skill by eliminating any alcohol flush as the wine lingers and fades elegantly from the palate. Taste this complete and exciting offering, and you'll agree with one of our tasting panel who proclaimed after a first sip, "Oh, I've got the spirit! Could I have some more?" Anticipated maturity 2006-2014.
The 2002 Lanzerac Classic serves well alone or with a flavorful cheese, yet it enhances a wide variety of entrée choices, too. Game, such as duck or venison, is an ideal choice. Domesticated meat, such as lamb, roast beef, and steak, also make savory selections. Regardless of your entrée and side dish choices, find the freshest local produce because its full, pure flavor complements the Lanzerac so well. Our featured recipe, Steak with Mushroom and Rosemary Sauce, shines with farm fresh ingredients. Slightly steamed and lightly seasoned vegetables of the season paired with grilled potatoes (boil potatoes until nearly done, then grill with a simple marinade) and a colorful green salad fill out the celebration. If a local dairy produces fresh mozzarella, thick mozzarella slabs topped with right-off-the-vine tomato slices drizzled with extra-virgin olive oil make a quick, appealing appetizer that will recall the glory of summer. To grill the steak to perfection use a meat thermometer and cook until the internal temperature reaches 135°F for medium or 145°F for well done. Remember that residual heat continues to cook the steak for up to 10 minutes once it's taken off the heat, so gauge serving times accordingly. Bon appétit!
Lanzerac Estate is a jewel of a property, located in Stellenbosch, on the Cape of South Africa. Since its inception in 1692 (indeed, the South African wine industry has been around that long), Lanzerac has been one of the finest producers of wine in South Africa for which it has enjoyed great international critical acclaim. Lanzerac was the first South African wine estate to be featured by the wine club because we believe it was and still is the best of the bona fide wine estates in South Africa that consistently produce world class wine. In fact, this estate turns out exceptional wines of extraordinary quality as well as value, which bodes well for consumers. We sincerely hope to be able to feature more special offerings from this property in the future. Under the leadership of Christo Wiese, who purchased the Lanzerac wine estate in 1991, Lanzerac has claimed its rightful place among the world's leading wineries. Under Weise's stewardship, the estate has upgraded all of the property's vineyards and built a new modern winery. This massive renewal began in 1996, just as South Africa was emerging from decades of political and economic oblivion under Apartheid. Today, this property's rightful claim to fame is the production of age worthy limited edition wines that proudly uphold Lanzerac's more than 300 year tradition of excellence. Testimony to just how extraordinary the wines are here and how well they can age, a bottle of 1966 Lanzerac Pinotage recently sold for over US $2,000, the highest price ever paid for a South African wine. Weise's efforts highlight the estate's outstanding wines and showcase the enormous viticultural potential of South Africa. And nowhere is this potential greater than in Stellenbosch, the nation's premier wine producing region. Lanzerac is set amid the stunningly beautiful scenery of the Cape, where it stands as a beacon of progress and a guide for other aspiring South African wine estates. Presently, Lanzerac fashions an outstanding array of wines, including Chardonnay, Sauvignon Blanc, Cabernet Sauvignon, Merlot and Pinotage for export. In addition, this great property fashions small quantities of Classic, its super luxury Meritage offering. Classic and the estate's Chardonnay and Cabernet Sauvignon offerings have so far garnered the most fanfare, winning gold medals and four-star ratings from European publications. In addition to crafting fabulous wines, Lanzerac operates the only luxury five star hotel/winery in Africa, so there is ample reason to both taste and see this estate. Classic Classic is the most stunning wine in Lanzerac's very rich portfolio. Not surprisingly, it is also the most classic and traditional of the estate's wines. A Bordeaux style blend of Merlot (50%), Cabernet Sauvignon (27%), Cabernet Franc (17%), and Malbec (6%), Classic resembles the finest classified wines of Bordeaux. Yet, it possesses a wholly unique demeanor and flavor, which set it apart from its European brethren. Classic is produced in very limited quantities and then only in vintages that Christo Wiese and his team deem worthy enough to bear the name Classic.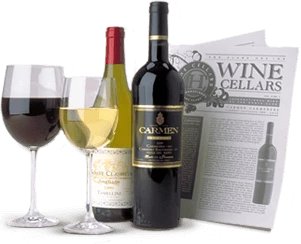 Enjoy Limited Production Estate
Bottled Wines
Discover limited production estate bottled wines such as Vergenoegd's internationally
acclaimed 2005 Cabernet Sauvignon, imported exclusively for our members.
DISCOVER OUR FOUR CLUBS