The 2004 Viña Ardanza Reserva could easily serve as the poster child for Rioja Reserva. To the point: the 2004 Viña Ardanza Reserva is the real deal! A blend of Tempranillo (75-80%) and Garnacha (20-25%) grapes, this classic Rioja wine was first conceived between the World Wars. It is aged for 36 months in American oak casks and for an additional 24 months in the bottle before release. The 2004 Viña Ardanza embodies a deep garnet color that foretells the gratification to come. Before one even takes a sip, this wine's highly aromatic profile emerges from a well-swirled glass and places the Viña Ardanza into the elite category of truly great Rioja wines – an intensely pleasurable and decadent experience for most red wine drinkers. On greeting the palate, this wine offers up deep fruit flavors reminiscent of plum, cherry, and fig along with a touch of the good earth that nourished the vines. However, we suggest patience; this still youthful Viña Ardanza Reserva evolves slowly in the glass. Look for hints of coffee and dark chocolate to emerge from this rich wine, especially after a bit of aeration. And as the 2004 Viña Ardanza Reserva reaches a crescendo, toasty oak, laced with hints of cedar and vanilla, proudly comes to fore to provide backbone and structure to this elegant, yet full-flavored wine. It will also define the strong, distinctive finish that has become the trademark of a quality Rioja. While this peak of the tasting experience remains in one's memory, this Viña Ardanza finishes gracefully with a distinctive, smooth aftertaste. An outstanding example from the Rioja Alta, the 2004 Viña Ardanza is best when afforded at least an hour to breathe in a glass or decanter before serving and then served cool at no more than 64° F.
The good news when one thinks of food pairings for La Rioja Alta's 2004 Viña Ardanza Reserva is that one is hard pressed to find a dish that will overwhelm it. While Rioja aficionados will appreciate an unadorned glass of the 2004 Viña Ardanza Reserva, it is a wine that is meant to be consumed with a richly satisfying meal. Choose a roasted chicken breast stuffed with peppers, caramelized onions, and goat cheese, served next to a kabob of grilled potatoes to provide a combination of distinctive, succulent, and earthy flavors that will complement similar qualities in the Viña Ardanza. Other substantive choices we suggest include other light meats, such as lamb, pork, or a tender game hen. A truly great aged Rib Eye or New York Strip Steak provides another good bet. Add a twice-baked potato and a light citrus salad, and you'll have the ingredients for a superb gathering of friends around the backyard grill. For the adventurous, tap into the Mediterranean and Arabic influences on the Rioja region, in particular, and Spain, in general, and experiment with a distinctively spiced chicken or rabbit couscous option. Mild goat or sheep cheese offers a simple, yet satisfying accompaniment to this wine as well. A final word of caution is that as long as one avoids serving it with an extremely delicate dish, it's almost too easy to construct a fabulous menu with Viña Ardanza in mind. Salud!
Founded by five local families in 1890, La Rioja Alta has been a paragon of excellence in the Rioja for more than a century. It is a property totally dedicated to quality, yet run practically. The keen business sense and resiliency of the company is illustrated by the firm's history. Shortly after its formation, the phylloxera scourge attacked Rioja in 1892. In the face of certain devastation, La Rioja Alta winemakers acted quickly: they grafted American rootstocks onto local varietals, such as Tempranillo, to produce plague-resistant vines. Another testament to the astute business sense of Rioja Alta producers and to serendipity as well is the story of how the tradition of aging Rioja wines in 225-liter American oak, as opposed to Bordeaux oak, barrels began. At the end of the 19th century before the Spanish-American War, Rioja wine was traditionally transported in barrels to America and bottled at its destination. The positive effect on the quality of the wine imparted by aging in American-oak barrels on a long trans-Atlantic passage was duly noted and adopted as a standard practice for all Rioja wines of distinction. Thus, today the noticeable oak flavor and tannin content of Rioja wines is an expected and desirable trademark – thanks to La Rioja Alta and American oak.
Today, La Rioja Alta takes care to protect the consistency and the quality of its various labels. Each January at the first manual racking (the transfer of wine from one barrel to another) of the previous fall's harvest, the bodega's expert oenologist tastes each barrel's contents to determine its final destination, as a Gran Reserva, Reserva, or Crianza. Since La Rioja Alta is determined to produce only the wines and corresponding labels for which the grapes are suited, the bodega does not produce all of its wines every year. So, when you pick up a bottle from La Rioja Alta, you are assured of ultimate quality. You are then free to dream of Spain's vine-covered hillsides and to rest assured that your gastronomic journey will only be enhanced by the magical wine within.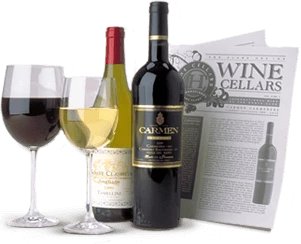 Enjoy Limited Production Estate
Bottled Wines
Discover limited production estate bottled wines such as Vergenoegd's internationally
acclaimed 2005 Cabernet Sauvignon, imported exclusively for our members.
DISCOVER OUR FOUR CLUBS