The 2016 La Posta Pizzella Family Mendoza Malbec captivates with rich berry aromas, refined complex flavors, and silky smooth tannins – attributes rarely seen in the vast majority of lesser Malbecs. If one is accustomed to brawny, simplistic Malbec, La Posta's Pizzella Malbec will come as a revelation. Awarded 92 points by James Suckling, this Malbec from Uco Valley, Mendoza, delights the palate with cherry, dark berry, and plum flavors infused with savory notes of chocolate, sandalwood, tea, and violets. Medium to full-bodied, this textured Malbec delivers its largesse with precision and polish before finishing with charm and verve. For ultimate enjoyment, we suggest serving the 2016 La Posta Pizzella Family Malbec at cool room temperature after 10-15 minutes of aeration. Enjoy!
La Posta's 2016 Pizzella Family Malbec is a dynamic, superbly crafted wine that is born to be enjoyed with food, family and friends. Some favorite accompaniments to the Pizzella family's food friendly Malbec include beef, poultry, pork, and vegetables. Grilled Quail with a quinoa, currant and pine nut pilaf provides an especially tasty companion to this wine as does Wild Boar accompanied by a sage and dried cherry risotto. Grilled Polenta with a wild mushroom ragout makes for another splendid partner to the 2016 La Posta Pizzella Malbec. Lentil Quinoa Carrot Cakes with a mild tahini sauce and crumbled feta offers another tasty vegetarian offering. Whether plain or fancy, simple or spicy, the 2016 La Posta Pizzella Family Malbec was bred to be enjoyed at the table with food. Buen Provecho!
La Posta was created by fourth generation vintner, Laura Catena, whose family is practically synonymous with Malbec and widely regarded as the first family of Argentine wine. La Posta fashions several special Malbecs, each from a distinguished, individual family vineyard. La Posta's Pizzella Malbec emanates from the Pizzella family vineyard in Mendoza's Uco Valley. The Pizzella vineyard is renowned for yielding wines with rich berry flavors, touches of exotic spices, sandalwood, and smooth ripe tannins. Wines from the Pizzella vineyard, including this month's feature, have received many 90+ point ratings over the years and been the recipient of many Gold Medals at trade tastings.
La Posta translates to "the tavern," where local farmers meet to discuss their soils, their vines, their quest for superior flavors, and their passions for life. In collaboration with wine pioneer, Laura Catena, and esteemed winemaker, Estela Perinetti, La Posta highlights the hard work and skills of the people behind some of the finest family vineyards in Argentina.
Malbec is one of the original red wine grapes of Bordeaux, France (where it is also called Cot or Pressac). While Malbec plays a purely supporting role today in Bordeaux, adding color and body to the region's Merlot and Cabernet blends, it remains one of the six legal grape varieties permitted in red Bordeaux (along with Cabernet Sauvignon, Cabernet Franc, Merlot, Petit Verdot, and Carmenère). However, south of Bordeaux in the region of Cahors, Malbec still reigns supreme. It remains the chief grape used in what historically has been called the "black wine" of Cahors.
Despite Malbec's deep French roots, Argentina has come to fore as the contemporary champion of Malbec, where the varietal reigns as the most important grape variety, both in terms of quality and quantity. The best Argentine Malbecs and Malbec blends offer considerable flavor and body at a relative young age, yet they remain age worthy wines capable of true distinction, especially in the hands of Argentina's most accomplished winemakers.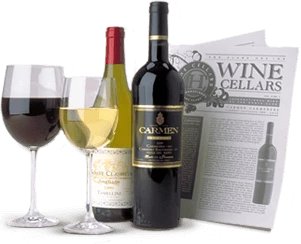 Enjoy Limited Production Estate
Bottled Wines
Discover limited production estate bottled wines such as Vergenoegd's internationally
acclaimed 2005 Cabernet Sauvignon, imported exclusively for our members.
DISCOVER OUR FOUR CLUBS