La Cappuccina is unquestionably one of Soave's elite grower/producers to which the estate's 2020 La Cappuccina Soave more than ably attests. The 2020 La Cappuccina Soave bears the beautiful golden robe of the noble Garganega grape, replete with the luster of the radiant Italian sun. It offers an enticing aroma, resplendent with hints of acacia flowers and soft orchard fruit scents in the form of white peach and orange blossom. On the palate, the 2020 La Cappuccina Soave comes across as lithe, sensuous, and complex with superb texture and a fresh, zippy finish. Add a gentle minerality that quenches the thirst and brings a smile to the face, and La Cappuccina's youthful Soave is hard to resist. Although some may prefer their white wines ice cold, we suggest serving the 2020 La Cappuccina Soave at a more moderate temperature (40º-45º F) in order to capture the wine's subtle complexity and winsome personality. Anticipated maturity: 2021-2024. Saluté!
The 2020 La Cappuccina Soave provides the consummate aperitif, as it delights the nose, enlivens the palate, and flows easily and gracefully down the thirsty throat. The very food-friendly 2020 La Cappuccina Soave can also hold court at table. It makes a great companion to seafood, freshwater fish, salads, cheeses, and fruit. Scallops sautéed in white wine, butter, olive oil, and a pinch of your favorite fresh herb makes for a memorable pairing with La Cappuccina's impeccable Soave. Grilled mountain trout pairs beautifully with this wine, too. Shrimp with a cucumber aioli, caviar, hors d'oeuvres, and cured or smoked salmon provide more winning combinations with the 2020 La Cappuccina Soave. Sushi and sashimi make excellent companions, too. For a truly exquisite accompaniment, consider a sushi roll with tuna, salmon, yellowtail, and avocado, wrapped with Konbu Nori seaweed topped with a light wasabi aioli. Avoiding overpowering flavors such as heavy tomato sauces, raw garlic, and piquant spices is our only caveat with this wine, as such companions can obscure the elegance and charming personality of the finest Soave, which are always elegant, pure, and flavorful by nature. Buon Appetito!
Italy continues to captivate as it is full of delightful surprises and undiscovered treasures, and nowhere is this truer than in the domain of wine – the fruit of the vine. In Italy, one never knows where the next oenological treasure lies or what pearls will emerge from seemingly unlikely places. Consider La Cappuccina and the Tessari family's pure, flavorful, organically grown Soave. In Soave, which ranks as the largest white wine DOC of Italy, only a small number of growers produce estate-bottle premium Soave, which makes La Cappuccina's Soave special in itself.
The Tessari family has been growing grapes at La Cappuccina, the site of an ancient chapel of Franciscan friars, for more than a century. The property takes its name from the small, recently restored 15th century chapel where Capuchin friars once worshipped. Today, the chapel is the property's most striking architectural feature and its silhouette appears on all of the winery's labels. La Cappuccina is located at Costalunga di Monteforte d'Alpone in the heart of the Soave DOC and it presently comprises 54 acres of organically grown grapes and certified organic wines – a rarity in this neck of the woods. Even more compelling are the purity and quality of the wines produced by Pietro, Sisto, and Elena Tessari and their father Lorenzo. The Tessaris produce exemplary Soave and white Sauvignon as well as several traditional Veronese reds, the most intriguing of which is Madégo, a blend of Cabernet Sauvignon, Merlot, and Cabernet Franc.
In addition to their acumen for fashioning exceptional wines, the Tessaris are equally masterful at pairing their wines with exceptional cuisine in beautiful settings. Pietro, Sisto, and Elena's brother Simone is chef/proprietor of the nearby Alpone restaurant, where the estate's wines are matched with innovative interpretations of traditional Veronese specialties. La Cappuccina is a feast for all of the senses. However, what makes La Cappuccina so special is not only the quality and variety of its wines, but how a certified organic property of this stature could remain under the radar. However, thanks to the new generation at this estate, La Cappuccina remains no longer buried treasure: it radiates like a brilliant, newly discovered gem, which we are immensely delighted to share with our members.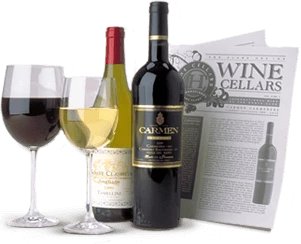 Enjoy Limited Production Estate
Bottled Wines
Discover limited production estate bottled wines such as Vergenoegd's internationally
acclaimed 2005 Cabernet Sauvignon, imported exclusively for our members.
DISCOVER OUR FOUR CLUBS