Wow! Elegant. Tasty. Eminently drinkable. All describe the 2004 La Cappuccina Madégo. This offering from La Cappuccina shines with a deep ruby color and entices with a clean, berry fruit aroma that promises sun-drenched ripeness and pleasing flavors. Harvested entirely from the Madégo vineyard – thus explaining the wine's name – this 2004 meritage style red blends Cabernet Sauvignon (70%) with equal measures of Merlot and Cabernet Franc. Based on these grapes of French origin, this Italian red captures a lushness and smoothness that one seldom associates with its more austere Italian cousins. Bursting with red fruit flavors, the Madégo mingles dark cherry notes in a pleasing mélange. Effortlessly smooth, the Madego's lightly tannic structure hints of oak, but never overwhelms or intrudes. The effect is simply one of balance and harmony showcasing the wine's fruity appeal. Spiciness on the finish completes the experience of this easily quaffed and pleasurable wine. Meant to be consumed young to preserve its fruit flavors and pleasing balance, serve the 2004 Madégo at 64° F as you enjoy this fine example of the vinicultural arts of the inland Veneto. Salute!
There's really no need for food with a wine as easy to drink as the 2004 La Cappuccina Madégo, yet why stop short of a full gastronomic experience? Val d'Alpone, the restaurant run by La Cappuccina, recommends roast or grilled meats, such as roast beef with herbs or liver and onions, as a main course to accompany the Madégo. For an appetizer, it suggests raw porcini mushrooms sprinkled with vezzena cheese. One of our favorite entrées to serve with the Madégo is beef brisket. Simple to prepare, the succulent tenderness and soaked in flavors of beef brisket match the ease and style of the Madégo. A side of cauliflower, broccoli gratinate paired with mashed potatoes, and home made ice cream round out a lovely meal.
Italy is full of delightful surprises and undiscovered treasures, and nowhere is this truer than in the domain of wine – the fruit of the vine. In Italy, one never knows where the next buried treasure lies or what pearls will emerge from the most unlikely of places. Consider La Cappuccina and the Tessari family's pure, flavorful, organically grown Madégo. The Tessari family has been growing grapes at La Cappuccina, the site of an ancient chapel of Franciscan friars, for more than a century. The property takes its name from the small, recently restored 15th century chapel where Capuchin friars once worshipped. Today, the chapel is the property's most striking architectural feature and its silhouette appears on all of the winery's labels La Cappuccina is located at Costalunga di Monteforte d'Alpone in the heart of the Soave DOC and it presently comprises 54 acres of organically grown grapes and certified organic wines – a rarity in this neck of the woods. Even more compelling are the purity and quality of the wines produced by Pietro, Sisto, and Elena Tessari and their father Lorenzo. The Tessaris produce exemplary Soave and white Sauvignon as well as several traditional Veronese reds, the most intriguing of which is Madégo. Madégo is a blend of Cabernet Sauvignon (70%), Merlot (15%), and Cabernet Franc (15%), a cepage or blend that would be right at home in Bordeaux. Interestingly, the Veneto has enjoyed a very long tradition of cultivating these varietals as well. Madégo is named for the single vineyard from which it comes. In the local Veronese dialect Madégo means the second cutting of alfalfa; it seems decades ago the Madégo vineyard was planted to this grass. In addition to Madégo, La Cappuccina produces small amounts of another interesting, traditional dry red wine called Campo Buri, which the Tessari family fashions primarily from Carmenère. Carmenère is an especially fine and flavorful grape variety that is thought to be a distant ancestor of Cabernet Franc. Centuries ago Carmenère once thrived in the Veneto as well as in Bordeaux but is now rarely seen except in Chile. As if the production of two outstanding proprietary dry reds and first class organic Soave and Sauvignon are not discoveries enough, La Cappuccina further demonstrates its oenological prowess by crafting an array of delicious red and white dessert wines. Furthermore, the Tessaris are masterful at pairing their wines with various foods in beautiful settings. Pietro, Sisto, and Elena's brother Simone is chef/proprietor of the nearby Alpone restaurant, where the estate's wines are matched with innovative interpretations of traditional Veronese specialties. La Cappuccina is a feast for all of the senses. However, what makes La Cappucina so special is not only the quality and variety of its wines, but how a certified organic property of this stature could remain so long under the radar. However, thanks to the new generation at this estate, La Cappuccina, remains no longer a buried treasure but a brilliant newly discovered gem, which we are immensely delighted to share with our members.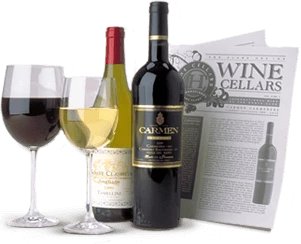 Enjoy Limited Production Estate
Bottled Wines
Discover limited production estate bottled wines such as Vergenoegd's internationally
acclaimed 2005 Cabernet Sauvignon, imported exclusively for our members.
DISCOVER OUR FOUR CLUBS