Krone's 2019 Vintage Rosé Cuvée Brut delights the eye as well as the palate. A blend of 92% Pinot Noir and 8% Chardonnay, it sparkles and shines with a delicate rose-colored mousse. Entirely bottle-fermented Méthode Cap Classique (MCC) in the time-honored Champagne tradition of production, this wine is left to mature on its lees prior to being placed in traditional wooden racks knows as pupitres where it undergoes the time-honored hand-turning known as remuage or riddling that characterizes the finest vintage wines of Champagne. Tiny bubbles known as perles stream in a steady parade to deliver a delightfully elegant bouquet of summer strawberries, rose water, and freshly baked bread brought straight from the oven. In the mouth, the 2019 Vintage Rosé Cuvée Brut caresses the palate with its creamy texture and classic fruit and freshly baked biscuit flavors that both please the palate and enliven the senses. From start to finish this wine exhibits superb balance, texture, and flavor. As its final curtain call, the 2019 Krone Vintage Rosé Cuvée Brut slips easily down the throat with refreshing verve. For optimal enjoyment and safety, chill the 2019 Krone Vintage Rosé Cuvée Brut to 38°-40° F before carefully removing the wire stopper and cork. Anticipated maturity: 2021-2025. Enjoy!
The 2019 Krone Vintage Rosé Cuvée Brut provides an ideal way to celebrate an occasion, instill a sense of conviviality and festivity to a meal, or simply add a bit of sparkle to life. While it makes a splendid aperitif and superb prelude to a sumptuous meal, it also provides the ideal companion to salmon, oysters, shellfish, risotto, and pastas, especially those served in cream-based sauces. It also pairs easily with all kinds of hors-d'oeuvres and light meats, including ham. Shrimp, scallops, baked clams, and lightly fried tempura dishes offer more noteworthy accompaniments to Krone's 2019 Vintage Rosé Cuvée Brut. Tapas, smoked salmon with capers and onions, and terrines all pair nicely, too, with this exceptional Méthode Cap Classique. Steamed crab legs, lobster, prawns, and herb-roasted chicken or turkey served with wild rice or a savory stuffing offer other worthy accompaniments, while fresh fruit and soft, ripe, creamy cheeses provide tasty, easy to prepare gastronomic partners to the 2019 Vintage Rosé Cuvée Brut as they highlight the freshness and vivacity of this traditional method sparkling wine. Enjoy this special offering from Krone as you like… with or without a morsel. Bon Appétit!
Krone's meticulously made 2019 Vintage Rosé Cuvée Brut constitutes one of our finest discoveries in
méthode champenoise
sparkling wine. Rarely does any wine garner unanimous support from our tasting panel, and this is especially true for sparkling wines, which must prove themselves to be far above the competition in quality and value to be featured in one of our clubs. Kudos belong to the folks at Krone for fashioning a truly outstanding traditional method sparkling wine (aka Méthode Cap Classique) in their 2019 Krone Vintage Rosé Cuvée Brut (this month's feature). We trust you will enjoy this special offering as much as we do.
The historic Twee Jonge Gezellen farm in Tulbagh, South Africa is the home of Krone, a historic estate on the Western Cape dating to 1710 that fashions an enviable collection of exceptional, vintage-only South African sparkling wines using the traditional bottle-fermented method employed in Champagne. Méthode Cap Classique is the name used in South Africa to denote wines made using the traditional, painstaking method responsible for the sparkling wines of Champagne. At Krone, all of the grapes for their Méthode Cap Classique wines, including those in the 2019 Vintage Rosé Cuvée Brut, are produced from grapes grown and night-harvested from Twee Jonge Gezellen's vineyard on the sheltered slopes of Saronsberg Mountain. The growers arise during the night to pick in order to preserve the quality of the grapes and the delicate aromas and flavors that would be lost if picked during the heat of the day. Only Pinot Noir and Chardonnay, the traditional Champagne varietals, are used in the production of Krone's Vintage Rosé Cuvée Brut. We invite you to take part in the heritage and contemporary renaissance at Twee Jonge Gezellen by tasting and enjoying the exceptional 2019 Krone Vintage Rosé Cuvée Brut.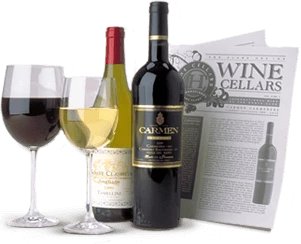 Enjoy Limited Production Estate
Bottled Wines
Discover limited production estate bottled wines such as Vergenoegd's internationally
acclaimed 2005 Cabernet Sauvignon, imported exclusively for our members.
DISCOVER OUR FOUR CLUBS