The 2017 Klinker Brick Brickmason is big, bold, and packed with fruit, as we have come to expect from Klinker Brick's Brickmason releases, but the 2017 is also quite structured. Rich blackberry, raspberry, and plum fruit flavors mingle with savory applewood, bacon, and bramble notes in the 2017 Brickmason, reminding us of the traditional Zinfandels of yesteryear and California's delicious field blends, whereby Zinfandel, Petite Sirah, Syrah, and a bit of every other grape in the vineyard are added for good measure. Klinker Brick's Brickmason provides the ideal wine for a summer barbecue or a cold winter's night. It brings deep dark fruit and the warmth of a blazing hearth. Endowed with a lush texture and plenty of alcohol to complement its wealth of blackberry fruit, the 2017 Brickmason goes down ever so easily to warm the heart as well as the head. Enjoy this American classic at cool room temperature (58°-62° F) now and often over the next five years. Anticipated maturity: 2020-2024. Enjoy!
Klinker Brick's 2017 Brickmason Red, endowed with a preponderance of America's own grape variety Zinfandel, warrants finger-licking American food. Start the grill, fire up the oven, plug in the crock pot or slow cooker and rustle up some succulent baby back ribs, tasty Carolina pork barbecue, or traditional Texas brisket to pair with Klinker Brick's Brickmason. Brunswick stew, spicy chicken chili, and tried and true Tex-Mex specialties pair beautifully with this wine as well. Roast turkey with stuffing and all of the trimmings provides another tasty American classic to accompany the 2017 Klinker Brick Brickmason. Grilled Italian sausages and peppers makes another fine companion. Vegetable lasagna, cheese and herb filled cannelloni, and nearly any tomato or cheese laden dish also make superb accompaniments to Klinker Brick's food friendly Brickmason, which should come as no surprise since Zinfandel is the food friendliest of American wines. Enjoy!
Full, savory wines like the 2017 Klinker Brick Brickmason pair beautifully with both hard and soft cheeses. Whether as an entrée to a special evening or as a late night snack, wine and cheese make the good times roll. Moreover, they complement one another like no other foods and enhance just about any meal. When pairing wine and cheese at the beginning of an evening with rich, plush reds such as the 2017 Klinker Brick Brickmason, we suggest serving creamy, soft cheeses such as Havarti, Muenster, Mozzarella Bufala, or Neufchatel. Similarly, Edam, Gruyere, Parmesan, Provolone, and Pecorino provide splendid cheeses to pair with Brickmason at the end of a special meal… but as you like it! To find out more about gourmet cheeses and expert pairings, visit us at www.cheesemonthclub.com and enjoy the flavor and pleasure of the world's finest cheeses.
Klinker Brick enjoys iconic status in California's Lodi appellation, home to many of the state's finest purveyors of old vine Zinfandel and Petite Sirah. In recent years, Klinker Brick's Zinfandels and Brickmason Red Blend have become some of the most sought after wines in the state. Owned and run by Steve and Lori Felton, fifth generation grape growers in Lodi, Klinker Brick fashions traditional California wines including Brickmason (this month's feature), a delicious and ebullient Zinfandel-based field blend, The Ghost, an iconic Zinfandel from the estate's oldest vines, and a host of other tasty classics, including a mouthwatering rosé and a special Brut Rosé from Grenache and Carignane. This month we invite you to taste and see why Klinker Brick's wines continue to capture the hearts and palates of American consumers.
Although its DNA points to Eastern Europe's Primitivo grape as its ancestor, and its New World appearance still remains under investigation, Zinfandel has been dubbed "America's own grape variety." In California, Zinfandel produces a wine quite different from its Croatian and Italian forebears, and nowhere is that more apparent and welcome than in Lodi where this sun worshipping varietal basks in the long dry summer afternoons, which bring the grape to the pinnacle of ripeness. Zinfandel's deep rich colors, intense berry, bramble, and herb flavors, high alcohol, and lush tannins result in wines that fill the mouth and satisfy all of the senses.
One of the Zinfandel varietal's keys to success is its extraordinary lifespan, which enables it to produce quality fruit well into old age. In fact, the oldest Zinfandel vineyards (many in California are in excess of 100 years of age) are the most prized. Zinfandel can be quite versatile, too (think White Zinfandel as well as many of California's most celebrated and intense red wines).
As an immigrant to our shores, Zinfandel embodies the American experience. It is a grape that has transformed itself over the last century and a half and honed its own unique identity. In the eyes of many, Zinfandel has become a bigger, better, more complex grape since its arrival in America – a grape variety with a can-do attitude and a unique chameleon-like identity all its own.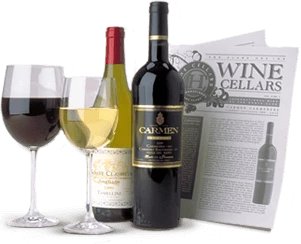 Enjoy Limited Production Estate
Bottled Wines
Discover limited production estate bottled wines such as Vergenoegd's internationally
acclaimed 2005 Cabernet Sauvignon, imported exclusively for our members.
DISCOVER OUR FOUR CLUBS