Klein Constantia's 2012 Sauvignon Blanc is a superlative blend of 89% Sauvignon Blanc and 11% Semillon from the fabled Constantia estate. In short, this impeccable offering from Klein Constantia is nothing short of outstanding. It blows away all but the very top French Sancerres and other New World pretenders, and at a price that allows more than multimillionaires a chance to enjoy it. The wine's aroma offers a complex mélange of gooseberry, citrus, passion fruit, and much more to delight the nose. Refined, yet immensely flavorful, balanced and at the same time mouth filling, the fresh, youthful 2012 Klein Constantia Sauvignon Blanc tantalizes the taste buds with its crisp minerality, subtle hint of clover, and pure fruit flavors that include melon, papaya, passion fruit, and sweet lime. Drink this delicious Sauvignon Blanc moderately chilled (40°-45° F) now and for as long as you can get your hands on it.
When asked what would best accompany the 2012 Klein Constantia Sauvignon Blanc, one panel member piped, "Who needs food when the wine is this good?" "How about another bottle?" chimed another thirsty taster to the approving nods of the rest of the coterie. If you have any appetite at all for Sauvignon Blanc, you won't need anything but a glass for this one. Yet, a plate or better still a bowl of New Zealand Green Tip Mussels steamed in a tasty broth provides ideal companionship to Klein Constantia's Sauvignon Blanc. More adventuresome gourmands may want to serve the mussels in a spicy tomato sauce with Chorizo sausage along with a side of garlic bread. Clams and oysters on the half shell provide great foils, too. For those who prefer fish to shellfish, filets of cod, flounder, grouper, and halibut poached in white wine, garlic, herbs and mustard offer more tasty accompaniments to this wine. Light tempuras and herb encrusted shrimp or prawns provide more tasty treats. For those who eschew seafood, Klein Constantia's 2012 Sauvignon Blanc also pairs nicely with Asian dishes, including Chicken and Broccoli, Thai Spring Rolls, and lightly curried vegetarian Indian specialties. So, as you like it!
"...the support embodied in a glass of Constantia and a home-made biscuit..." Charles Dickens
"One of the most mythical vineyards in the world." Institut International des Paysages et Architectures Viticoles
A visit to Klein Constantia feels more like a pilgrimage, even though this iconic property lies just behind Table Mountain, a short distance from Cape Town. Few wineries are able to match Klein Constantia in sheer natural beauty, nor do they offer such a rich history or proffer wines of exceptional character and finesse the likes of Klein Constantia. Like its wines, the Klein Constantia story is one to savor.
"From vineyards planted in 1685 by Simon van der Stel, the first governor of the Cape, Constantia was savoured in the 18th and 19th centuries by those who would drink only the best, from Napoleon Bonaparte and Prussian emperor Frederick the Great to British monarchs King George IV and Queen Victoria. In 1802, United States president and fine wine collector, Thomas Jefferson, planted "10 plants of wines from Cape of Good Hope" at Monticello, his home in Virginia. And perhaps even more remarkable is the fact that Constantia was enjoyed by Indonesia's foremost national hero, Prince Dipanagara, who led the great Java War of resistance against the Dutch (1825-1830) under the banner of Islam! According to Oxford historian Peter Carey, Dipanagara held that 'it was not an offence against the Qu'ran to drink sweet wine in view of the fact that Europeans drank it as a form of 'medicine' whenever they were intoxicated with Madeira or red wine.' " 1
From the start, Constantia made no effort to shelter behind the safety of a European name like Hock, Tokay or Cape Madeira to sell itself. Constantia's innate quality was apparent from the onset and Constantia very quickly became a universally well-known and (in today's parlance) "aspirational" brand.
"In May 2011, historic wine estate Klein Constantia was purchased by Czech-American investor and philanthropist Zdenĕk Bakala, who resides in Switzerland, and UK-based businessman, Charles Harman. Having both visited South Africa regularly for the past 20 years, with homes in Cape Town, they had always particularly loved the wines produced in the Constantia Valley. Not only did they appreciate the cool-climate quality potential of vineyards planted in decomposed granite soils on the undulating foothills of Table Mountain's backbone, caressed by breezes off the cold Atlantic Ocean a few kilometres away; they also soon found themselves under the spell of Constantia's remarkable history. For it's a fact that the lusciously sweet wine of Constantia, also known as Vin de Constance, was world famous before Champagne or even the Médoc rose to prominence. Following the merger of Klein Constantia and Anwilka Vineyards in June 2012, Klein Constantia (Pty) Ltd gained two new shareholders, Bruno Prats (former owner of Chateau Cos d'Estournel in Saint-Estèphe) and Hubert de Boüard (co-owner of Chateau Angélus in Saint Émilion). These two gentlemen bring with them a wealth of knowledge and experience beneficial to both Klein Constantia and Anwilka." 2
Today, Klein Constantia produces not only one of the world's oldest and greatest sweet wines, called Vin de Constance or simply Constantia, but also one of the very finest dry Sauvignon Blancs (this month's feature) made anywhere on Earth.
1, 2: Klein Constantia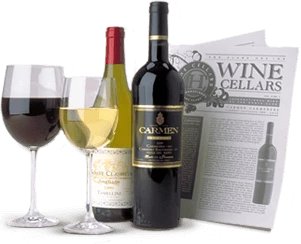 Enjoy Limited Production Estate
Bottled Wines
Discover limited production estate bottled wines such as Vergenoegd's internationally
acclaimed 2005 Cabernet Sauvignon, imported exclusively for our members.
DISCOVER OUR FOUR CLUBS