The 2002 Kilikanoon Killerman's Run South Australia Shiraz is a blend of Clare and Barossa Valley fruit that is simply outstanding. The wine exhibits a deep purple color and a knockout nose that is packed with blueberry, blackberry, and mulberry fruit, spice, and oak barrel tones. Although staggering in alcohol (in excess of 15% we would guess), one would never expect, nor detect that much power in this wine. The 2002 Killerman's Run Shiraz glides across the palate with ease, imparting mouth filling flavors and a sense of supreme balance. Rich fruit, racy acidity, and just the right amount of tannin all appear in perfect proportion in Kevin Mitchell's Killerman's Run Shiraz. In the words of one esteemed panel member, "the 2002 Killerman's Run is the Catherine Zeta Jones of Shiraz. Need I say more"? Enjoy this mature Shiraz now and for the next several years. It requires only ten or fifteen minutes of aeration to blossom.
A balanced, flavor packed Australian beauty like the 2002 Kilikanoon Killerman's Run Shiraz complements all kinds of meats and spicy, vegetarian specialties. Killerman's Run, which is named for an old hermit who hunted rabbits near Kevin Mitchell's family farm, pairs beautifully with many a South Australian favorite: beef casserole, steak, roast lamb with plenty of garlic and herb, kangaroo, ostrich, and of course rabbit stew. Italian and traditional Provencal recipes provide other tasty complements in the form of lasagna, cassoulet, and hearty ratatouilles. Indian specialties such as Lamb Biryani, a classic dish with juicy pieces of lamb, cooked with basmati rice, spices, and nuts; Chicken Makhni or its vegetarian counterpart Dal Makhni, which contains a variety of lentils, slow simmered and sautéed with fresh garlic, ginger, tomato, herbs, and spices; and any number of authentic Tandoori offerings provide excellent counterparts to Killerman's Run, too. A loaf of crusty bread and some ripe semi-hard or soft cheeses such as Cheshire and Esrom also offer all one could ask for in the way of superb accompaniments. Enjoy!
Kilikanoon is a boutique winery with a big reputation . . . a very well deserved reputation we might add.Owner and winemaker Kevin Mitchell is internationally recognized as one of Australia's most talented winemakers.In fact, Kilikanoon Winery won 5 out of 5 gold medals at the 2009 Concours Mondial de Bruxelles.In addition, a Kilikanoon wine was named South Australia's Wine of the Year for 2008 by Decanter Magazine, Great Britain's most prestigious wine publication. Located in the Clare Valley just north of Adelaide and the Barossa, Kevin Mitchell specializes in the Clare's two finest varietals: Shiraz and Riesling.All of Kilikanoon's red wines hail from exclusive vineyard sites in the Clare Valley, Barossa, and McLaren Vale and are bottled unfiltered to retain character and flavor.Kevin Mitchell's impressive Shiraz offerings exhibit the finest attributes of the Barossa, ripe, rich fruit and profound flavor, along with everything that has made Clare Valley wines so highly prized: balance, elegance, purity, and a highly charged aromatic profile.And if the Kilikanoon Shiraz portfolio were not enough to dazzle critics and consumers alike, Kevin Mitchell has earned international acclaim for his Clare Valley Rieslings, wines that critics have called some of finest in the world. The Clare Valley The Clare is not a name that is widely known in America, but that is about to change. The Clare, which lies north of Adelaide, bears little resemblance to the more famous names in South Australian viticulture, like the Barossa, McLaren Vale, or several other more recognizable names, and for that we should be thankful. In the Clare, there is no glitz, no glamour, no smoke or mirrors, no tour buses and most of all no Disneyland-like atmosphere, and perhaps that may be precisely what keeps the crowds away. However, the Clare is home to many outstanding winemakers and is a veritable treasure trove of fine wines. In almost all respects the Clare Valley and adjacent Gilbert Valley are the most Australian of the continent's premier viticultural areas. The landscape is sweeping and riveting, higher and even more captivating than what one encounters in the nearby Barossa. Moreover, in the Clare there are sheep and cattle ranches, undulating expanses of wheat and rye, towering Gum trees (which Americans call Eucalyptus) to stand sentry along the narrow roads and half-dry stream beds, and stands of uncut bush remain to highlight the hilly, well-tended vineyards of the Clare and budding Gilbert. In Australia, the Clare has become synonymous with the continent's finest Riesling, producing racy, full-flavored wines with a distinctive citrusy, lime twist that rarely appear too austere or too sweet, even when young. With a few years in bottle, these magical Rieslings, which are all the rage in Australia and Great Britain, take on more overt tropical fruit flavors and lengthen considerably in the mid palate, without the kerosene or diesel fuel flavors often seen in older Rieslings from other areas of Australia and elsewhere. Most assuredly, Americans will one day "discover" the virtues of fine Riesling and the other magical wares of the Clare. However, what American consumers are beginning to realize is that the Clare produces outstanding red wines, too. Shiraz leads the charge among the region's reds, but Cabernet Sauvignon has proven to be outstanding as well. Moreover, many of Australia's finest Shiraz Cabernet blends hail from the Clare.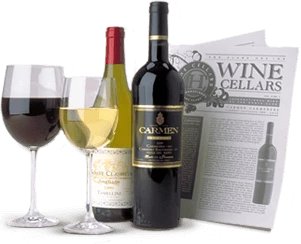 Enjoy Limited Production Estate
Bottled Wines
Discover limited production estate bottled wines such as Vergenoegd's internationally
acclaimed 2005 Cabernet Sauvignon, imported exclusively for our members.
DISCOVER OUR FOUR CLUBS