An elegant, flavorful, finesse-driven Pinot, the 2006 Kenwood Russian River Pinot Noir captures the ethereal beauty of Burgundy's most illustrious grape. At the same time it highlights how far California has come in fashioning top-notch Pinot Noir. Reminiscent of good Burgundy, this Pinot displays a brilliant cherry, garnet-tinged robe with a huggable bouquet that offers everything from fresh berry fruit to a cachet of oriental spice. Soft and seductive in the mouth, this wine is so very easy to drink; it captivates the taster not with sheer power or weight but with impeccable balance and a wealth of savory delights. And it finishes with a nod and a smile to complement its gregarious nature. Perhaps best of all, this charming Russian River Pinot needs no muss nor fuss before serving. Consequently, we suggest you open the 2006 Kenwood Pinot Noir and pour it straight away. It will open immediately and begin to unfold in the glass within minutes. Enjoy!
Wine as tasty, textured, and easy to drink as the 2006 Kenwood Russian River Pinot Noir needs very little in the way of accompaniment. However, this Russian River Pinot Noir offers a haunting aromatic profile and a host of soft, savory flavors – all of which lend themselves to the culinary wonders of the table. In the case of Kenwood's 2006 Pinot Noir, its affinity for food adds up to a superb complement to both fish and meat. Specifically, chicken, ham, pork, salmon, and tuna all provide this comely offering with superb companionship. Braised pork tenderloins with apples and cream, milk-fed veal smothered in a mushroom sauce, and salmon served with fennel in a savory sauce are just a few of our favorite dishes with Kenwood's delightful 2006 Russian River Pinot Noir. All accentuate the savory aspects of this exciting wine without overpowering the wine's delicacy.
"The air is wine. Across Sonoma Mountain, wisps of sea fog are stealing. The afternoon sun smolders in the drowsy sky. I have everything to make me glad I am alive." —Author Jack London To generations of readers, author Jack London is renowned for his marvelous tales of adventure and human courage. But the "Master of Adventure" was also know to his contemporaries as an adept winemaker, fashioning some of California's finest wines from his sprawling Sonoma County ranch in Kenwood known as Beauty Ranch. Many Americans mistakenly believe that the California wine boom began spontaneously in the 1960s and early 1970s, but Sonoma County was a thriving viticultural region at the turn of the last century, before Prohibition put a halt to commercial wine production. And today, that very same Sonoma land that captivated the writer Jack London is home to Kenwood Vineyards. Kenwood plants, farms, and harvests the historical, lava-terraced vineyards of Jack London's ranch. Jack London infuses his best literature with palpable tension and excitement. Time and again London captures our imagination in a literary vice-grip that holds us suspended between the physical sensations of elemental nature and the refinements of civilization. In essence, London impels us in his writing to consider the value of each. Similarly, the winemakers at Kenwood consistently offer the taster extraordinary sensory pleasure along with clean, artfully crafted flavors from Sonoma County's premier vineyards. London's life mirrored the polar pulls of the physical and the civilized. In his early years, London worked as an oyster pirate, shipped on a seal-hunting expedition, and joined the Yukon Gold Rush in 1897. At the turn of the century, however, London found literary success. As America's best-selling author, he acquired a significant fortune and in 1905 began acquiring farmland in Sonoma Valley to form Beauty Ranch. In contrast to his adventurous youth, London was committed to experimental and progressive farming techniques, such as controlling erosion and designing labor-saving farm buildings. So, although deeply drawn to the native beauty of his land, London spent his final years fabricating a haven of comfort and civilized living at Beauty Ranch, which included some of Sonoma County's finest wines. After London's death in 1916, his sister managed the ranch until World War II, when she was forced to let the land lie fallow. Thirty years later, London's grandson, Milo Shepard, replanted 130 acres of the vineyards, and in 1976 Kenwood Vineyards obtained exclusive rights to produce wine from the fruit of Jack London Ranch. Kenwood, founded in 1970, is committed to producing the finest Sonoma County wines. All of the winery's offerings that appear under the Jack London moniker are made exclusively from fruit produced on London's former estate; the rest emanate from surrounding vineyards. Today, more than 800 acres of Jack London's Beauty Ranch are now owned and operated by the California State Parks System. Visitors have the opportunity to hike, bike, or horseback ride through much of the property, as well as view many of the ranch's buildings and Jack London's home and grave, including the remains of London's famous Wolf House.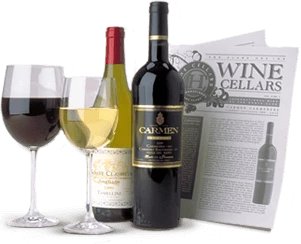 Enjoy Limited Production Estate
Bottled Wines
Discover limited production estate bottled wines such as Vergenoegd's internationally
acclaimed 2005 Cabernet Sauvignon, imported exclusively for our members.
DISCOVER OUR FOUR CLUBS