A progeny of the outstanding 2002 vintage, the 2002 Kenwood Jack London Cabernet Sauvignon is the most complete wine we have ever tasted from this historic property, and that is no mean feat given the many award winning Cabernets that have flowed from this vineyard in the last four decades. Beginning with a richly endowed robe and a heavenly scent, the 2002 Jack London Cabernet Sauvignon stands and delivers; pure black currant fruit, mint, and berry scents just pour from the glass. And what this well-balanced Cabernet promises in the nose, it delivers to the palate. From the very first sip, soft succulent complex Cabernet flavors fill the mouth: cassis, menthol eucalyptus, currant, and fresh tobacco all conjure the image of great Jack London Cabernets of yesteryear, but with added charm. This Jack London's elegant ripe tannins are beautifully integrated into the wine as are the twenty-four months of ageing in French oak barrels, all of which render this one fine drinking wine. Certainly, some aeration improves this impressive young effort, but we think waiting more than thirty minutes to consume the 2002 Jack London Cabernet Sauvignon may be construed as cruel and unusual punishment, so as you like it! Enjoy this excellent Cabernet at no more than 68º F as often as you can.
A big, fine Cabernet Sauvignon, such as the Kenwood Jack London 2002, is ideally paired with rich, rewarding fare. A prime cut of filet mignon grilled over an open flame, lightly coated with a wild mushroom sauce, and served next to creamy mashed potatoes is always a favorite selection. But given this wine's connection to Jack London, dare to be adventurous. Look to the sea, as many of London's literary characters did, and experiment with a peppercorn tuna steak served with a simple parmesan risotto. Or tap into the wild past of North America and sample what sustained many Native American tribes and the earliest Rocky Mountain men, a nutrition-rich coffee-crusted bison filet. If you take this route, pay attention to the cooking time and temperature in the accompanying recipe since bison provides a lean, quick-cooking cut of meat. When a vegetarian mood strikes, a spicy four-bean chili will satiate any appetite. Fortunately, an unadorned glass of the 2002 Kenwood Jack London is such a pleasurable experience that as long as you avoid citrus-laden foods, which will interfere with the deep berry fruit notes of the Cabernet, you are free to experiment and enjoy!
Is it possible that a bottle of Kenwood Jack London Cabernet Sauvignon 2002 can probe the same elemental and intellectual firmament as the literary works of the most famous American writer of his time, Jack London? Thanks to excellent care and commitment by the winemakers of Kenwood Vineyards, the answer to this question is a resounding, YES! Jack London infuses his best literature with palpable tension and excitement. Time and again London captures our imagination in a literary vice-grip that holds us suspended between the physical sensations of elemental nature and the refinements of civilization. In essence London impels us in his writing to consider the value of each. Similarly, Kenwood's Jack London Cabernet Sauvignon offers the taster extraordinary sensory pleasure along with clean, artfully crafted wine. Even London's life mirrored the polar pulls of the physical and the civilized. In his early years, London worked as an oyster pirate, he shipped on a seal-hunting expedition, and he joined the Yukon Gold Rush in 1897. At the turn of the century, however, London found literary success. As America's best-selling author, he acquired a significant fortune and in 1905 began acquiring farmland in Sonoma Valley to form Beauty Ranch. In contrast to his adventurous youth, London was committed to experimental and progressive farming techniques, such as controlling erosion and designing labor saving farm buildings. So, although deeply drawn to the native beauty of his land, London spent his final years fabricating a haven of comfort and civilized living at Beauty Ranch, which appropriately included fashioning some of Sonoma County's finest wines. After London's death in 1916, his sister managed the ranch until World War II when she was forced to let the land lie fallow. Thirty years later, London's grandson, Milo Shepard, replanted 130 acres of the vineyards, and in 1976 Kenwood Vineyards obtained exclusive rights to produce wine from the fruit of Jack London Ranch. Kenwood, founded in 1970, is committed to seeing that all of its Jack London wines are made exclusively from fruit produced on London's former estate. The Cabernet Sauvignon was, for example, harvested in late September and early October 2002, aged for 24 months in newer French Oak barrels, and bottled in January 2005. The reward for Kenwood's commitment to "small lot" winemaking comes when the 2002 Jack London Cabernet Sauvignon is savored. One will definitely know that, yes, this is a drink that is the essence of civilization. Here is a glass full of the best that humankind can offer. Yet, a wine poured from a bottle into which is etched Jack London's well-known wolf head logo, also lets us recognize what bookish Humphrey Van Weyden finally comes to understand in The Sea Wolf, "that [even] the soul transmuted itself, expressed itself, through…the sight and sense and touch." So, rest assured. The physical, elemental sensations of nature that Jack London promises us are integral to tasting the 2002 Cabernet. The bold aroma and flavor evoke the atmosphere of London's vineyard on the slopes of Mount Sonoma: the red-lava earth of terraced vineyards, the warm eastern sun, and the cooling afternoon sea breeze. So, when exploring London's writing or Kenwood's Cabernet, how will the scales tip for you? Toward the refinements of civilization or to the mystery, beauty, and adventure promised by nature itself? Pick up a book, drink a glass or two, and find the answer.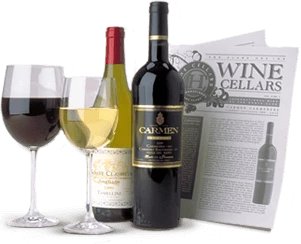 Enjoy Limited Production Estate
Bottled Wines
Discover limited production estate bottled wines such as Vergenoegd's internationally
acclaimed 2005 Cabernet Sauvignon, imported exclusively for our members.
DISCOVER OUR FOUR CLUBS