Taste and see the goodness of the Maconnais in the fresh, scented, exceedingly easy-to-drink 2007 Joseph Drouhin Macon-Villages. Endowed with a sunshiny yellow robe and the telltale Macon aromas of acacia flowers, beeswax, citrus, fresh-cut mountain apples, and minerals, this first class Macon-Villages offers an abundance of haunting flavors to accompany its pretty, aromatic profile and sleek, elegant body. Spring flowers, citrus oil, and the gentle minerality of the Macon all come to life in the mouth, too. These gentle flavors caress and seduce the palate with the purity of Chardonnay. In short, this definitive Macon-Villages captures the essence of Chardonnay when it has not been buried beneath the preponderance of oak. Instead, elegance and the full assortment of Maconnais flavors come to fore. We suggest drinking this pure, natural-tasting Chardonnay only lightly to moderately chilled (48º-55º F), especially in more temperate climates. However, some members may prefer to serve this wine at a colder temperature. We opted for less chilling because we believe a more ambient temperature allows Macon-Villages its full expression of flavors . . . but as you like it. Enjoy!
First-rate Macon-Villages makes for a great aperitif and provides a wonderful segue to a meal. Consequently, we suggest serving the 2007 Joseph Drouhin Macon-Villages at the beginning of an evening or at the start of festivities, and then continuing with it as an accompaniment to appetizers or a simple first course. Given this wine's crisp citrus fruit and long lingering minerality, it can more than hold its own with a wide assortment of foods. Some of our favorite appetizer selections with Drouhin's Macon-Villages include seafood starters such as Shrimp Cocktail, Sautéed Oysters, Crispy Crab Rangoons, Maryland Style Crab Cakes, and Shrimp and Vegetable Rolls. Pizzettes, tasty, easy-to-prepare pizza dough rounds with fresh basil, tomato, warm gorgonzola cheese, and extra virgin olive oil, rank among the elite accompaniments, as well. In addition, almost any light- to medium-flavored cow's milk cheese (Colby, Edam, Muenster, and Port Salut) and a loaf of crispy French bread provide plenty of companionship. Moreover, Macon-Villages is versatile, so almost any food that is not too highly charged will gladly complement this wine, as well.
Joseph Drouhin is one of the most respected names in the world of wine. Founded in 1880 by Joseph Drouhin, this prestigious Burgundy firm is presently being run with great critical and commercial success by the fourth generation of the Drouhin family: Frédéric, Laurent, Philippe, and Véronique Drouhin are firmly at the helm. They have taken over for their legendary father, Robert, who retired in 2003. A négociant (wholesale merchant) and domain grower and producer, Maison Joseph Drouhin fashions many of Burgundy's greatest red and white wines, including several spectacular Premier Cru and Grand Cru Chablis, and the celebrated Marquis de la Guiche Montrachet, a wine that has been called "the world's greatest white wine." Furthermore, the tremendous critical acclaim Drouhin's wines have received across the board in recent years only underscore just how terrific the entire Drouhin portfolio is from top to bottom. Beheld of 150 acres of prime Burgundy vineyards, which are spread throughout the region's top communes, plus 125 acres in Oregon, one could spend a lifetime discovering the wines of Burgundy and the lure of Chardonnay and Pinot Noir, without ever leaving Maison Drouhin. Equally adept with Chardonnay and Pinot Noir, Maison Drouhin possesses some of the finest vineyards in Chablis and Chassagne-Montrachet for white wines and equally superb holdings for reds on both the Côte de Beaune and Côte de Nuits. All of Drouhin's estate wines are grown and produced using sustainable methods of agriculture. The Drouhin fields are plowed, natural compost is spread, and wild grass still grows between the vineyard rows, which means no chemical fertilizers or herbicides are ever used. Moreover, Maison Drouhin has for years used the most natural weapons against insects and vine diseases by introducing natural bacteria and predators into the vineyards, rather than resorting to systemic control through chemicals. All of Maison Drouhin's grapes remain hand harvested; and for the estate's red wines only natural, wild yeasts are employed during fermentation. The results are simple: Drouhin produces only the best at every level of quality. Macon-Villages Macon-Villages is the most popular white wine of France's fabled Burgundy region. It draws its name from the small city of Macon in southern Burgundy and the 26 distinct villages from which the appellation's delicious Chardonnay wines flow. This part of the Maconnais is a hilly, quite rural part of Burgundy. Lucky for us the wines of Macon-Villages are born on the region's limestone subsoil, which help distinguish the appellation's wares from less favored locales. Here, Chardonnay reigns supreme and accounts for more than 90 % of the entire region's production. Pouilly-Fuissé, St. Véran, and several other renowned Macon villages are considered the stars of the region and are entitled to their own appellation.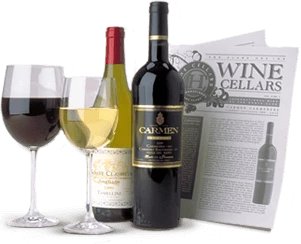 Enjoy Limited Production Estate
Bottled Wines
Discover limited production estate bottled wines such as Vergenoegd's internationally
acclaimed 2005 Cabernet Sauvignon, imported exclusively for our members.
DISCOVER OUR FOUR CLUBS