Joel Gott has been making Dillian Ranch Zinfandel to great acclaim since 1996, and with good reason. In every vintage Gott's Dillian Ranch Zinfandel stands out for quality as well as consistency, and the 2009 Dillian Ranch Zinfandel is certainly no exception. In fact, it mirrors Gott's exceptional 2007 Dillian Ranch with its rich purple color and emblematic bouquet, a mélange of allspice, clove, blackberry, wild cherry, bramble, sassafras and fig. With such a heavenly bouquet, one could almost be content to just sniff Gott's 2009 Dillian Ranch Zinfandel. But, why settle for half the pleasure when you can have it all? On the palate, Gott's full-bodied, sophisticated 2009 Dillian Ranch Zinfandel offers up plenty of plush fruit and deep down spice tones to match its stunning olfactory. Add superb texture and fine, ripe tannins, which frame the wine's luscious fruit and spice, and the 2009 Dillian Ranch claims its rightful place as classic American Zinfandel. For optimum enjoyment, we suggest affording Joel Gott's flagship offering at least thirty minutes of aeration before serving it at cool room temperature (60º-65º F). Enjoy!
Joel Gott's 2009 Dillian Ranch Zinfandel is an American classic and the ideal companion to serve with great American fare. Zinfandel is after all America's own wine. One of the aspects we like most about great Zinfandel is how well it accompanies what Americans like to eat. Roast Turkey and all the trimmings, a simple burger off the grill, a perfectly cooked steak, or better still a host of classic Mediterranean delights straight out of the brick oven all offer excellent companionship to Joel Gott's outstanding 2009 Dillian Ranch Zinfandel. Southern Italian classics such as Baked Ziti, Eggplant or Zucchini Parmigiana, Lasagne, and Manicotti are just a few of our favorite dishes to pair with this wine. And, why not? Zinfandel, or more accurately its ancestor Primitivo, thrives in southern Italy, where it marries perfectly with the tomato rich sauces of Italy's Mezzogiorno. In addition, Zinfandel complements a variety of Tex/Mex and authentic Mexican dishes better than any other red wine, so why not try Gott's awarding winning Zinfandel with burritos or sizzling fajitas? Roast Loin of Pork, with onion and sage dressing and Baby Back Ribs slow cooked in plenty of thick spicy barbeque sauce provide some of our other favorite pairings with this Zinfandel. We also enjoy Gott's quintessential Zinfandel with ripe cow and sheep's milk cheeses and will attest to the joy of drinking this wine all by itself, because if all you need is a respite from life's drudgery, you can count on Joel Gott's Dillian Ranch to wash away the weather stained cares of life. So sit down, pour a glass, and relax!
Joel Gott is a legend at a young age. The offspring of fourth generation California winemakers, Gott was riding a tractor at his family's farm at 4 years of age and has been involved in numerous wine and food enterprises since he was a teenager. Gott also ran the now famous Taylor's Refresher drive up restaurant in Napa when noted wine critic Robert Parker Jr. named this eatery as the source of one of his top ten meals of 1999, and in 2006 Taylor's was honored with a James Beard Foundation Award. But these accolades are just the tip of the iceberg, or perhaps more appropriately in Gott's case, the skin of the grape.
Gott has been making knock-out wines for nearly two decades. A partner in several successful and highly acclaimed wine ventures, his most notable success remains the production of bodacious red wines at the Joel Gott Winery. Each year Gott produces a host of wines in small lots at his winery, with the most renowned offering being his Dillian Ranch Amador County Zinfandel from Tom Dillian's dry-farmed 20 acre vineyard in Plymouth, California. Planted between 1920 and 1948, Dillian Ranch is a shy bearing vineyard that produces each year as little as three quarters of a ton of fruit per acre and one of California's most memorable Zinfandels.
However, Gott's Dillian Ranch Zinfandel is not his only claim to fame. Equally impressive is his recent venture Alakai, a knockout Rhône style blend of Grenache (77%), Syrah (17%), Mourvèdre (4%), and Petite Sirah (2%) that outshines the vast majority of Côtes-du Rhône offerings. Joel also fashions Monterey Chardonnay from low yield vines in a cool corner of Monterey as well as a bevy of other high quality affordable California varietals, including excellent Cabernet Sauvignon. Is there anything this guy can't do?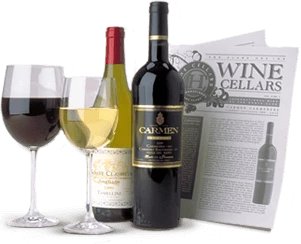 Enjoy Limited Production Estate
Bottled Wines
Discover limited production estate bottled wines such as Vergenoegd's internationally
acclaimed 2005 Cabernet Sauvignon, imported exclusively for our members.
DISCOVER OUR FOUR CLUBS