Jacques Girardin consistently fashions authentic, elegant red Burgundy, as Girardin's 2012 Clos Rousseau Premier Cru Santenay readily attests. The truth be told, it's difficult to imagine let alone find a red Burgundy better than Jacques Girardin's 2012 Santenay Clos Rousseau, even at two or three times the price. A sexy, seductive Pinot Noir with a knockout bouquet of rose petal, violet and Asian spices, this Premier Cru from Jacques Girardin is nothing short of enthralling. It comes across as delicate, yet complex, a libation fit for discerning company. Elegance and breed characterize this special wine that is both refined and oozing with flavor. Fresh juicy strawberry and hauntingly beautiful forest floor flavors fill the mouth and imbue the palate with pure pleasure. This sensual red starts out beautiful and ends up drop dead gorgeous with a soft, satisfying glow. Medium-bodied and pleasing from the moment the cork exits the bottle, we see every reason to drink this finely crafted Premier Cru Burgundy now and over the next several years. Nonetheless, we suggest decanting it 20-30 minutes prior to serving at cool room temperature. If you have a wedding, anniversary or any occasion, this is the wine to serve. Enjoy!
Jacques Girardin's 2012 Clos Rousseau Premier Cru Santenay provides the ideal companion to many of Burgundy's classic dishes, each of which makes a wonderful tableau upon which to craft a successful dinner party. Coq au Vin immediately springs to mind. Yet, for our taste, almost any chicken or turkey dish prepared with mushrooms or stuffing pairs superbly with Jacques Girardin's classic 2012 Clos Rousseau Santenay. The savory aspects inherent in the wine and the food play beautifully off one another, which will no doubt cause the evening's guests to move effortlessly from dish to glass and back again. An equally satisfying entrée is Herb Crusted Pork Tenderloin. The succulent tenderness of the pork wonderfully complements the elegant savory flavors of this charming Santenay Premier Cru. A key to preparation is to let the cooked tenderloin rest so juices redistribute evenly throughout the meat. Serve the pork with sides of roasted shallot mashed potatoes and haricot verts. If you wish to add a sauce to your pork, try a dried cherry sauce that softly complements the wine's center. Offer a dense, flavorful loaf of bread, serve a soft aromatic aged cheese, and place an old-fashioned mustard pot as a centerpiece, and, voilà, you're ready for your guests to arrive.
Jacques Girardin is the archetypal Burgundy grower and producer. In other words, Domaine Jacques Girardin is a true family affair. Jacques tends the vineyards, works the cellar, and makes the wines, while his wife keeps the books, handles all the sales, and sees to the mounting pile of export regulations that make it increasingly difficult for small family owned wineries to export their wares. For generations, the Girardin family has been well represented among the finest names in Burgundy. Jacques' father Jean was a renowned winemaker as is Jacques' brother Vincent. Jacques has been producing fine estate bottled offerings at his domaine since 1978, but most importantly no one consistently makes finer white or red Burgundy in Santenay than Jacques Girardin.
Domaine Jacques Girardin lies in the south of Burgundy in the commune of Santenay, the most southerly area of the fabled Côte d'Or. It comprises a mere 8 hectares (19.8 acres). All of Girardin's red wine holdings warrant Premier Cru status, with the Beauregard and Clos Rousseau vineyards in Santenay being the most heralded. Jacques Girardin also fashions tiny quantities of excellent Santenay Blanc Les Terrasses de Bievaux and Chassagne-Montrachet 1er Cru Morgeot. All of Girardin's wines spend time in barriques, of which 30% of the barrels are new. The result is supple, beautifully wrought red and white Burgundies that drink extremely well even in their youth. Santé!
Burgundy is a wine as well as a place. In fact, it is many wines and many distinct locales, all of which were once part of the ancient duchy of Burgundy. Situated several hundred kilometers southwest of Paris, Burgundy is hallowed ground to serious lovers of the vine. From its golden hillsides, whose center slopes are so aptly named the Côte d'Or, flow France's most expensive and profound wines. Names such as Romanée Conti, Chambertin, Clos de Vougeot, and Le Montrachet among others have been delighting serious wine aficionados for centuries. Yet, there is much more to Burgundy and its wines than a few illustrious names. For starters, Burgundy is the ancestral of home of two of the world's most revered grape varieties – Chardonnay and Pinot Noir.
Clearly, Burgundy is much more than a single wine or one great vineyard: it is a special place, a land almost entirely devoted to wine in one fashion or another. However, what remains surprising to many wine drinkers is that Burgundy is both red and white wine, the best of which come from Chardonnay and Pinot Noir exclusively. With a few rare exceptions, the finest Burgundies emanate from the region's core, the Côte d'Or, which begins on the fabled Côte de Nuits, just to the south of Dijon, and flows all the way south to Santenay at the tip of the Côte de Beaune. The Premier and Grand Cru wines from these illustrious hillsides are worth their weight in gold. Salut!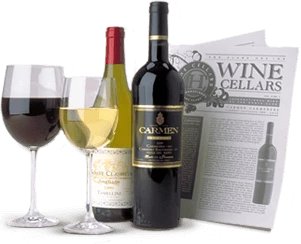 Enjoy Limited Production Estate
Bottled Wines
Discover limited production estate bottled wines such as Vergenoegd's internationally
acclaimed 2005 Cabernet Sauvignon, imported exclusively for our members.
DISCOVER OUR FOUR CLUBS