The 2006 J. Rickards Ancestor Selections Vineyard reminds us of why we love good, old-fashioned California Zinfandel and why prime examples of this varietal (such as Rickards' Ancestor Selections) sell out nearly overnight. Kudos to both Rickards and Holman for giving us a taste of our forbearers and an exuberant, gratifying Zinfandel to enjoy now and for years to come! A fleshy, flamboyant, and just plain fun to drink wine, the 2006 J. Rickards Ancestor Selections Vineyard Zinfandelremains true to the estate's commitment to fashion plush, hedonistic, sustainably made wines that offer nothing but complete and utter pleasure from start to finish. Richly colored and laden with the tantalizing aromas of America's own grape: blackberry, blueberry, bramble, hints of herb and spice, and just enough toasted oak to make you want to hug this wine all appear front and center. Isn't this what great California Zinfandel is all about? And let's not forget Ancestor Selections' flavor, a heady combination of rich fruit, subtle spice, and toasted barrel. Yum! For optimum enjoyment we suggest serving this superb Zinfandel at cool room temperature (60°-66° F), after 15-20 minutes of aeration. Zinfandel is one of the few young red wines that can be optimally enjoyed without extensive breathing. Anticipated maturity: 2009-2014.
What we like best about Zinfandel and the 2006 J. Rickards Ancestor Selections Vineyard in particular is how well it pairs with food, or not. Ancestor Selections Vineyard Zinfandel is indeed a sit around and sip, or should we say drink, kind of wine, and to that end we can add more than ample testimony. Nevertheless, it would be shameful not to pair this beautiful Zinfandel with traditional American or Mediterranean fare and enjoy it as many of our ancestors did. For nearly two centuries Zinfandel has been a staple at California winemakers' tables and in the homes of humble immigrants and connoisseurs alike. So, let's pay homage to them by firing up the grill and putting on the chops and steaks, the ribs and homemade sausages. J. Rickards' favorite recipe for Braised Ribs makes our list of preferred complements with this wine, even though these Braised Ribs are most often paired with the winery's Brown Barn Petit Sirah. We suggest you try them with this Zinfandel, too. Mediterranean delights straight out of the oven provide other superb accompaniments. Southern Italian classics such as Calzones, Eggplant or Zucchini Parmigiana, Lasagne, and Manicotti offer tried and true pairings to this wine. After all, Zinfandel, or more accurately its ancestor Primitivo, thrives in southern Italy, where it marries perfectly with the tomato rich sauces of Italy's Mezzogiorno. For an altogether different but equally satisfying treat, we suggest pairing dark chocolate or artfully crafted chocolate truffles with this Zinfandel. However, one should not lose sight of the fact that Ancestor Selections Vineyard is made with good old-fashioned drinking in mind, so it will complement both simple and sophisticated dinner party fare as well as provide a solitary respite from life's drudgery, with nothing but a clean glass to speak its praises. Enjoy!
The discovery of a new, boutique winery and the tasting of that winery's premier releases are some of the most exciting and rewarding tasks in the world of wine, especially when the wines are as good as what Alex Holman has fashioned in the past two vintages at J. Rickards. Holman, a graduate of California State University and an accomplished enologist who once worked for the iconic Paul Hobbs, has teamed up with Jim and Eliza Rickards, long time Sonoma County grape growers to launch J. Rickards. The 2005 vintage was J. Rickard's first commercial release, an auspicious entrance by all accounts, but the winery's 2006 offerings have managed to best that propitious debut. This month's feature, Ancestor Selections Vineyard Zinfandel, hails from a tiny vineyard near the winery. Jim Rickards planted it in honor of Alexander Valley's ancestors in wine grape growing. Cuttings were taken from the old Zinfandel vines originally belonging to the Pastori, Brignoli, Nervo, Vasconi, Mazzoni, Pachetti, and Osborn families. The vine grafting was done to best represent the old style of planting in the early 1900's, and what a lovely portrait of yesteryear this vineyard and its seductive wines paint. Sustainable methods of agriculture prevail at J. Rickards. Furthermore, no insecticides have been used on the property in over two decades. Natural predators are used in place of chemicals to control insects. Moreover, composting and respectful land management techniques throughout the ranch help preserve the natural environment and enhance the quality and purity of J. Rickards' wines. It is becoming increasingly apparent that boutique operations such as J. Rickards are fashioning many of California's most compelling wines – flavorful, natural tasting wines that are both intriguing and just plain fun to drink. These wines are being made by a coterie of small boutique wineries that are dedicated to quality and individuality. Some are from long time growers of superlative fruit who have decided to take a turn at winemaking, while others emanate from well-established winemakers and enologists who have simply had enough of commercial formulas. J. Rickards combines the best of both those worlds in Rickards and Holman. The result is a dynamic portfolio of two excellent Zinfandels (Ancestor Selections and Voigt Vineyard), a lusty Petit Sirah from the winery's Brown Barn Vineyard, a succulent meritage offering called Sisters, and more – all in limited quantities. If these past two releases are any indication of what we can expect from this winery, it is hard to imagine that any J. Rickards wines will remain available for very long. So, let us drink up while we can! For more information on JR Rickards Winery, visit their web site at http://www.jrwinery.com/.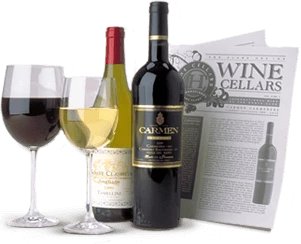 Enjoy Limited Production Estate
Bottled Wines
Discover limited production estate bottled wines such as Vergenoegd's internationally
acclaimed 2005 Cabernet Sauvignon, imported exclusively for our members.
DISCOVER OUR FOUR CLUBS