Deep, big, and brooding are the first impressions imparted by Solo Una Vez, a wine from the 2012 vintage, which emanates from two high mountain vineyard sites comprised of 57% Cabernet Franc and 43% Petit Verdot. From first impression to final curtain call, intensity best describes Solo Una Vez. Its deep purple, nearly black opaque color underscores the depths that await the stouthearted imbiber. Yet, Solo Una Vez's delicious mélange of Cabernet Franc and Petit Verdot immediately conjures an array of bold beautiful aromas that ooze ripe berries, plums, spice, and a whole lot more to dazzle the nose. Upon tasting, one is surprised by the suavity of this wine, which complements its intensity. A delightful array of berry, chocolate, roasted coffee and the finest, smoothest patina of oak ingratiates the mouth. Intense and intriguing, Solo Una Vez unfolds slowly in the glass, beseeching the taster to discover yet another rich, complex flavor. Although bold and truly beautiful now, Solo Una Vez is a wine still in the throes of youth and can be laid down for several more years. Given the wine's intense fruit and rich ripe tannins, it should improve for up to a decade or more. For optimal enjoyment, we suggest affording the 2012 Solo Una Vez, an hour or more in decanter before serving at cool room temperature (60°-64° F). You will be in for a treat. Enjoy!
What does one serve with the 2012 Solo Una Vez, a once in a lifetime wine? How about almost anything bold and beautiful? Thick cut Porterhouse or Rib-eye steaks get our nod, as they do in Argentina, a country renowned for its beef as well as its wine. Short rib sliders on brioche buns with smoked goat cheese, caramelized onions, and a side of truffle fries makes a fine pairing, as does another perennial favorite: Rack of lamb rubbed with garlic, olive oil and rosemary. Gemelli Bolognese, a rich ragu of ground beef, sweet Italian sausage, tomatoes, gemelli pasta, burrata and basil pesto provides another winning partner to Solo Una Vez. A Spanish Cobb Salad with grilled chicken, Serrano ham, hard boiled eggs, roasted tomato, Manchego crisps, and avocado over romaine and spinach that are tossed in a Gorgonzola dressing make for a tasty pairing, too. For a simple, meatless treat, consider a burrata and white bean bruschetta with shaved Parmesan on toasted crostini. Buen Provecho!
Nick Ramkowsky and Ed Lehrman are two life-long wine guys who aren't afraid to think big, take risks, and make big things happen. Nick began his wine career at North Berkeley Wine Shop while attending UC Berkeley, eventually becoming the store's manager and wine buyer. Ed started collecting wine as a hobby and storing it in the bottom drawers of his dorm room at Duke University before heading to New York City where he landed a job with Sherry-Lehmann, one of the nation's premier wine shops.
In 1999, Nick and Ed took a trip to visit wineries in Mendoza, Argentina, where they quickly realized the tremendous quality and potential in wine that lay unnoticed and untapped in Argentina, the world's 5th largest producer of wine. They took their first big chance and decided to launch Vine Connections, a company devoted to the first nationally-imported portfolio of artisan wines from Argentina. Since the inception of Vine Connections in 1999, the availability and popularity of wines from Argentina has exploded. Vine Connections portfolio includes some of the greatest names in Argentinean wine, such as Graffito, Luca, and Nick and Ed's own special one of a kind Solo Una Vez, this month's selection.
As if putting the wines of Argentina on our radar wasn't enough, a year after launching Vine Connections, Nick and Ed seized upon another big plan in which they introduced a line of premium ginjo sake to the US from 11 brewers, to become the first non-Japanese company to nationally distribute sake. Since then, they have added an enviable line of appellation-based wines from diverse terroirs in Chile, and they have recently taken on an exciting array of Californian wines from innovative, super-premium producers. But Ed and Nick's biggest idea is their once in a lifetime venture, Solo Una Vez.
According to Nick, "Solo Una Vez is an idea that came from dreaming about 'what could be' instead of 'what has to be.' Ed and I decided to make wine based on quality alone, not worrying about the usual economic burdens faced in the market. For this wine, we cut no corners on time, effort and expense. We boldly made the wine that was in our hearts, not in our heads. Because of the time, effort, and expense involved in this precise project, we decided this is something that should only be done once, which is reflected in the name, 'Solo Una Vez' or 'Just Once.' Wow! Were we crazy? What an unbelievable, time consuming project, but we did it. Along with winemaker Jimena Lopez (Graffito), we decided on the following requirements: Varietals that could make the best quality wine in Argentina, and we would make only 5 barrels of each. We would choose the specific vine rows from the top vineyards, and decide ourselves when to harvest, ferment the reds in new French barriques and punch down the wine by hand, and then only use the wines and barrels that are really exciting in the final varietal wines and blends. We used high altitude vineyards located in Tupungato and Agrelo (Luján de Cuyo) in Mendoza, Argentina. We aged the wine for 18 months in French oak barrels, and to express the singularity of the project, Argentine friend and artist, Valeria Guarnieri, painted canvases and cut the paintings into wine label-sized pieces so that each individual bottle has its own, unique canvas label."
We invite you to taste Solo Una Vez, a once in a lifetime wine. Only 90 cases exist and The International Wine of the Month Club has the lion share of it; we left a few for Nick and Ed to enjoy.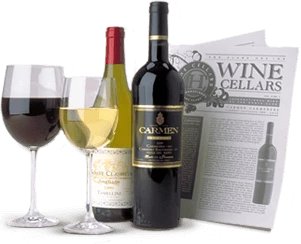 Enjoy Limited Production Estate
Bottled Wines
Discover limited production estate bottled wines such as Vergenoegd's internationally
acclaimed 2005 Cabernet Sauvignon, imported exclusively for our members.
DISCOVER OUR FOUR CLUBS