The 2005 Il Molino di Grace is a deeply colored Chianti that lends backbone as well as polish and panache to the typically lush, textured wines of Panzano. Redolent with the scents and flavors of red and black fruits, kirsch, loam, and silky spice, Il Molino di Grace's 100% Sangiovese Chianti Classico drinks more like a supercharged Super Tuscan than a typical Chianti Classico. Yet, the Il Molino di Grace maintains its composure as well as its round, hedonistic Panzano charm. Well structured and complex with plenty of ripe tannins and a long lasting finish, this Chianti Classico clearly demonstrates how exceptional Chianti Classico can be in the hands of a maestro. For optimal enjoyment we suggest at least thirty minutes of aeration for the 2005 Il Molino di Grace before consumption, and as always serving at cool room temperature allows the perfume and subtle charms of the wine to come to fore. Enjoy!
Chianti Classico is more often than not a medium-bodied wine suitable for the simple but elegant flavors of the Tuscan table. And while exceptional Chianti Classicos like the 2005 Il Molino di Grace certainly provide outstanding to the region's traditional dishes, they also stand and deliver when paired with the heartiest of foods, the finest cuts of beef and lamb, and rich complex sauces. Hence, the 2005 Il Molino di Grace pairs beautifully with some traditional Tuscan favorites such as Florentine Pasta, made with spit roasted chicken, fresh tomatoes, and sautéed spinach; or Penne Pasta with baby artichokes and grilled spicy Italian sausage. It complements Florentine Steak, Beef Wellington, Marinated Lamb Kebobs, and other rich, full-flavored dishes equally well, so Buon Appetito!
Il Molino di Grace (the windmill of grace), located in the heart of Tuscany, fashions fleshy, complex wines from the most prestigious area of Chianti Classico. Named after the Grace family and the historic 19th century windmill that sits upon the property, Il Molino de Grace is a relative newcomer to Chianti Classico: it opened the winery doors in 1999. Although the winery has been in existence for only a little more than a decade, Il Molino di Grace is a historic property. Vineyards have covered this coveted corner of Panzano known for it extraordinary terroir for more than 350 years, and its annual grape harvest has been highly sought after for decades by Chianti producers looking for a cherished piece of Panzano. Frank Grace purchased the Il Molino property in 1995 and began construction of a winery at Il Molino di Grace on the site of a ruined barn. Along with winery manager Gerhard Hirmer, Grace has designed and constructed one of the most beautiful wineries in Tuscany. Today, all of Il Molino di Grace's wines are estate produced and bottled using only organic materials and sustainable practices in the vineyard as well as in the winery, and the end results are remarkable. Furthermore, since 2008 Il Molino di Grace has eliminated the use of fossil fuels by using cuttings from the vines to fuel all of the heating and air conditioning at the winery. No wonder Wine and Spirits Magazine named Il Molino di Grace to their list of Top 100 Wineries. Chianti: A Region, a Wine, and a Consortium Chianti is a sea of vines amid the pastoral slopes of Tuscany. Between Florence and Siena over one hundred and fifty thousand acres of vines share the hills and hollows of this ancient land with olive groves and grain fields, bleating sheep, and woods full of oak and chestnut. Chianti is the largest DOCG in Italy, producing more than two hundred million liters of wine each year from seven distinct districts. Consequently, Chianti is, in fact, many different wines from over seven thousand registered growers in seven distinct districts and their outlying areas. Chianti Classico is just one of those seven official areas of Tuscany entitled to bear the name Chianti on its labels. Chianti Classico is, also, the wine from the legal heart of Chianti whose producers belong to the Chianti Classico Consorzio or Consortium. The Chianti Classico Consorzio is the most recognizable consortium in Tuscany and its members have the highest voluntary standard of excellence among Chianti producers. The Chianti Classico Consorzio seeks to define, improve, and promote the wines of Chianti Classico. The majority of producers within the confines of Chianti Classico belong to the consortium, but not all. Standards are strict: the monitoring of prescribed grape varieties, vineyards, yields, alcohol levels, and even a tasting of every member's wines are part of the consortium's annual ritual of enforcement. Nonetheless, many outstanding examples of Chianti can be found outside of Chianti Classico. These Chiantis will not bear the seal of the Consorzio (the Gallo Nero or Black Rooster seal on the neck of the bottle), either for ideological reasons or because the wine emanates from vineyards that lie outside the delimited boundaries of Chianti Classico.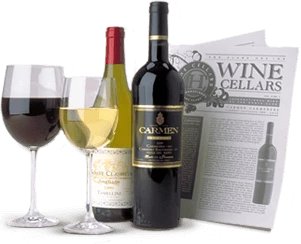 Enjoy Limited Production Estate
Bottled Wines
Discover limited production estate bottled wines such as Vergenoegd's internationally
acclaimed 2005 Cabernet Sauvignon, imported exclusively for our members.
DISCOVER OUR FOUR CLUBS