The 2007 Il Cuore Rosso Classico recalls not only the artful blends of yesteryear, it heralds the present trend towards fleshy, more fruit driven wines. Rosso Classico is a wine with plenty of natural flavor; it is neither dominated by oak, nor copious additions of tartaric acid. The 2007 Il Cuore Rosso is an expressive, medium bodied wine that resonates with the scents and savors of ripe cherries, summer berries and plums. It is soft and succulent from the moment it is poured, but it never comes across as flabby or over the top. This artful blend of Syrah (51%), Zinfandel (26%), Sangiovese (12%), Carignane (6%), and Merlot (5%) truly pays homage to the early North Coast pioneers and their tasty field blends. Each varietal adds it own unique qualities to Rosso Classico, but all play nicely together and add up to a total greater than the sum of their parts. Enjoy this California classic now and for the next couple of years.
The fruity, spicy flavors of the 2007 Il Cuore Rosso Classico enhance a diverse range of foods. However, classic Italian dishes with thick rich tomato sauces and plenty of garlic and herbs top our list of favorite accompaniments. So bring on the Manicotti, Chicken and Herb Stuffed Ravioli, Eggplant Rollini, Mediterranean style grilled meats, and all the comfort foods you can think of. Add to that list Braised Lamb Shanks, served with garlic mashed potatoes, Chicken Marsala, Oven Roasted Salmon, and nearly any dish with plenty of garlic, and the 2007 Rosso Classico is hard to match. Spicy dishes that contain hot pepper and a little heat won't hurt this Rosso Classico either, so no need to fret. Il Cuore's Rosso Classico has been dubbed "the garlic buster," so it is a wine meant to come to table, just like the wines of yesteryear. Enjoy!
Il Cuore (eel-quarry) is a winery dedicated to producing classic California wines: varietal offerings as well as traditional blends in a tribute to the Italian immigrants who first planted vines upon the North Coast of California during the nineteenth century. The name Il Cuore, which means "heart"in Italian, serves as a reminder that the very survival of these immigrant pioneers depended upon a stout heart, hard work, and love of the land. Under winemaker Dennis Patton, Il Cuore captures the devotion of Mendocino's winemaking forbearers. Il Cuore began making wine in Mendocino in 1989 with the release of a tiny amount of Cabernet Sauvignon. Today, Il Cuore crafts a variety of award winning wines, including Barbera, Cabernet Sauvignon, Chardonnay, and Rosso Classico – the winery's most celebrated offering. Rosso Classico is a unique blend of Syrah, Zinfandel, Sangiovese, Carignane, and Merlot. All of Il Cuore's wines are made in an expressive, natural style with only modest oak barrel ageing to preserve the fresh character of Mendocino fruit. The original artwork for Il Cuore was created by Dan Rizzie, whose bold cubistic works appear in the permanent collections of both the Metropolitan Museum and the Museum of Modern Art in New York. Some Thoughts on California Wines When California winemakers recall their roots and fashion wines reminiscent of yesteryear, the results are more often than not remarkable. In the Post-Varietal Age, more and more California wineries are returning to the past. These wineries and their erudite artisans are honoring their oenological forbearers by crafting wines not unlike their ancestors did several generations ago. They are making full, fleshy, in your face kinds of wines with a myriad of flavors and plenty of panache from a multitude of grape varieties and field blends. No more is varietal bottling the magic bullet or the sole mark of quality on a label of California wine. Many of California's proprietary wines and authentic field blends (wines made from numerous grape varieties that are grown together in a vineyard and fermented together, rather than separately) have always offered the consumer quality and value, at various price points. Unfortunately, the Varietal Age that took root in the late 1960s nearly put an end to traditional California blends, the best of which relied heavily upon Mediterranean varietals such as Alicante Bouschet, Barbera, Carignane, Charbono, Grenache, Mataro (Mourvèdre), Sangiovese, and Zinfandel, among others. Fortunately, the trend towards strict varietal bottling (utilizing one grape only) has reversed and winemakers and consumers alike are abandoning their parochial attitude towards blended wines. Perhaps, this generation no longer remembers some of the less glorious renditions of California Chablis and Burgundy that sparked varietal bottling or they can differentiate between mass produced blends of inferior quality and the real deal? For those whose snob appeal does not rely upon a varietal name, they will have a field day exploring traditional California blends such as Il Cuore's Rosso Classico.
In an ideal world, one has at least a bottle of the 2007 Il Cuore Rosso Classico open to serve with dinner and a second bottle waiting in the wings to accompany a selection of perfectly ripe cheeses. Most cow, goat, and sheep's milk cheeses provide excellent companionship to Il Cuore's Rosso Classico. Edam, Feta, Gouda, and fresh Buffalo Mozzarella all get our seal of approval, but we suggest you consider additional cheese pairings with this wine by going to www.cheesemonthclub.com. Why settle for half the pleasure when you can have it all?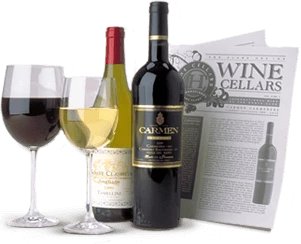 Enjoy Limited Production Estate
Bottled Wines
Discover limited production estate bottled wines such as Vergenoegd's internationally
acclaimed 2005 Cabernet Sauvignon, imported exclusively for our members.
DISCOVER OUR FOUR CLUBS