Reminiscent of some of the better known, hedonistic blends of Barbera and Nebbiolo from Italy's Piedmont, the 2008 Home Grown Harvest Red is both aromatic and plush on the palate. It offers up a rich aroma of blueberry, black cherry, cedar, and mulberry. Better still; the wine's aromatic profile re-emerges on the palate before exiting with a flurry of flavor and just enough tannic zip to frame the wine's juicy fruit. Moreover, the Harvest Red offers good old-fashioned drinking. Although a few minutes of aeration are advised, the Home Grown Red is ready to go from the moment it exits the bottle. However, for optimal enjoyment we suggest serving the 2008 Home Grown Harvest Red at cellar or cool room temperature (55º-64º F). Enjoy!
The 2008 Home Grown Harvest Red is made with down home cooking in mind. Traditional Italian fare as well as Tex/Mex and more contemporary American specialties all offer superb complements to this wine. Penne Pasta in a tomato cream sauce with pancetta and grilled vegetables; Braised White Beans with rosemary; Chicken and Cheese Enchiladas; and Spare Ribs smothered in a mildly spicy barbecue sauce all offer memorable companionship to the 2008 Home Grown Harvest Red. Burgers, steaks, meatloaf, pizza, and all types of hard and soft cheeses also pair beautifully with this wine. In fact, just about all types of every day fare are enhanced by the presence of the 2008 Harvest Red.
The folks at Home Grown Farms don't aspire to the usual California winery glamour and glitz to sell their wine, nor do they believe that the present penchant for varietal bottling is what all wine lovers desire on a daily basis or even what California does best, especially under $30.00 per bottle. And their point is well taken: the current fondness for varietal bottling in California only began to take root in the late 1960s and early 1970s, and you can be sure there was no lack of good red wine being made in the Golden State prior to that time. Moreover, you won't hear any contrived hogwash from the folks at Home Grown that their Family Harvest Red was "grown on misty cliffs, near a mysterious ocean, where the fog is cold, and the night's perplexing, and the terroir confusing, and the women are complicated but the men love them anyway, and the elves dance under the . . . . blah, blah, blah, blah." You get the point. In short, what comes out of the bottle is all that matters. So, we think you'll love this wine as much as our tasting panels did. Home Grown Family Harvest Red is a traditional California field blend of Syrah, Barbera, and Petite Sirah that has been harvested from coastal vineyards in Northern California. Various quantities of each varietal find their way into the final blend dependent upon the vagaries of the vintage.
A century ago, the field blend was the norm among California wine growers. And that trend continued and was accentuated when Italian immigrant families settled in California. They planted their grapes together in a field. There were no large tracks of wire-trained plots of vines, and no Merlot or Pinot Noir to speak of. In fact, those grape varieties were virtually unknown in California until the middle of the 20th century. Instead, our immigrant forbearers planted several acres of head-pruned vines all together in the same vineyard: Alicante Bouschet, Barbera, Carignane, Palamino, Zinfandel, and a host of other varietals from Italy and elsewhere. They often mixed the vines in the same rows, so that each varietal would add its own attributes and distinctive character to the final blend. Often, the grapes would not ripen at the same moment either, but when the family agreed that each had given its all, they would pick the grapes. The very ripe grapes gave flesh and plumpness to the wine and the less ripe grapes added a bit of zip. These old-time growers looked at this method as building character, one layer at a time. Most California grape growers don't grow or harvest grapes the way the old immigrant families did, but those old field blend vineyards still exist in the hills of northern California. And you can be sure those old vines produce some mighty fine wine. Home Grown Farms models its wines after those so called "Italian Field Blends," and for that we can all be thankful.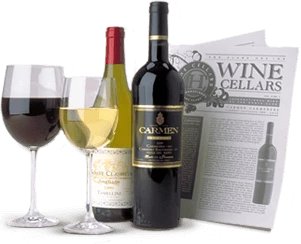 Enjoy Limited Production Estate
Bottled Wines
Discover limited production estate bottled wines such as Vergenoegd's internationally
acclaimed 2005 Cabernet Sauvignon, imported exclusively for our members.
DISCOVER OUR FOUR CLUBS