The 2016 Hermanos Valle de Cafayate Torrontés welcomes the eager imbiber with a bright, sunshiny robe and a fresh, intriguing bouquet that begs the taster to jump right in. Rose petal and tropical fruit flavors mingle with ginger and sandalwood scents to caress the nose, before seeping surreptitiously into the marrow of the wine. From the nose, one might expect a fruity or even a slightly sweet concoction, but Torrontés has a way of seducing its adherents without residual sugar. On the palate, the 2016 Hermanos Torrontés conjures the captivating flavors of its charming bouquet and tempers them with a tangy citrus twist reminiscent of ripe Mandarin orange that both refreshes and satisfies the palate, so much so that Hermanos's Torrontés displays a beautiful array of fruit flavors, coupled with a pleasantly dry finish that recalls top notch Sauvignon Blanc. For optimal enjoyment, we suggest serving the 2016 Hermanos Torrontés moderately chilled (about 38°-40º F) now through 2019.
The 2016 Hermanos Valle de Cafayate Torrontés shines at table and will rise to the culinary delights at hand. Although many will find this wine a delightful aperitif, Torrontés truly presents itself best at table. Moreover, the more difficult a dish or recipe is to pair with other wines, the more appealing and gratifying Torrontés becomes. Consequently, we suggest pairing the 2016 Hermanos Valle de Cafayate Torrontés with Asian Stir Fries, Chinese and Thai specialties, and vegetables such as asparagus, avocado, cucumber and eggplant. Crab cakes made with lump crabmeat, salmon, cucumber, and avocado, and then topped with a light cream sauce provide winning complements to Hermanos's delightful Torrontés. Shrimp Tempura, topped with slices of fresh mango and avocado, makes another tasty pairing. Shrimp Curry with snow peas, eggplant, and red pepper makes a compelling case with this wine, too. And if Asian inspired dishes are not to your liking, the 2016 Hermanos Valle de Cafayate Torrontés can also hold court with simple salads, prosciutto wrapped melons, and many fish and poultry dishes. Buen Provecho!
Hermanos is the handiwork of the Domingo Molina brothers, Osvaldo, Gabriel, and Rafael, who by their own account caused their parents more than their fair share of trouble. They played soccer together, fought, and raised havoc, until they grew up to be best of friends. Fifty years after their father and uncle opened a winery, the brothers (hermanos in Spanish) started a winery of their own on a hillside above Cafayate in Argentina's Salta province. They named it Domingo Molina in honor of their parents – Domingo after their father's last name and Molina for their mother's name – testimony to the fact that most siblings grow up to be responsible adults, get along, and make their parents proud. Considering all that Osvaldo, Gabriel, and Rafael have accomplished, mom and pop are no doubt proud.
The Domingo Molina brothers have over the last several decades located the finest vineyard sites in Salta Province to serve as the source of their exceptional wines. These pristine sites rise from 5,800 to 7,300 feet above sea level, which makes them some of the highest vineyards in the world. At this extreme altitude, the air is fresh and clear with 340 days of sun each year. This unique terroir results in wines of intense aroma and flavor, soft tannins, and a pure natural ease, wines that the Domingo Molina brothers say are "a pleasure to drink, especially with our brothers." We think you will agree.
In addition to crafting exceptional Torrontés, the Domingo Molina brothers fashion exemplary Malbec, Cabernet Sauvignon and Tannat among others, which they bottle as single varietals or fashion into tasty Bordeaux-style blends. Hermanos is dedicated to preserving the ecological identity and unique personality of each of its wines as well as each vineyard's respective terroir. The common denominators in Hermanos's wines are intense aromas and flavors, complex body, ample structure, and supreme balance.
Torrontés is unique to Argentina, and it has become over the centuries Argentina's emblematic white grape variety. A genetic cross between two grape varieties brought to Argentina during the colonial period, Torrontés has only recently burst onto the international scene. The precise ancestors of Torrontés remain a bit uncertain although it is believed to be a cross between Criolla, a mission varietal, and the Muscat of Alexandria, of which the latter may also go by the name Uva d'Italia. It is thought that Torrontés originated in Argentina's Mendoza province, although Torrontés is now cultivated throughout Argentina. Several varieties or clones of Torrontés exist, which are commonly identified as Mendocino, Sanjuanino and Riojano. Riojano is widely acknowledged to produce the best Torrontés, while Cafayate Valley in Salta Province has built a reputation as the source of the finest Torrontés, and it is from Cafayate's high elevation vineyards (which can reach altitudes of over 9,800 feet) that Torrontés derives its greatest intensity and purity.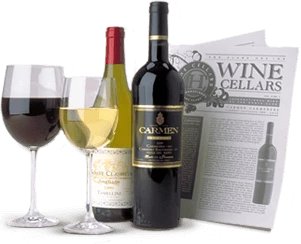 Enjoy Limited Production Estate
Bottled Wines
Discover limited production estate bottled wines such as Vergenoegd's internationally
acclaimed 2005 Cabernet Sauvignon, imported exclusively for our members.
DISCOVER OUR FOUR CLUBS