If first impressions matter, the 2012 Herdade de Gambia Peninsula de Setubal gets off to a great start. Not only is Herdade de Gambia's label both beautiful and unique, the first draught of this deep ruby, eye catching concoction should be enough to seal the deal. Concentrated aromas of wild blackberry and mulberry, exotic spices, and vanilla caress the nose. However, it is on the palate that Herdade de Gambia works its real, magic. In the mouth this wine shows its authority and weight, offering a spate of spicy complex flavors as well as remarkable balance and elegance. Silky smooth tannins add structure but no biting astringency. Enjoy this polished Portuguese beauty at cool room temperature (no more than 64° F) now and over the next several years.
Not surprisingly, Portuguese reds make great companions to the rich, heady dishes that Portuguese love to devour in copious quantities. Consequently, one need not be afraid of overpowering the youthful 2012 Herdade de Gambia Rosso. Let's start with Portuguese Bean Soup, a heady concoction of beans, sausage, potatoes, carrots and almost anything else you care to throw in. It makes a wonderful one pot dish and offers great companionship to the 2012 Herdade de Gambia. Marinated Pork or Lamb, soaked in plenty of red wine, onion, garlic, bay leaves and more, also gets our nod to accompany the 2012 Herdade de Gambia. However, when the Portuguese talk about marinating, they really mean marinating – two to three days is hardly off the charts, but we'll let you decide when enough is enough. If simpler, more familiar dishes are more to your liking, try Three Beef Sliders with melted Cheddar cheese and red onion or Penne Pasta with a basil pesto cream sauce. Vegetable Lasagna works well, too, but then again most meats and cheeses also pair easily with this wine. Enjoy!
Portuguese wines have always intrigued us, as there has never been any doubt as to the quality of Portugal's finest wines. For centuries the fortified wines of Portugal, most notably Port and Madeira, have been duly lauded for their quality as well as their individuality. And today, few would argue that Vintage Port and the finest Madeira do not deserve their present reputations as two of the world's greatest and longest lived wines. But there has always been much more to Portuguese wine than Portugal's two iconic fortified wines or the oceans of innocuous rosé offerings that flooded the American market in the early 1970s. So why have we not seen many of those wines?
Sadly, Portugal, like its Iberian neighbor, Spain, suffered political and economic instability throughout much of the 20th century and languished behind other top wine producing nations in improving the quality of its many wines. In addition, Portuguese producers were slow to adjust to market demands. Most of Portugal's traditional wines were rustic reds that required considerable time in bottle to attract the attention of international consumers growing increasingly accustomed to more immediate gratification. Few Americans in particular understood the need to cellar the splendid red Garrafeira (Special Reserve) offerings from Dão and elsewhere in order to reap the rewards.
However, what most delayed the appreciation of Portugal's exceptional red wines were government regulations that called for the mandatory use of co-operatives in Dão, Portugal's leading and most recognized appellation. The co-operatives had the exclusive right to the grapes grown in the region and a monopoly on making the wine sold to private merchants. Although the intent of the regulations was to create a national identity for Dão and promote its quality, the effects were adverse due to a lack of competition. What resulted were many inferior, often dirty wines that hardly did justice to the revered name of Dão. Fortunately for Dão and Portuguese wine in general, Portugal's application to the European Union in 1979 prompted an end in the 1980s to such regulations and monopolistic practices. Once again quality was allowed to come to fore. Hence, the birth of Herdade de Gambia.
Herdade de Gambia is produced by the Abreu family. In 1991, the Abreu family created Boas Quintas, a wine company bent on uncovering unique properties that produce single estate wines of the highest quality. Moreover, from its inception Boas Quintas sort wines that would reflect the true character of Portugal's finest wine regions. Herdade de Gambia is one of four wineries that are part of the Boas Quintas portfolio.
Herdade de Gambia is located in the Setubal region of Portugal, just south of Lisbon in the Sado Estuary. The vineyard lies close to the Sado Estuary Preserve, one of Portugal's most important protected natural areas and home to more than three hundred species of birds and wildlife, including bottlenose dolphins. Alongside the vineyards grow cork and pine trees, while livestock graze nearby – all part of the area's ecosystem. Great pains are taken to care for the Herdade de Gambia property since it is classified as Natura 2000 (a special protection area). Winemaker Nuno Cancela de Abreu produces award winning white and red wine at Herdade de Gambia. The label for each of the Quinta's wines features a crane done in a mosaic to honor the surrounding wildlife and demonstrate how vineyards can thrive in harmony with the surrounding ecosystem.
Portugal is home to more than 200 grape varieties, but none is finer or more important than the indigenous Touriga Nacional. Although Touriga Nacional owns Portugal's bragging rights, it rarely gets to fly on its own. More often than not it forms the backbone of Portugal's greatest red wines, including Port and the finest Douro and Dão Garrafeira. It imparts body, flavor and plenty of tannic structure to blends of Aragonez (Tempranillo) and Syrah, as well as to the legion of indigenous grape varietals that thrive in Portugal.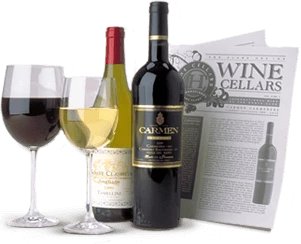 Enjoy Limited Production Estate
Bottled Wines
Discover limited production estate bottled wines such as Vergenoegd's internationally
acclaimed 2005 Cabernet Sauvignon, imported exclusively for our members.
DISCOVER OUR FOUR CLUBS