The 2004 Heinrich Zweigelt comes across as the quintessential Zweigelt. It is aromatic, deeply colored, and quite well endowed. The aroma of cherries that wafts from the glass and the cool tangy flavor that unfolds on the tongue with each successive sip recall the hedonistic delight of early summer. On the palate, fresh ripe fruit, a gentle spiciness, and a firm underpinning make the 2004 Heinrich Zweigelt an absolute delight to drink. Assuredly, the wine's ripe, round, juicy flavors that hint if berry, cherry, and plum entice with each taste. Moreover, Heinrich's Zweigelt recalls all the best attributes of the finest Grand Cru Beaujolais. It also serves as a reminder of what first rate Beaujolais could taste like more often, with just a little more care and character. It is no wonder then that critics continue to proclaim the virtues of Zweigelt and sing the praises of Heinrich Gernot and his superlative wines. We suggest you serve the 2004 Heinrich Zweigelt at cool room temperature (about 66°F), after it has been allowed to breathe for at least fifteen minutes. Extensive aeration (of an hour or more) will tend to mitigate the wine's lush fruit and accentuate the spice and structure of Zweigelt, so as you like it!
Pork and Veal Schnitzels, and many other traditional Austrian and German favorites such as Beef over Kartoffelklosse, provide splendid accompaniments to the 2004 Heinrich Zweigelt. Certainly, Sauerbraten and Black Forest Ham offer wonderful accessories to Gernot Heinrich's delicious 2004 Zweigelt, too. However, it would be wrong to typecast this superb Zweigelt, which provides wonderful companionship to many more eclectic dishes. Grilled Smoked Chicken Breast, served with lentils; a thick Split Pea Soup, served with slices of white Vermont Cheddar and Pumpernickel Bread; Sautéed Wild Mushrooms and Risotto; and even Venison Tenderloin are all enhanced by a bottle of Gernot's Zweigelt. Roast turkey, with savory onion and sage stuffing and the usual holiday trimmings, complements this Zweigelt, too. We also suggest serving the Heinrich Zweigelt with steaks and grilled meats; it can turn a simple mid week meal into a memorable moment. Prosit!
Since the early 1990's, the young Gernot Heinrich has firmly established his family's wine estate as one of the most exciting in all Austria and a leader in the production of Zweigelt – Austria's own grape. The Heinrich story is a modern day fairytale, whereby a small family owned winery that for generations had produced only simple, tasty wines for family and friends and sold the balance in bulk, abruptly changed direction and emerged with Gernot's dynamic leadership as a tour de force in winemaking. In Heinrich's case, Gernot's winemaking apprenticeship abroad was the catalyst for success. Upon returning to Austria, Gernot concentrated on traditional varietals, but with the goal of vinifying them in a more contemporary and international style – something his family had never done before. This philosophy translated immediately into the production of compelling wines of great charm as well as structure. Today, Heinrich's wines possess gorgeous fruit as well as tannin, and they continue to improve with each successive vintage. Consequently, all of Heinrich's wines are now extremely difficult to come by, and that in itself speaks volumes Heinrich's tiny Burgenland estate comprises a mere 10 hectares (22 acres). Zweigelt, a cross between the indigenous St.Laurent and a clone of Gamay, is Austria and Heinrich's most renowned wine. However, two other Austrian varietals, Blaufrankisch (red) and Weissburgunder (white), provide equally intriguing offerings from this estate. Nevertheless, Gernot is not content to halt with present success. Merlot, Syrah, and Pinot Noir are now in the offering. Furthermore, Gernot has completed the construction of a whole new winery, which will increase his now meager capacity. Happily, we have much to look forward to from this young, energetic producer.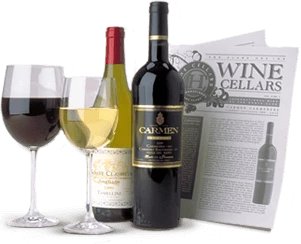 Enjoy Limited Production Estate
Bottled Wines
Discover limited production estate bottled wines such as Vergenoegd's internationally
acclaimed 2005 Cabernet Sauvignon, imported exclusively for our members.
DISCOVER OUR FOUR CLUBS