The 2016 Hawk and Horse Vineyards Red Hills Cabernet Sauvignon (93 Points – Wine Enthusiast) is endowed with deep berry aromas and imbued with savory hints of cinnamon, nutmeg, and more, which made us dive right in. And we were glad we did. Succulent ripe blackberry and black cherry flavors greet the rapacious throat, gliding on pure, silky tannins that feel like velvet. Long, lingering, and suave to the finish, the 2016 Hawk and Horse Vineyards Cabernet Sauvignon is an absolute joy to drink now, yet this superbly crafted, bio-dynamically fashioned Cabernet will continue to improve in bottle to offer many years of drinking pleasure. The wine's bold flavors and velvety texture render it a great find and an anytime choice. For optimum enjoyment, we suggest 20-30 minutes of aeration, if you can wait that long, before joyfully consuming around 58°-62° F. Anticipated maturity: 2021-2028. Enjoy!
In light of the redolence, richness of flavor, and supreme texture inherent in Hawk and Horse's 2016 Red Hills Cabernet Sauvignon, one could easily be tempted to drink this delightful Cabernet with nary a morsel. In fact, we did before pairing it with some of our favorite accompaniments to the finest Cabernet Sauvignons. All kinds of meats, including lamb, beef, and duck provide superb accompaniments to Hawk and Horse's exceptional 2016 Red Hills Cabernet Sauvignon. Prime Rib of Beef; Braised Lamb Shanks served with mashed potatoes and haricots verts; Sirloin Tips prepared with a wild mushroom sauce; and Grilled Duck Breast with a blackberry sauce reduction and served with wild rice and seasonal vegetables all make splendid dinner companions to Hawk and Horse's 2016 Red Hills Cabernet Sauvignon. For those who prefer simplicity and subscribe to the philosophy that less is more when it comes to enjoying a fine wine, we suggest serving a well-endowed charcuterie and cheese plate comprised of naturally dry cured meats and soft rindless cheeses, but almost any aged, finely crafted cheese will shine in the presence of Hawk and Horse's 2016 Red Hills Cabernet Sauvignon. Enjoy!
Increasingly, many of California's finest wines, Cabernet Sauvignons included, emanate from small, highly committed organic producers such as Hawk and Horse Vineyards. The Hawkins/Boies family's 18-acre high elevation gem (up to 2,200 feet) is located in the Red Hills AVA of Lake County, just north of Napa Valley. Their mountain vineyard is planted in the rocky, volcanic soil of the Red Hills AVA, which if often referred to as containing "diamonds." This unique terroir is among California's most favored for fashioning world-class Cabernet Sauvignon.
Hawk and Horse Vineyards takes great pride in its wines as well as its organic and biodynamic farm practices. Hawk and Horse's 18 acres of vineyard are farmed in harmony with nature following the guidelines of the late Rudolph Steiner, the father of modern biodynamic viticulture, and are Demeter Biodynamic and CCOF Organic certified. These meticulous practices render Hawk and Horse's handcrafted, immensely pure Cabernet Sauvignon one of the finest in all California. In fact, we found the 2016 Hawk and Horse Vineyards (this month's feature) to be the most enjoyable young California Cabernet Sauvignon we have tasted in a long time.
Cabernet Sauvignon is the most widely cultivated wine grape on the planet. While Cabernet Sauvignon's preeminence underscores consumers' insatiable thirst for the grape and the dark red wine that it yields, Cabernet Sauvignon is a relative newcomer among the world's wine grape varieties and its immense popularity is of recent origin. Although Cabernet Sauvignon was thought to be an ancient varietal, DNA studies conducted in the 1990s revealed that Cabernet Sauvignon is not nearly as old as was once thought. In fact, it has only been around since the 17th century. Moreover, what is even more startling is that Cabernet Sauvignon is actually the offspring of Cabernet Franc (a red variety) and Sauvignon Blanc (a white variety).
The origin of Cabernet Sauvignon is now widely acknowledged to be southwest France in the environs of Bordeaux, where it holds court with Merlot, Cabernet Franc, Malbec, Petit Verdot, and in rare instances Carmenère. The combination of any three or more of these varieties is what is known in Europe as the Bordeaux Blend or in California and elsewhere as a Meritage selection. Although Spain may one day also lay a legitimate claim as to an original site of the planet's most important red grape variety, it is from Bordeaux that Cabernet Sauvignon has traveled the world where it thrives under warm, even hot, semi-arid conditions, which is one reason why this noble variety has been extensively and successfully cultivated in Argentina, Australia, California, Chile, South Africa, Spain and elsewhere. In particular, Cabernet Sauvignon enjoys a privileged place in American viticulture, and it is unquestionably California's most prestigious red varietal, both in consummate quality as well as price. California's Napa and Lake counties are generally acknowledged to produce the New World's finest varietal Cabernet Sauvignons. However, Argentina, Australia, Chile, Italy, South Africa, and Spain, among others, also fashion world-class Cabernet Sauvignon.
Although the flavor profile of Cabernet Sauvignon can vary considerably, depending upon climate and terroir, blackberry and blackcurrant (often referred to as cassis) flavors are most often associated with this premium variety. Earthy and herbaceous aromas, cedar, eucalyptus, graphite, exotic spice tones, and tobacco are also common. Moreover, of all the world's red grape varieties, Cabernet Sauvignon has the greatest propensity for successful ageing. Cabernet Sauvignon also contains high amounts of antioxidants and resveratrol, which make its wines some of the most healthful on the planet as well as the most widely enjoyed.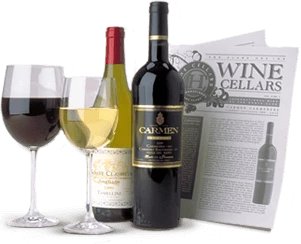 Enjoy Limited Production Estate
Bottled Wines
Discover limited production estate bottled wines such as Vergenoegd's internationally
acclaimed 2005 Cabernet Sauvignon, imported exclusively for our members.
DISCOVER OUR FOUR CLUBS