Hans Herzog has achieved in the 2002 Spirit of Marlborough what many thought impossible in New Zealand – a complex, full-bodied Bordeaux style wine that is capable of aging for two decades or more. A blend of Merlot (60%), Cabernet Franc (15%), Cabernet Sauvignon (15%), and Malbec (10%), Hans Herzog's Spirit of Marlborough, né Meritage, is the fullest, most concentrated red wine we have ever tasted from New Zealand. More importantly, it is also one of the purest, most delicious Meritage wines we have had the pleasure to drink, from anywhere. Deep, almost black in color, this statuesque wine contains gobs of blackberry and cassis fruit, a deft touch of the formidable terroir of the Wairau Valley, a textured mid palate, and a boatload of tannin. Reminiscent of youthful Pomerol from one of Bordeaux's finest estates, the 2002 Spirit of Marlborough has it all. Destined for greatness, the only thing that could improve this already outstanding offering is more time in the bottle. Spirit of Marlborough is truly a wine made for the long haul, so further ageing will reap considerable rewards. Nonetheless, consuming the 2002 Spirit of Marlborough now offers formidable drinking pleasure: for optimal enjoyment, however, we suggest decanting this wine 1-2 hours ahead of consumption. Enjoy!
A Standing Rib Roast, Loin Lamb Chops, Stuffed Game Birds, and Venison Tenderloin are just a few of our favorite accompaniments to the 2002 Hans Spirit of Marlborough. To our tastes, full flavored meats and complex sauces get our nod with this wine. Yet, whatever you serve, this is hardly a wine to rush through. Like its creator, Hans Herzog, the Hans Spirit of Marlborough is an entity that takes time to get to know, but once the relationship has been established it is hard to imagine life without the presence. Hence, we suggest that time be a prerequisite for the enjoyment of this remarkable offering; all else is secondary. Bon Appétit!
A walk through Hans and Theresa Herzog's meticulously tended Wairau vineyard is akin to a stroll in paradise. Lofty green mountains hover above the fruited vineyard that recalls both the Garden of Eden and the idyll expressed on a Watteau canvas. Without seeming out of step, the Herzog Winery combines the best of the natural world with the civility and comfort of old world charm. Located at the end of Jeffries Lane in one of Marlborough's more temperate locales, the Herzog Winery is simply the finest vineyard in Marlborough, and more; it is also New Zealand's best restaurant. Unquestionably, Hans Herzog is the maestro behind the artistry at this exceptional estate.Though Hans is descended from one of Switzerland's most renowned families, who have proudly carried their surname for more than 500 years, the Baron Herzog group (a purveyor of inexpensive kosher wines) has claimed legal right to the Herzog brand name under US law and they are preventing Hans Herzog from using his own name on the label. What is truly ironic in all this is that Hans Herzog is the real baron. So much for justice! Hans Herzog was once the proprietor of Zurich's most fashionable restaurant. Today, he and his wife Therese hold court at the small intimate restaurant on the Herzog property, which is actually part of their home. However, this is no rustic little affair. The Herzog Luxury Restaurant is an impeccably appointed temple of gastronomy that serves artfully prepared cuisine and equally impressive wines. This is the place to dine in New Zealand. "An epicurean heaven," is how one critic described the Herzog restaurant. And "I really can't recommend the restaurant too highly… without a doubt it offers the finest dining in New Zealand," is how Wine and Food critic James Halliday describes it. And then there is the wine. Hans Herzog is a master in the cellar as well as in the kitchen. His small, impeccably clean and well-appointed winery draws attention to its master. In fact, the Herzog Winery resembles more the atelier of an artist or master craftsman than it does a modern winery; testimony to the very hands on approach Hans takes to his wines and the passion with which he approaches wine – his labor of love. An experienced wine maker, Hans Herzog has made wine for nearly forty years. He is renowned for practicing only sustainable methods of viticulture and intentionally limiting vineyard yields, which are purported to be the lowest per vine in Marlborough. His high-density planted vineyard comprises only ten hectares (22 acres), but is packed with nine different varietals: Pinot Gris, Chardonnay, Viognier, Montepulciano, Pinot Noir, Merlot, Cabernet Sauvignon, Cabernet Franc, and Malbec. In all, six different wines are made at Herzog, and each is more intense and profound than the next. However, the estate's meritage blend, Spirit of Marlborough, is a true tour de force in winemaking. It is neither fined nor filtered and is the equal of many outstanding Classified Bordeaux.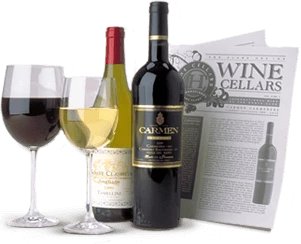 Enjoy Limited Production Estate
Bottled Wines
Discover limited production estate bottled wines such as Vergenoegd's internationally
acclaimed 2005 Cabernet Sauvignon, imported exclusively for our members.
DISCOVER OUR FOUR CLUBS