Pinot Noir is perhaps the most demanding of all premium grapes to cultivate and the least forgiving wine of its creator. Woe to the winemaker who does not understand this finicky varietal and is unwilling to cater to her whims. And even if all is done in the cellar with the utmost care and attention, the idiosyncrasies of weather and terroir can easily wreak havoc and ruin upon the soul brave enough to tackle the task of producing world-class Pinot Noir. With all this in mind, Hans Herzog has succeeded where most have failed. In his 2005 Hans Marlborough Pinot Noir, one meets the real deal, 100% organic, world-class Pinot Noir that shames many a red Burgundy from the region's premier villages and purveyors. Deep cherry in color and formidable in aroma, the 2005 Hans Pinot Noir offers up seductive scents of black cherry, cassis, sassafras, smoke, spice, and chocolate that appear almost imperceptibly, but unfold steadily in the nose before infusing into the flavor and very marrow of the wine. The longer one can hold this wine in the mouth the more it reveals its latent charms. Layer upon layer of elegant, mouth-filling Pinot Noir come to fore. Seductive but amply structured, this Burgundian-style Pinot Noir is thoroughly charming now, but it will surely improve for years to come. For near-term consumption, we suggest allowing the 2005 Hans Pinot Noir an hour in the decanter before serving. Anticipated maturity: 2008-2014.
Fine Pinot Noir provides the perfect foil to the cook skilled in the savory delights of country cooking. It provides equally faithful friendship to the chef looking to glorify the noble aspects of haute cuisine. And last but not least, bodacious Pinot Noir like the 2005 Hans is a wine for meditative moments, as it serves as ample reminder that fine wine helps wash away the weather-stained cares of life. Moreover, it needs no support aside from a clean glass. Yet when paired with beef, veal, wild game, spit-roasted chicken, or duck, the 2005 Hans shines. Coq au Vin, Duck à l'Orange, and Boeuf Bourguignon provide some traditional favorites. Chicken or turkey, dressed with a savory bread and sage stuffing, creates another memorable combination. A simple veal stew; quiche, onion and leek tart; or even just a loaf of good French bread with a choice of full-cream, uncrusted cheese creates one more opportunity to enjoy life with the 2005 Hans Marlborough Pinot Noir, so . . . bon appétit!
Hans Herzog has made exemplary wines for more than thirty-five years in Europe and New Zealand, but Herzog's recent releases under the Hans label truly highlight the brilliance of the man behind the barrel. It all starts in the vineyard. A walk through Hans and Theresa Herzog's meticulously tended Wairau vineyard is akin to a stroll in paradise. Lofty green mountains hover above the fruited vineyard that recalls both the Garden of Eden and the idyll expressed on a Watteau canvas. Without seeming out of step, the Hans Winery combines the best of the natural world with the civility and comfort of old world charm. Located at the end of Jeffries Lane in one of Marlborough's more temperate locales, Herzog's Hans Winery is simply the finest vineyard in Marlborough, and, moreover, it is home to New Zealand's best restaurant. The meticulous Herzog is renowned for practicing only sustainable methods of viticulture and intentionally limiting vineyard yields, which are purported to be the lowest per vine in Marlborough. His high-density planted vineyard comprises only ten hectares (22 acres), but it is packed with nine different varietals: Pinot Gris, Chardonnay, Viognier, Montepulciano, Pinot Noir, Merlot, Cabernet Sauvignon, Cabernet Franc, and Malbec. In all, six different wines are produced at Hans, and each is more intense and profound than the next. The estate's superb Pinot Noir and expertly crafted meritage blend named Spirit of Marlborough are the winery's best known wines internationally, but Herzog's Pinot Gris and Chardonnay are superb, as well, and they easily rival their French counterparts from Alsace and Burgundy. Marlborough: A Noble Land Marlborough is situated on the northern tip of New Zealand's mystical South Island, where it enjoys a unique dry maritime climate. High mountains isolate this enchanted land from the cold alpine interior of the rest of the South Island, while the spectacular Marlborough Sound to the north provides a conduit to the sea as well as the planet's most majestic view of New Zealand's North Island as it soars skyward across the swells of Wellington Straits – a sight that ranks as one of the world's most stunning vistas. Moreover, Marlborough is about as close to viticultural paradise as one can find, especially for Pinot Noir and white varietals. Marlborough's long, sunny, but not excessively hot growing season provides nearly ideal conditions for grape growing. The average summer daytime temperature hovers between 24° C and 28° C (72° - 80° F) depending upon one's altitude and proximity to the sea. The air is crystal clear and the light luminous, with nary an overcast day, let alone much rain during the long growing season. Cool nights keep acid levels high in the grapes, even as sugar levels rise abruptly. Such conditions, while lending themselves to an extended growing season, provide slow, even ripening and extended hang time for the grapes. The results are ripe, healthy fruit, fresh, vibrant flavor, and crisp underpinning, which add longevity and zing to the regions noblest wines. In addition to its superb summer climate, Marlborough boasts excellent soil for grapes. Most of Marlborough consists of silt and free-draining alluvial loams over gravelly sub-soils. In addition, river stones lie scattered throughout Marlborough, remnants of the many rivers that once coursed through the pretty valleys of Marlborough. These river stones store heat from the warm, sunny days and radiate that heat back into the vineyards at night, thereby providing a unique microclimate and terroir, much like that of Châteauneuf-du-Pape. Moreover, most Marlborough growers are committed to sustainable agricultural practices in order to preserve the region's noble terroir. And the French thought they had a monopoly on terroir. We think not.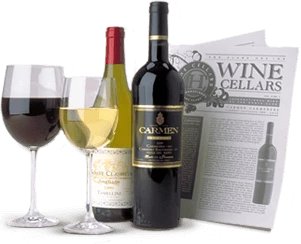 Enjoy Limited Production Estate
Bottled Wines
Discover limited production estate bottled wines such as Vergenoegd's internationally
acclaimed 2005 Cabernet Sauvignon, imported exclusively for our members.
DISCOVER OUR FOUR CLUBS