A deeply colored, full-bodied red wine, the 2005 Guigal Gigondas exhibits as much charm as vigor. Built along the lines of Marcel Guigal's now legendary Châteauneuf-du-Papes, this Gigondas possesses a rich ruby/purple robe and a flamboyant bouquet that offers a cachet of rose petals, violets, and the deep down scents of kirsch and crème de cassis to tantalize the olfactory. In the mouth, this Gigondas is broad and expansive, with a core of black fruits and spice neatly wrapped around silky tannins. Although big and powerful, Guigal's 2005 Gigondas retains charm and elegance and exhibits far more polish than most other Gigondas. In short, Guigal's 2005 Gigondas is happily devoid of the overt rusticity that dominates some of the more "traditional" wines of Gigondas. However, this wine will continue to mature for at least several more years in bottle. It also unfolds beautifully in the glass with just 15-20 minutes of aeration. As with all quality Rhône offerings, we suggest serving this wine cool, somewhere between cellar and room temperature, but certainly no more than 66° F.
One of the delights of high quality Rhône wine is its versatility with food, and Guigal's 2005 Gigondas is no exception. Whether it is served with red meat or white, a flavorful stew or a rich lentil or bean dish, you can count on this wine to add to the occasion. One of our favorite pairings with this Gigondas is roast chicken, basted with cream and Provencal herbs, and served with giblet gravy and a savory bread stuffing. Cassoulet, sausage and peppers, steak au poivre, and a carefully prepared roast leg of lamb that has been rubbed with fresh garlic and thyme provide other memorable moments with Guigal's outstanding 2005 Gigondas. We also think classic Italian favorites shine equally well with Guigal's Gigondas and that includes everything from painstaking Piedmontese risottos to the tomato laden classics of southern Italy, so enjoy the 2005 Guigal Gigondas as you like it!
You may have heard us say this before, but it is worth repeating: Marcel Guigal and his son Philippe have once again raised the bar in the southern Rhône with a string of outstanding wines in 2005, not the least of which is their formidable 2005 Gigondas. With the release of their 2005 Gigondas, Guigal has demonstrated why this family owned domain receives so much praise and adulation. Marcel has also demonstrated that he is as equally adept at producing point-of-reference wines in the southern Rhône Valley as he is in Côte Rôite, Hermitage, and St, Joseph to the north. It is no wonder then that Marcel Guigal has been called everything from "the man with the Midas touch" to "the planet's greatest living winemaker." Unquestionably, Guigal has earned the reputation for fashioning many of southern France's most exciting wines, as the flood of favorable reviews and critical acclaims of his wines will attest. Yet, perhaps, even more impressive is Guigal's knack for consistency. Without fail, Guigal's wines, whether they are red, white, or rosé, top the charts in both good years and bad. Moreover, Guigal's many outstanding wines have become the benchmarks by which all others are judged in their respective appellations. Gigondas: One Small Town With One Big Beautiful Wine Gigondas and the neighboring villages of Vacqueyras and Châteauneuf-du-Pape produce the finest red wines of the southern Rhône. Relying upon old vines of Grenache, married to lesser quantities of Syrah, Mourvèdre, and Cinsault, the sleepy little village of Gigondas turns out a startling array of big, beautiful, and tasty reds from nearly 2,500 acres of vineyards. Spanning a combination of soils, from the gravelly clay of the flat plains at the base of the craggy Dentelles de Montmirail, to the sheer bedrock of the Dentelles themselves, Gigondas is testament to the belief that in this enchanted corner of Provence one can even extract blood from stones, in the form of deeply colored wine known as Gigondas. Originally the premier village in the sprawling Côtes du Rhône-Villages appellation, Gigondas was awarded its own appellation in 1971. Quickly, Gigondas made a name for itself, and after several decades of notoriety, the wine that bears the name of Gigondas has become a staple on astute restaurant wine lists the world over. Yet, the village of Gigondas itself remains one of the prettiest and least spoiled of the comely hilltop villages in this corner of Provence known as the Vaucluse. Nevertheless, Gigondas is a wine that has captured the palate of critics and savvy consumers alike. Today, the wines of Gigondas are highly sought after in fine wine shops around the world and they are increasingly well represented at upscale restaurants, whose clientele can appreciate the bold, extroverted, savory nature of this appellation's red wine. For the record, tiny quantities of white and rosé wine are also made in Gigondas, but only the red wine of this endearing appellation is entitled to the name Gigondas.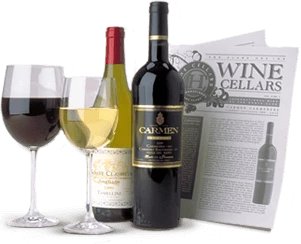 Enjoy Limited Production Estate
Bottled Wines
Discover limited production estate bottled wines such as Vergenoegd's internationally
acclaimed 2005 Cabernet Sauvignon, imported exclusively for our members.
DISCOVER OUR FOUR CLUBS