Riesling ranks among the world's greatest white grapes and its wines are the envy of connoisseurs and critics the world over, yet Riesling remains misunderstood and underrepresented in the United States, due in large part to the sea of cheap sugary renditions and knockoffs that flooded the American market a generation ago. Jimena Lopez's 2022 Graffito Riesling and all superbly made dry Rieslings of the world bear little or no resemblance to those wines of yesteryear, so we ask you to put pre-conceived notions aside. For starters, the 2022 Graffito Riesling is bone dry, fresh, and hauntingly aromatic with ethereal scents of white peach, apricot, and citrus. In the mouth, the wine's ethereal fruit flavors burst forth and are carried with laser-like precision on juicy, mouthwatering acidity. Fresh, clean, and explosive, the strapping young 2022 Graffito Riesling finishes with a bang. Although primal and nowhere near its apogee, Jimena Lopez's tribute to the late, great Esther Knewitz is a joy to drink now, and it will pay dividends for years to come. For optimal enjoyment we suggest moderate chilling (40°-45° F) before diving into this superbly crafted Riesling. Anticipated maturity: 2023-2028. Salut!
The juicy laser-like 2022 Graffito Riesling provides the ideal accompaniment to seafood, stir-fries, pork, poultry, and a host of spicy sauces. Grilled Grouper, served with a black bean and mango salsa; Bacon Crusted Swordfish, served with garlic mashed potatoes and grilled mushrooms; Stuffed Rainbow Trout with sautéed spinach and Fontina cheese; and New Zealand Green-tipped mussels in a saffron broth are just a few dishes that shine in the company of this wine. Sautéed, thinly pounded pork cutlets provide another tasty yet simple to prepare accompaniment to the 2022 Graffito Riesling. Thai Chicken with Basil, Chicken Satay, delicate tempuras, and many traditional Japanese dishes, including sushi and sashimi, also offer first-rate partners to this vivacious Riesling. And for those who subscribe to the "less is more" philosophy, consider serving Jimena Lopez's 2022 Graffito Riesling with freshly cut apples, grapes, pears, and a selection of soft ripe cheeses. And, there's no harm in enjoying a glass of this perky Riesling as an aperitif; we did and loved it even before we served it with a morsel… so as you like it! Enjoy!
Winemaker Jimena Lopez owns and operates Graffito, overseeing everything from tending the estate's more than century old vines to making each of her award winning wines – all of which exhibit beautiful expression, structure, and texture. Jimena's concentrated and deeply colored wines are named after the dark mineral graphite. Although she predominantly fashions red wines, Jimena also crafts a small amount of exceptional Riesling (this month's feature) in tribute to her dear friend and fellow winemaker, the late Esther Knewitz, who was renowned for her outstanding Rieslings. Jimena left her corporate wine job and two decades of making wine in seven countries, including France, Germany and California, to pursue her dream of making her own wine, so that she could handle all aspects of Graffito from vine selection to the final blends. She believes so deeply in her wine and is so committed to quality from vineyard to table that she puts her fingerprint stamp of approval right on the label.
Graffito sprang to life when Jimena came across an old-vine Malbec vineyard planted in 1908 in Mendoza's Alto Agrelo region that had been farmed by Don Pepe and his family. The balance and structure that these old vines yielded quickly became the pillars upon which Graffito rests. Since then, Jimena has further spread her wings by fashioning exceptional Cabernet Franc; long-time club members may recall her beautiful and exceptionally pure 2015 Graffito Cabernet Franc, which made its debut with The International Wine of the Month Club. This month's feature, the 2022 Graffito Riesling, is equally compelling. Jimena utilizes only estate fruit and grapes from old, family-owned vineyards, which allow her to create the perfect blend of fruit flavors, floral notes, spices, and tannins. Jimena is a truly passionate and dedicated winemaker with tenacious drive and an unparalleled attention to detail. Her winemaking principles reflect her passion and personality. "In my eyes, good winemaking is simple winemaking," she states unabashedly. "It needs to start in the vineyard. The good quality and purity of the grapes is essential. We can have the best technology in the winery, but what you don't have in the vineyards you can't have in the cellar. I believe there are three things that make the difference in great winemaking: Know-how, obsession for details, and above all passion." No wonder that Graffito consistently receives high ratings from top wine critics and its wines have become some of Argentina's most sought after.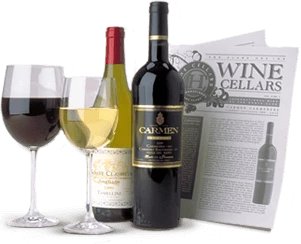 Enjoy Limited Production Estate
Bottled Wines
Discover limited production estate bottled wines such as Vergenoegd's internationally
acclaimed 2005 Cabernet Sauvignon, imported exclusively for our members.
DISCOVER OUR FOUR CLUBS