Gouguenheim's 2008 Valle Escondido Malbec benefits from a high altitude terroir, meaning the wine is more refined than rustic Although neither bold, nor muscular, it rather discreetly, but generously, offers its charms to the beholder. It is deeply colored, medium-bodied, and less overtly tannic than most of its compatriots. However, this is no wimp of a wine: Patricio Gouguenheim's Valle Escondido Malbec provides the imbiber plenty of upfront charm, both in aroma and flavor. On the palate it offers a generous wave of blackberry, plum, toast and vanilla, cardamomand spice, which translates into a succulent mouthful of elegantly balanced wine. Furthermore, the 2008 Valle Escondido Malbec blossoms in the glass with each successive sip to the point where one quickly wonders if a second bottle lay at hand. This wine is ready to please straight out of the bottle. However, we suggest for optimal drinking pleasure that it be afforded at least 20-30 minutes of aeration prior to consumption. Enjoy!
The 2008 Gouguenheim Valle Escondido Malbec is an ideal party time wine. It is equally at home with food as it is being sipped all night long. And when it comes to accompaniments, one need not wonder what to serve. Patricio Gouguenheim's 2008 Malbec is happy and ready to please, whether it is paired with hamburger, steak, chicken wings, pasta or pizza. It also makes a nice presentation with cured meats: pepperoni, prosciutto, salami, and the like. One of the panel's favorite selections with this wine is a simple Panini, made with brick oven bread, fresh Buffalo Mozzarella, juicy ripe tomatoes, basil, and extra virgin olive oil. Other Panini specialties shine equally well with the company of this wine, so as you like!
The Gouguenheim name conjures up visions of magnificent museums and fabulous works of art. Although Patricio Gouguenheim, owner and winemaker of one of Argentina's fastest growing wineries, appears to have no apparent connection to the more famous artistic namesake, he is an outstanding, internationally recognized artist whose masterworks are his wines. We have been watching Patricio's winery over the past five years, tasting the wines each vintage, and are thrilled to be able to bring you one of Patricio's finest works to date: a limited production of Valle Escondido Malbec. The winery has a magic allocation in the highly sought after Tupungato Valley that lays some seventy kilometers to the southwest of Argentina's wine capital of Mendoza. Tupungato Valley and nearby Valle Escondido (meaning Hidden Valley) are higher than Mendoza. They are situated in the shadows of the towering snow capped Andes from where melted snow is sluiced into irrigation aqueducts to be drawn as needed to water the nearby vines. At more than 3,000 feet above sea level, Gouguenheim's vineyards enjoy the perfect balance of sunshine and water from snow melt, which results in beautifully ripe, healthy fruit that can be picked when it has reached perfect phenolic maturity. Unlike in many regions of the world, where the fear of rain and moisture forces the picking date or actual rain wreaks havoc with grapes that are ripe and close to ready for picking, rain is almost non-existent in this part of Mendoza and sunshine is guaranteed 300 or more days each year. With sun bathed days and cool nights the grapes of this magical valley can linger longer on the vine developing fuller, rounder, more mature flavors, which get translated into wines of generous fruit, soft ripe tannins, and refreshing acidity. There is hardly a more perfect place in the world to grow grapes than Patricio Gouguenheim's hidden corner of Mendoza! The world has awakened to Argentina's preeminence in wine, resulting in the past five years in a wave of exports to the United States and Europe. The reason for this surge is the quality of wine flowing from Argentina represents today some of the best value in the world of wine. Malbec in particular has captured the attention of the wine drinking public and is universally acclaimed as Argentina's flagship wine. Argentine Malbec, a grape whose origin is Cahors in France, yields a deep, dark potion similar in color to the "Black Wine" of Cahors, but Argentine Malbec is thankfully more endearing and less abrasive in tannin than its French counterpart, especially when young. Moreover, in its new found home among the mountain valleys of Mendoza, Malbec has blossomed into a wine that can deliver extraordinary flavor, value, and even finesse.
In consideration of the sensual fruit and soft, savory spice of the 2008 Gouguenheim Valle Escondido Malbec, it would be a travesty, at least for cheese lovers, not to pair such a tasty Malbec with a variety of cow and sheep's milk cheeses. Consequently, we highly suggest you reserve at least a glass of the Valle Escondido Malbec to consume with a hunk of Parmesan style cheese from Argentina or to pair it with a first rate Italian Pecorino or Provolone. Milder cheeses such as Gouda, Edam, Manchego, and Mahon all get our nod with this wine, too. For other gratifying cheese accompaniments or to learn more about the wonderful world of gourmet cheeses, please contact us at www.cheesemonthclub.com, and enjoy the best of all worlds.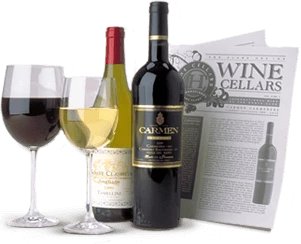 Enjoy Limited Production Estate
Bottled Wines
Discover limited production estate bottled wines such as Vergenoegd's internationally
acclaimed 2005 Cabernet Sauvignon, imported exclusively for our members.
DISCOVER OUR FOUR CLUBS