A classic Roero Arneis, the 2005 Giovanni Almondo Sparse displays the telltale aroma and flavor of the Arneis grape. The 2005 Sparse is adorned in a sunlit, yellow robe that holds a litany of haunting scents: spring flowers, stone fruits, lemon oil, liquid minerals, and a slight waft of fennel. These same inviting, highly nuanced scents are, also, sunk into the wine's medium body and carry through on the palate and finish, which augments this delightful wine's extensive portfolio of pleasure. Appearing light and at the same time mouth filling, the 2005 Almondo Arneis enlivens the senses and refreshes the palate. When allowed to linger in the mouth, each sip adds to the intrigue. Enjoy this expertly crafted Almondo Arneis well-chilled, cool, or somewhere in between.
The 2005 Giovanni Almondo Sparse Arneis makes for a wonderful summertime interlude, with or without food. However, this wine's flavorful, refreshing profile makes it the perfect foil for fish. Consequently, we suggest that you try this delightful Arneis with Pan Seared Tilapia, served with diced tomato, romaine lettuce, and a cilantro avocado salsa; SautÉed Scallops with Pistachio Nuts, served in an herb infused cream sauce; or Pecan Encrusted Salmon. The 2005 Sparse is wonderful with sushi and sashimi, too. However, this wine exhibits considerable versatility as well, so we suggest you try it with chicken, pork, and creamy pasta dishes. And for a simple meal or appetizer, we suggest pairing it with fresh homemade bread and warm goat cheese. Buon Appetito!
When considering the viticultural achievements of the gifted Giovanni Almondo and other similarly accomplished winemakers one is almost compelled to ask the all important question: Why is it that some people can turn success into failure, while others manage to be successful in every endeavor and with everything they touch? Moreover, why do some people appear to possess all the talent, while others wouldn't recognize basic ability, let alone true talent, if it slammed them up one side of the head and down the other? Well, to be perfectly honest, we don't know why life seems to be so partial, but we do know extra ordinary people when we see them, and Giovanni Almondo is indeed one of the extra ordinary people in this world – a man with a genuine Midas touch. A graduate of the University of Turin with a doctorate in agronomy, Giovanni Almondo has no trouble juggling the passions in his life: he loves cultivating his vineyards and running his cellars. He, also, enjoys pursuing a career in public administration and acting as the mayor of Monta d'Alba in the Roero district of Italy's Piedmont. Perhaps, Almondo's cellars are more than a clue to his success: everything is orderly and spotless, and precise rows of stainless steel fermentation tanks and small oak barrels fall carefully in place. This well-tended estate produces a first rate Barbera d'Alba and two different styles of excellent Arneis, for which Giovanni Almondo and his meticulously run property have become justly famous. Almondo produces a fresh, lively Arneis called Vigne Sparse. It is assembled from grapes that hail from several vineyards and is fermented exclusively in stainless steel. It reflects the essence and unadorned beauty of the Arneis variety. In addition, Almondo fashions small quantities of Bricco delle Ciliegie, an Arneis from a single site high on a hill in Monta d'Alba above the entire Roero. Here the grapes receive the morning sun but are shielded from the excessive summer heat of the Piedmont. With Bricco delle Ciliegie, Almondo ferments at least a third of the vineyard's grapes in barrels to increase structure and complexity. The result is that each of Giovanni Almondo's special Roero Arneis wines is a palate pleaser and at the same time wholly unique. We are partial to both styles of his Arneis (Sparse and Ciliegie). However, we prefer the Sparse in spring and summer, when the weather is warm. Correspondingly, the Ciliegie comes into its own in cooler months, when winter begs for the bigger, bolder wine. Indeed, life is good when there is a wine for every season. And because luck has very little to do with quality, is there any further reason to wonder why Giovanni Almondo produces the finest of all Arneis wines? Arneis: An Ancient Varietal Arneis is an ancient grape variety native to the Roero district of Italy's Piedmont. Arneis, which has been translated as "little rascal" has had a long, but not always illustrious history. Like most of Italy's indigenous grape varieties, Arneis has only recently been cultivated and bottled as a varietal. For centuries, the local white Arneis, also known as Bianchetta and Nebbiolo Bianco, was most often blended into the Piedmont's full-bodied, rustic reds to augment their aromatic profile and soften their tannic edge. In the days before the laws of denominazione di origine controllata, even Barolo would receive a dollop of Arneis to enhance its aroma and tame its fire. Since the 1970s, Arneis has come of age. With the advent of technical wine equipment and the enforcement of DOCG regulations in Italy, Arneis has been rescued from extinction and born again as Piedmont's finest and most expensive dry white wine. Arneis yields a medium-bodied wine of haunting bouquet. Spring flowers, stone fruits, and a waft of fennel are the scents and savors most associated with this charming, food friendly varietal that is highly adaptable to stylistic interpretation. It can be enjoyed quite chilled or slightly cool, as you like it.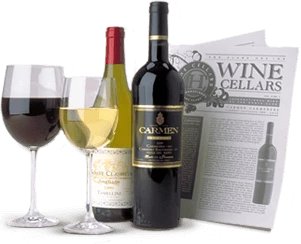 Enjoy Limited Production Estate
Bottled Wines
Discover limited production estate bottled wines such as Vergenoegd's internationally
acclaimed 2005 Cabernet Sauvignon, imported exclusively for our members.
DISCOVER OUR FOUR CLUBS