Lithe, lush, and full of energy, the 2018 Garofoli Farnio Rosso Piceno DOC practically leaps from the glass. A gloriously ripe vintage in 2018 has endowed Garofoli's 2018 Farnio Rosso Piceno with amplifying aromatics, smooth ripe fruit flavors, and exceptional purity. Savory scents of black cherry and mulberry greet the nose and tantalize the palate. In the mouth, the wine's gorgeous fruit mingles with a subtle but endearing draught of forest woodlands and a gentle minerality that make this wine hard to resist. Moreover, perfectly ripe tannins add energy and lift, which make for an extremely pleasant exit. All of this adds up to one racy and delicious red for all seasons. For optimal enjoyment, we suggest serving the 2018 Garofoli Farnio Rosso Piceno DOC at cool room temperature (60°-65° F) after a few minutes of aeration. Enjoy!
Marche's Rosso Piceno is the region's wine of choice and a superb partner to Marchegian cooking, which draws from both the land and the sea. Although the 2018 Garofoli Farnio Rosso Piceno DOC is eminently enjoyable on its own, needing only a clean glass to woo its prey, it truly shines at table in the company of the Marche's delicious cuisine. Lightly fried or sautéed calamari served with roasted red peppers, capers, and a mildly spiced aioli and crispy zucchini chips encrusted with Parmesan cheese provide tasty starters. However, a bottle of Garofoli's 2018 Rosso Piceno in the company of the region's renowned gnocchi that comes bathed in a creamy tomato sauce truly makes our mouths water. Beef or pork bracciole, better known as the tomato, onion and herb infused loin of pork the local inhabitants refer to as porchetta, are two additional favorite Marchegian specialties to pair with Garofoli's Rosso Piceno. Sweet or hot Italian sausage cooked to perfection in a thick, mouth filling tomato sauce makes for another fine pairing. In fact, most beef, bean, pasta or pork dishes earn our thumbs up with this wine. A platter of cured meats and select cheeses pair nicely as well. Buon Appetito!
The Garofoli family has been involved in winemaking for five generations, specializing in fashioning traditional red and white wines from Italy's picturesque Marche. With modern equipment and a profound respect for the Marche's traditional grape varieties and historic winemaking methods, Garofoli produces an entire line of classic white and red Marchegian wines.
Verdicchio, the Marche's most internationally recognizable wine, dominates Garofoli's production. Garofoli produces two very distinct Verdicchio white wines, a racy traditional Garofoli Verdicchio dei Castelli di Jesi and the fuller-bodied age-worthy Garofoli Podium Classico Superiore, also from the Castelli di Jesi DOC. Garofoli is recognized as one of the finest of all Verdicchio producers and lauded for its ability to fashion two distinctive Verdicchios, both of which highlight the Marche's acumen in turning out some of Italy's tastiest white wines.
Garofoli is equally adept at fashioning red wines to match its enviable portfolio of Verdicchios. In fact, Garofoli is one of the Marche's premier producers of Rosso Piceno (this month's feature), a delicious DOC blend of Montepulciano and Sangiovese that emanates from the region's sun drenched hills which rise above the gleaming Adriatic Sea. Rosso Piceno is also the region's most important and prolific DOC, surpassing even Verdicchio in both prestige and sheer volume.
Garofoli also fashions several other delicious wines, most notably Rosso Conero, a wine similar to Rosso Piceno, as well as a host of still and sparkling wines. In order to maintain quality and freshness, Garofoli makes the property's white and red wines in separate wineries in the Marches.
Marche (or the Marches, in English) is the green, picturesque region of central Italy that lies wedged between the Apennine spine of the Italian peninsula and the cliff studded coast of the gleaming Adriatic Sea. Aside from the two-month onslaught (in July and August) of Italian and Teutonic tourists who descend upon the coastal regions of the province, Marche remains an oasis of calm, rural charm, art, religious shrines, fine food, and of course excellent wines – the very glories of Italy.
The most important wines of this rural oasis, which sits just due east of Tuscany, are Rosso Piceno, a blend of Montepulciano and Sangiovese and the most authentic and traditional of the region's red wines; Rosso Conero, an even more robust version of Rosso Piceno in that the more intense Montepulciano plays the main character and Sangiovese a lesser supporting role in Rosso Conero; and finally Verdicchio, the quintessential fish wine that hails from two distinct DOC's, Castelli di Jesi and Matelica. Although smaller portions of Malvasia and Trebbiano are permitted in both DOC Verdicchios, the finest versions are made from 100% Verdicchio, a wine that ranges from a light pleasant quaff to one of the world's quintessential white wines. Both Verdicchio DOCs are capable of fashioning compelling white wines that serve as ideal accompaniments to seafood for which Marche is renowned.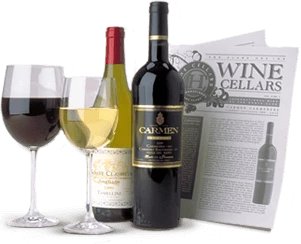 Enjoy Limited Production Estate
Bottled Wines
Discover limited production estate bottled wines such as Vergenoegd's internationally
acclaimed 2005 Cabernet Sauvignon, imported exclusively for our members.
DISCOVER OUR FOUR CLUBS