A unique blend of Sonoma County Merlot, Zinfandel, and Cabernet Franc, the 2007 Friends.Red Zinfandel is a plush, smooth, almost huggable red wine. Rich in color and pleasantly aromatic, this medium bodied wine offers up an enticing bouquet of berry fruits, bramble, and forest woodlands. In the mouth, all that is appealing in each of the varietals in Friends.Red comes to fore and blends harmoniously together as one. In doing so, they offer the palate an array of tasty blueberry, blackberry, and chocolate flavors, which are infused with smooth oak and vanilla tones. Best of all, this "Friend" exits without a bark or a bite – a fitting tribute to Giovanni Pedroncelli and his family's many friends. The 2007 Friends.Red makes one appreciate the gift of friendship and wish for a bottle of this special wine for every night of the week… then just think of how many new friends you could make! Enjoy the 2007 Friends.Red at cool cellar temperature (55-60 degrees Fahrenheit). Although immediately gratifying, this fine red is at its best after at least 15-20 minutes of aeration.
As smooth and flavorful as the 2007 Friends.Red is, it provides the perfect go-anywhere, pour-anytime kind of wine. It is an ideal party wine as it pleases the initiated and uninitiated palate alike. Furthermore, we see it as the ultimate midweek respite from the trials and tribulations of those who are less than amiable. In other words, at the end of a long day, we like to open a bottle of Friends.Red to share with friends as well as some hearty, home cooking. We find this wine especially enjoyable with the delights of an Italian kitchen. Eggplant Parmigiana, Parmesan infused risottos, Beef Braciole, and homemade pastas, served with plenty of fresh, herb infused tomato sauce are just a few of our favorites. A hearty Pasta Primavera or Spaghetti Bolognese makes another fine accompaniment. Ravioli, stuffed with ricotta, spinach, zucchini, and Parmesan cheese and topped with chopped fresh tomatoes, mushrooms, garlic, and capers pairs beautifully with Friends.Red as well. However, as fine as these Italian specialties are with this wine, Friends.Red pairs equally well with other foods, too, including pork barbecue, meatloaf, and even moderately spicy Middle Eastern specialties such as tabouli. In fact, we enjoy the Friends.Red with almost everything, or nothing at all, because it is one smooth, good old-fashioned drinking wine. Enjoy!
Friends.Red is more than a wine: it is a tribute to good friends.Friends was created to pay homage to Giovanni Pedroncelli, the founder of Pedroncelli winery, and his many friends.Friends.Red grew out of the friendships the Pedroncelli family shared with their Sonoma County neighbors, namely the Murphys, Goodes, and other local grape growers and farmers. "Our friends often recall the days when our father welcomed them to the cellar," recount Jim and John Pedroncelli."They'd share stories over a smooth drinking glass of red wine.More important than the varietal were the friendships.In honor of this tradition, we've created this blend we call Friends to share with our friends and yours." The Friends venture was first launched in 2001 when it debuted at various charity auctions.Friends.Red is a proprietary blend that always includes some Zinfandel.The grapes for Friends come from Pedroncelli's own estate, with not surprisingly some additions from friend's vineyards.The current 2007 release is an artful blend of Merlot, Zinfandel, and Cabernet Franc that has been aged 16 months in French and American oak. The original label for Friends featured a friendship bracelet as a symbol of peace and good will. Native Americans often used handcrafted artifacts like the friendship bracelet as a sign of their friendship and fidelity to others. Today, a friendship bracelet is often exchanged between best friends as a reminder to each that their friendship is meant to endure forever. Not surprisingly, the friendships between the Pedroncelli family and their many neighbors and friends have endured for decades, all of which give testimony to the Pedroncellis' good faith as well as their commitment to producing authentic, smooth tasting Sonoma County wines.
For one of life's great treats, we suggest you invite a friend or two over, open a bottle or more of the 2007 Friends.Red, and serve some ripe artisanal cheeses to accompany that very smooth glass of red wine. Farmer's cheese, Monterrey Jack, Gorgonzola, and Muenster are just a few well made cheeses that pair nicely with the 2007 Friends.Red. For additional suggestions or to find out how to acquire perfectly aged cheeses, please contact us at www.cheesemonthclub.com.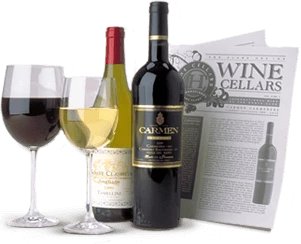 Enjoy Limited Production Estate
Bottled Wines
Discover limited production estate bottled wines such as Vergenoegd's internationally
acclaimed 2005 Cabernet Sauvignon, imported exclusively for our members.
DISCOVER OUR FOUR CLUBS