All of Francois Lurton's white wines seem blessed with a blithe, gentle spirit, as well as profound purity and plenty of up front appeal and the 2008 Francois Lurton Valle de Uco Pinot Gris is certainly no exception. This is an immensely charming and flavorful Pinot Gris that more than holds its own against a slew of Oregon Pinot Gris costing nearly twice the price. Ripe fruit is the first calling card of the 2008 Bodega Lurton Pinot Gris, but there is much more to this quaffable white wine than a dollop of fruit. Light, but not lean, it possesses an attractive bouquet that captures the most alluring aromas of Pinot Gris. The beguiling scents of acacia, roses, and apricots, infused with a light cachet of spice, work their way through this pure, very easy to drink white wine. Moreover, there is a crisp acidity and a quiet vigor about this wine that kept us coming back for more. Although gentle in appearance, the 2008 Lurton Pinot Gris carries a kick; it possesses much more alcohol than one can detect from the wine's gregarious spirit, so consider yourself forewarned as the wine slips ever so surreptitiously down the throat. An additional attribute is its ability to show well at varying temperatures, depending upon the climate or season. In very hot climates, we suggest that it be served well chilled (36º-40º F) and much closer to room temperature in more temperate locales, but as you like it. Salut!
Cheerful, light, and endowed with the seductive scent and savor of spring, the 2008 Francois Lurton Valle de Uco Pinot Gris offers superb accompaniment to most light meals. It performs equally well in the role as aperitif extraordinaire because, truly, all this wine needs to shine is a glass to pour it in. Better still, the Lurton 2008 Pinot Gris loves a party, so why not invite some friends over and celebrate the day? The only downside to this scenario is the need for another bottle, or two . . . and maybe more. So, how bad is that? With the right guests and an ample supply of Francois Lurton's Pinot Gris, food will be superfluous. However, for a veritable feast, all one needs to serve with this wine are ripe pears and some melted Brie or Chèvre. Salmon Mousse and a delicate veal or pork pâté with crusty French bread provide other savory accompaniments. So, what time did you say the party started?
Francois Lurton and his brother Jacques began making wine in Argentina nearly two decades ago.Scions of André Lurton of Bordeaux legend and lore, the brothers Lurton quickly built a formidable portfolio of world class wines in Mendoza, Argentina from old vines.They also re-planted vineyards with the finest clones from around the world.However, after helping to build and re-shape the wine industry in Argentina from a bulk business into a quality affair, the brothers have decided to go their separate ways.Francois has stayed on in Argentina at Bodega Lurton's state of the art facility, where he continues to fashion some of the world's greatest wine values as well as a number of South American's most compelling wines at any price. Bodega Lurton's vineyards surround the beautiful Mendoza winery that Francois and his brother opened in 1996. Lurton augments his production with several neighboring terroirs, many from old vines as much as 100 years of age. These hand selected vineyards reflect Lurton's philosophy of producing natural, high quality wines. Moreover, these special terroirs have been selected for the quality of their soil and climate as well as their proximity to pure Andean water. All of Bodega Lurton's Mendoza vineyards are planted on virgin territory: land that has never had any input of chemicals. Francois Lurton continues to safeguard his vineyards by refusing to employ herbicides and by practicing natural methods of production. Although best known for his outstanding reserve offerings of Cabernet Sauvignon and Malbec, including the complex age-worthy Malbec Piedra Negra, Francois Lurton has time and again demonstrated that he is equally adept at fashioning distinctive white wines. In addition to turning out one of Argentina's best Pinot Gris offerings, Lurton also crafts a very fine Torrontes, from Argentina's own special white grape variety, and a very good Chardonnay Reserve.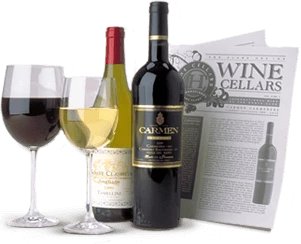 Enjoy Limited Production Estate
Bottled Wines
Discover limited production estate bottled wines such as Vergenoegd's internationally
acclaimed 2005 Cabernet Sauvignon, imported exclusively for our members.
DISCOVER OUR FOUR CLUBS