Fournier's 2015 Sauvignon Blanc Val de Loire may well be the best bargain in French Sauvignon Blanc on the market today, as it could easily be mistaken for a Sancerre from one of the top estates. The Fournier Sauvignon Blanc Val de Loire 2015 offers up an amplifying aroma of gooseberry, mineral, melon and herb. In the mouth, it delights the palate with a combination of ripe Sauvignon fruit, pinpoint minerality, and a crisp, long finish, all of which enliven the senses. It exits with a flourish, imparting a freshness and purity rarely seen at this level. Accessible and gratifying all at the same time, it's hard to imagine a more classic Loire Valley Sauvignon Blanc than Fournier's 2015 Sauvignon Blanc Val de Loire. For optimal enjoyment, we suggest serving this satisfying Sauvignon Blanc chilled (40° F). Santé!
Sancerre and the delicious Sauvignon Blancs of the Loire Valley, which include the 2015 Fournier Sauvignon Blanc Val de Loire, have been for decades the rage in Paris bistros and upscale American seafood restaurants, with the prevailing sentiment that "Sauvignon Blanc is made for seafood." And we would not argue with the sentiment, as there is not a better wine in our opinion to pair with seafood, and shellfish in particular, than a fine Sauvignon Blanc. Oysters, fried or on the half shell, a bowl brimming with fresh mussels steamed in a heady broth, and pan roasted sea scallops nestled on a bed of saffron rice make ideal accompaniments to Fournier's most popular wine. Smoked salmon, served with capers, red onion, and cream cheese provides another splendid accoutrement. Actually, just about any creature that swims or crawls in the sea will make a fine foil to Fournier's delicious 2015 Sauvignon Blanc Val de Loire. Sweetbreads, rillettes, country pâtés and most crusted cheeses provide memorable pairings with this wine, too. Yet, many will prefer the 2015 Fournier Sauvignon Blanc Val de Loire on its own as an aperitif. For optimal enjoyment, we suggest savoring a glass of this wine with Sancerre's regional cheese: Crottin de Chavignol, as the combo is not to be missed. Crottin de Chavignol, generally acknowledged to be the Loire Valley's finest goat cheese, was awarded its own appellation status in 1976. It ranks among the finest cheeses of France and it pairs beautifully with Fournier's incomparable 2015 Sauvignon Blanc Val de Loire. Bon Appétit!
« Le vin réjouit le coeur de l'homme. » ("Wine makes glad the heart of man.")
The Fournier family are long time growers and producers of Sancerre, Pouilly-Fumé, Menetou-Salon, and Sauvignon Blanc from select vineyards in France's Loire Valley. And, like many of the best growers in Sancerre and its environs, the Fourniers have expanded their holdings over the past half century to include vineyard parcels from growers with the most outstanding terroir. From these parcels they craft several exceptional wines, including this month's feature, the 2015 Fournier Sauvignon Blanc Val de Loire, which was named one of Wine Spectator's 100 Top Values.
In addition to producing a wonderfully crisp, highly acclaimed Sauvignon Blanc Val de Loire, Fournier Père et Fils fashions a number of Sancerre wines that are consistently deemed by critics to be among Sancerre's finest cuvées. The domain's Les Belles Vignes, Grande Cuvée, and Cuvée Silex sit atop the pinnacle of quality for wines from France's iconic Sancerre appellation.
Begun in 1950 with just over 10 acres in Sancerre, the Fournier Père et Fils estate has grown to nearly 222 acres in various appellations and locales throughout the Loire Valley. In each appellation and with each wine, the emphasis is always on quality and producing France's finest Sauvignon Blanc. Although Sauvignon Blanc remains the Fournier family's passion and claim to fame, the estate also fashions a light, aromatic red Pinot Noir that rivals the village wines of Burgundy.
The Loire is France's longest and most picturesque river, and the valley that bears its name is known affectionately as le jardin de France (the garden of France). From the Loire's lush gardens, pastures, and vineyards flow a treasure trove of fruits, vegetables, and wines to grace elegant tables throughout France, including those in the most fashionable temples of gastronomy in Paris.
Given the Loire's length, varied terroir, and multitude of microclimates, it is not surprising that this vast region produces a wide array of wines. From the chalky hills on the upper reaches of the river as it bends in sight of Burgundy come several of the world's finest dry white wines in the guise of Sancerre, Pouilly-Fumé, Menetou-Salon and Quincy – all from Sauvignon Blanc. As the river flows west towards the heart of France, Chenin Blanc predominates and soft sparkling wines and the superlative sweet wines of Touraine and Anjou emerge from green hills in sight of stately châteaux. And by the time the slow moving Loire reaches the sea near Nantes, it becomes the home of Muscadet, a quaffable, fresh, bone dry white wine that is superlative with seafood.
Nearly all of the Loire's greatest wines are white, but one should not miss the growing number of excellent red wines now being made in "the garden of France." Cabernet Franc is the most important red varietal in the Loire, at least in terms of quality, but some very good Gamay based wines can be found as well. Anjou, Bourgeuil, and Chinon are typically the appellations along the Loire most notable for soft, velvety red wines.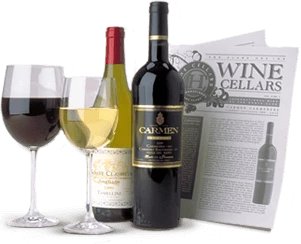 Enjoy Limited Production Estate
Bottled Wines
Discover limited production estate bottled wines such as Vergenoegd's internationally
acclaimed 2005 Cabernet Sauvignon, imported exclusively for our members.
DISCOVER OUR FOUR CLUBS