Upon first opening, the 2008 Fore Family Vineyards Red Hills Cabernet Sauvignon appears shy and a tad reticent. It is a big brooding Cabernet that needs time to blossom, but what it has to offer is well worth the wait as this Red Hills Cabernet is all about paying dividends. Just give this beauty 15-20 minutes in the glass for it to begin to work its magic; it will then evolve for hours, even days, or perhaps only as long as you can refrain from finishing it. Built in the traditional pre-modern style of Napa Valley Cabernet Sauvignon, this wine offers an exceedingly deep, dark color and plenty to chew on as well as a wealth of complex flavors that evolve for as long as you can keep your lips from the glass. The odyssey begins with an entrancing nose of deep berry fruits entwined with clove, cinnamon, cardamom, a dash of Angostura bitters and a hint of freshly roasted coffee. Expansive on the mid palate, the 2008 Fore Family Vineyards Red Hills Cabernet Sauvignon quickly reveals a core of deep down black currant flavors with deft touches of exotic spices. On the finish, the wine's well integrated tannins let you know that this Cabernet is still in its formative stages and has plenty of life ahead of it. Enjoy this big boned beauty now and until 2020 and beyond. For optimal enjoyment, we suggest serving the 2008 Fore Family Vineyards Red Hills Cabernet Sauvignon at cool room temperature (60°-65° F) after an hour or more in a decanter.
A powerful, complex Cabernet Sauvignon such as the 2008 Fore Family Vineyards Cabernet Sauvignon calls for accompaniments of equal size and stature. Seared Wagyu Flank Steak prepared with a honey-lavender glaze, sautéed kale, and Butternut Squash au Gratin makes the grade, as does Prime Filet Mignon grilled over an open flame and served with a lightly coated wild mushroom sauce beside creamy garlic mashed potatoes. Braised Lamb Shanks provide another tried and true accompaniment. An equally compelling, heart healthier option calls for Coffee Crusted Bison Filets. But if beef isn't to your taste, consider Mushroom Wild Boar Sausage Ravioli or a delectable vegetarian option in a Spicy Four Bean Chili. And if by some chance a bit of 2008 Fore Family Vineyards Cabernet Sauvignon still remains in your glass at the end of the evening, add a piece of hand crafted dark chocolate and enjoy the best in life. Enjoy!
Many of California's most compelling wines are made in small lots by families such as the Fore Family. Such wines are highly allocated and are generally not available outside of California, and can often only be purchased at the winery. This month's feature, the 2008 Fore Family Vineyards Red Hills Lake County Cabernet Sauvignon, certainly belongs to that growing list of excellent California Cabernets emanating from family vineyards. The 2008 Fore Family Vineyards Lake County Cabernet Sauvignon is a mere 188 case production. It garnered a Gold Medal at the prestigious San Francisco Chronicle Wine Competition.
Fore Family Vineyards began in 1986 when Jim Fore won first place with his Pinot Noir in the Napa Town and Country Fair home winemaking division. This accolade gave Jim the impetus to plant a small Cabernet Vineyard in the back yard. Since then, the Fore family passion to grow grapes and make wine has grown to sixty acres in Napa and Lake Counties and a multi-generation family affair.
Jim's wife Diane, a Kindergarten teacher, is also fully engaged in the family enterprise from sales to assisting in the vineyards, managing sales meetings, and bookkeeping, while still teaching part time. From the beginning, Fore Family Vineyards was meant to be a family affair, but the couple's children, Melissa and Eric, were too young at the onset to commit to that endeavor. However, as adults, they now share the pleasures of wine and are actively involved in Fore Family Vineyards.
"In 1995, Koerner Rombauer told Jim Fore that if you're going to get involved in the wine industry, you need to take it from the very beginning to the end – grapes to wine." Jim jumped in feet first. Before he was officially in the wine business, Jim acquired grapes for home winemaking use from Doug Hill. Little did Jim know then that the two would become grape growing partners just a few years later. Jim and Doug formed a partnership, Fore-Hill Vineyards, and currently farm forty-five acres across five vineyards in the Napa Valley.
Fore Family Vineyards manages Cobb Mountain vineyard and does the majority of the farming responsibility on that property. Farming practices are sustainable which means that they don't take out without putting back. They plant cover crops, which are a mixed blend that includes legumes to increase nitrogen and act as green compost. Cover crops are planted in alternating rows each year, which in turn alternates the rows that are tilled. The Fores also maintain the balance between vine canopy and crop, so as to control yields. Fore Family Vineyards believes this is a responsible way to farm the land, so it can be continued for many years.
Fore Family Vineyards crafts their wines at Laird Family Estate. They never produce more than 500 cases of any varietal to assure quality.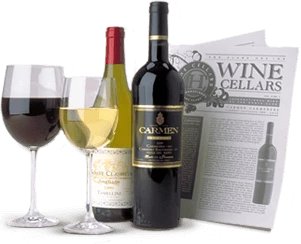 Enjoy Limited Production Estate
Bottled Wines
Discover limited production estate bottled wines such as Vergenoegd's internationally
acclaimed 2005 Cabernet Sauvignon, imported exclusively for our members.
DISCOVER OUR FOUR CLUBS