A dense, rich, full throttle Cabernet Sauvignon, the 2002 Folie à Deux St. Helena Napa Valley Estate Cabernet Sauvignon is what the best Cabernet Sauvignon offerings from Napa Valley are all about. This is a heady concoction that marries the distinctive aromas of chocolate, mint, and eucalyptus to plush, ripe Cabernet fruit. From the moment the cork exits the bottle, every sip of the majestic Folie à Deux Estate Cabernet Sauvignon caresses the palate. It brings with it gobs of black currant fruit that seem infused with deft touches of chocolate, leather, and tobacco – all of which add to the wine's charm and complexity. With great fruit, a long ripe complex center, and beautiful balance, the 2002 Folie à Deux Estate Cabernet Sauvignon is nothing short of a fantasy, so we think most imbibers will dispense with aeration. Enjoy this lush, textured Cabernet at cool room temperature (66° F), with or without breathing time. However, from the response we received from the tasting panel, we highly suggest you have a few additional bottles lined up, especially if you plan to serve this wine to friends because what you will be sharing then will be more than just a Folie à Deux.
The 2002 Folie à Deux St. Helena Estate Cabernet Sauvignon is one of the few great young California Cabernets that provides majestic drinking all on its own. However, we have to agree with the folks at Folie à Deux, who claim that this "awesome wine is the ideal accompaniment to any hearty beef dish." The ripe fruit, lush texture, and soft tannins of the 2002 Folie à Deux St. Helena Napa Valley Estate Cabernet Sauvignon are indeed a force to be reckoned with, and they are perfect with beef. Therefore, bring out the beef: porterhouses, sirloins, strips, and tenderloins. Light up the grill and have a party! No fancy recipes are required, but we can assure you that complex sauces and fine accompaniments will not be wasted on this outstanding Cabernet Sauvignon. In fact, such accoutrements will only enhance the meal and the experience. However, if beef is simply not your cut of meat, why not try lamb? The 2002 Folie à Deux St. Helena Estate Cabernet Sauvignon provides an equal opportunity for gastronomic pleasure when accompanied by a fine leg of lamb. And for those who eschew meat, we can also attest to the glories of vegetarian chili with the 2002 Folie à Deux Estate Cabernet Sauvignon, especially if you fold in some sweet red pepper. Yum!
Folie à Deux is a small 13-acre Napa Valley estate that is planted exclusively to Cabernet Sauvignon. This historic property lies just north of St. Helena in the heart of Napa Valley. Folie à Deux's vineyards and century old farmhouse lay sandwiched between Spring Mountain and Howell Mountain, at the narrowest part of Napa Valley. The estate's location provides a unique microclimate and a special terroir, which permit cool air to roll slowly down Mount St. Helena and cool the vineyard during the long summer days of torrid heat. At Folie à Deux, unlike many other Napa locales, the cool air sifts its way through the vineyard the way sand passes through an hourglass. The result is great physiological ripeness in the vineyard, without a loss of aromatic or flavor profile. Since 2004 Folie à Deux has been owned by Bob Trinchero, the proprietor of a number of renowned California wineries, but this boutique estate has had an interesting and often amusing history, as the name suggests. Folie à Deux was founded as a bonded winery in 1981 by two psychiatric professionals. When the couple told their friends that they planned to fulfill a mutual dream by starting a winery, the friends jokingly suggested that the couple was exhibiting the classic symptoms of Folie à Deux, a psychiatric term that is defined as the sharing of fantasies by two close friends. The name stuck. To build on the theme, a local Napa Valley artist, Susan Ortega, created a drawing of twin dancers based on a Rorschach inkblot. Her inspiration for the label was the fantasy that she and her sister shared of one day becoming professional ballerinas. However, there is more to this amusing story, which leads one to wonder if our subconscious minds do not comprehend more than we think and indeed play a greater role in events than we imagine. During the 1930's Folie à Deux's farmhouse and surrounding property were owned by Spanish prizefighter Luis Santa Maria, who retired with his family to St. Helena to tend sheep and make wine. The Santa Maria family lived in the farmhouse that now serves as the winery's offices and tasting room and they used the same old stone shed to store wine that Folie à Deux now utilizes for storing wine. Curiously, Bob Trinchero, the present owner, and Santa Maria's daughter sang together in the school choir many years ago. One could presume that the young Trinchero's subconscious was somehow at work here. However, what is even more serendipitous is the connection between Trinchero and Scott Harvey, Folie à Deux's long time winemaker, who for years Bob used to kid by telling him he was "watching," and perhaps he was. Bob's home looks down on the Folie à Deux property, which he so wisely purchased in 2004. Apparently, he liked what he saw and tasted, and so did we. Whether life's coincidences and connections are the result of random chance or the result of our subconscious fantasies, are matters open to debate. However, what is not in question is the quality of the Cabernet Sauvignon produced by Folie à Deux. Folie à Deux fashions two distinctive Napa Cabernet Sauvignon offerings, one a blend of three different vineyards from Napa Valley and the other the estate's flagship wine, the St. Helena Estate Cabernet Sauvignon that we are proud to feature this month.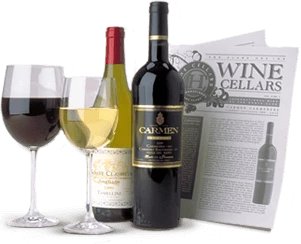 Enjoy Limited Production Estate
Bottled Wines
Discover limited production estate bottled wines such as Vergenoegd's internationally
acclaimed 2005 Cabernet Sauvignon, imported exclusively for our members.
DISCOVER OUR FOUR CLUBS